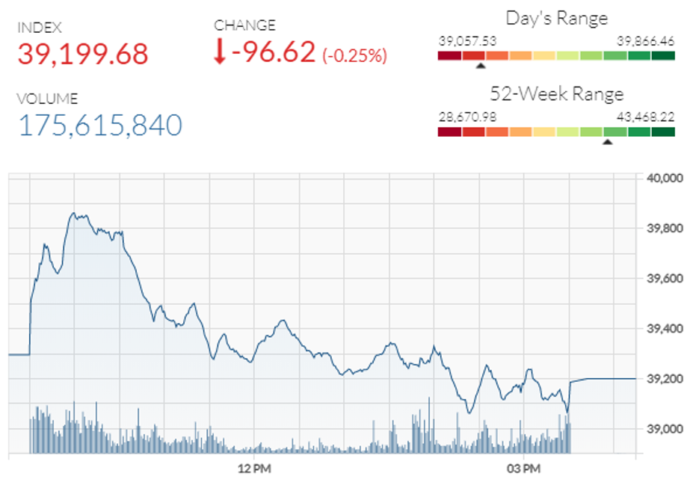 KARACHI: The Pakistan Stock Exchange (PSX) failed to carry forward its bullish momentum from the previous session, with the indices ending in the red amid volatility.
Foreign investors continued to offload equities on Monday, taking their three-month net sale to $72 million.
On the economic front, Commerce Secretary Ahmed Nawaz Sukhera has claimed that the country's exports surged 13.6pc on a yearly basis to $2,137 million, whereas its imports fell 4.56pc during the same period to $3,954 million. "As a result, Pakistan trade deficit has shrunk by 19.67pc."
The KSE-100 Index jumped 570.16 points to mark its intraday high at 39,66.46 earlier in the session. However, failing to sustain gains, it slipped 238.77 points to mark its day low at 39,057.53. The index finally ended lower by 96.62 points at 39,199.68. The KMI-30 Index contracted by 318.75 points, while KSE All Share Index ended flat, down 4.45 points. Of the total traded scrips, 150 advanced, 163 declined while the value of 233 remained unchanged.
The overall market volumes were recorded at 225.28 million, with cement sector contributing 28pc (63.29 million shares), followed by oil & gas marketing sector followed with 26.45 million exchanging hands. Among the companies, Maple Leaf Cement Factory Limited (MLCF +1.19pc) and Unity Foods Limited (UNITY +2.99pc) led the volume chart, exchanging 20.91 million and 20.50 million shares, respectively.
Meanwhile, in a letter to the exchange, Cherat Cement Company Limited (CHCC +6.96pc) stated that the company has started receiving gas supply from Sui Northern Gas Pipeline Limited.
This would help reduce the production cost of the company, it added.