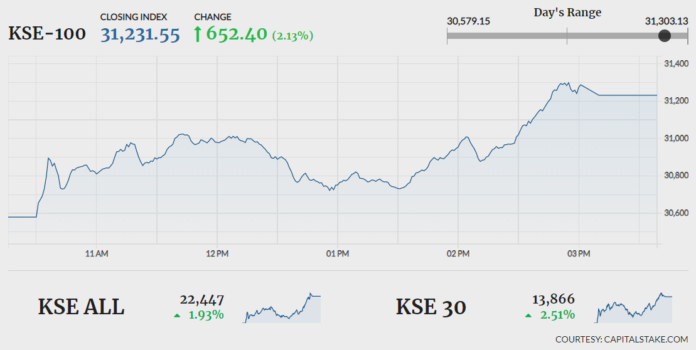 KARACHI: Bulls of the Pakistan Stock Exchange (PSX) managed to recover some losses accumulated in the last session, with the benchmark KSE-100 Index closing above the 31,000-mark.
Foreign investors ended the previous session (Monday) as net sellers. A net outflow of $5.72 million was recorded with major selling witnessed in the banking sector ($1.56 million).
According to market analysts, expectation of early release of COVID 19 financial assistance from the IMF kept the mood elevated at the bourse.
"The positive sentiment was further aided by an uptrend in international crude prices, which gained another 3pc on Tuesday. Besides E&P, cement and steel stocks also rallied based on construction package announced last Friday," said an analyst at Arif Habib Ltd.
Gaining 723.98 points, the KSE-100 Index jumped to its intraday high at 31,303.13. Holding its ground, the index ended higher by 652.40 points at 31,231.55.
Among other indices, the KMI-30 Index surged by 1,381.17 points to settle at 49,403.33, while the KSE All Share Index gathered 424.70 points, ending at 22,446.92. Of the total traded shares, 186 advanced, 96 declined while the value of 261 remained unchanged.
The overall volumes declined from the last session and were recorded at 172.63 million. Maple Leaf Cement Factory Limited (MLCF +5.12pc), Hascol Petroleum Limited (HASCOL +7.22pc) and Fauji Cement Company Limited (FCCL +2.83pc) led the volume chart, exchanging 20.39 million, 19.89 million and 9.85 million shares, respectively.
Sectors that painted the KSE-100 Index green included oil & gas exploration (+168.70 points), banking (+117.77 points) and cement (+117.51 points). Among the companies, Pak Petroleum Limited (PPL +71.90 points), Hub Power Company Limited (HUBC +71.29 points) and Oil and Gas Development Company Limited (OGDC +69.92 points) contributed maximum points to the index.
The oil & gas exploration sector gained 4.67pc in its cumulative market capitalization, with Pak Petroleum Limited (PPL +5.99pc), Mari Petroleum Company Limited (MARI +2.33pc) and Pakistan Oilfields Limited (POL +1.51pc) closing with decent gains.
Meanwhile, in a notification to the exchange, Maple Leaf Cement Factory Limited (MLCF +5.12pc), Saif Textiles (SAIF +3.13pc) and Kohat Textile Mills Limited (KOHTM +6.86pc) announced that the companies have resumed their operations following the relaxation allowed by the government.