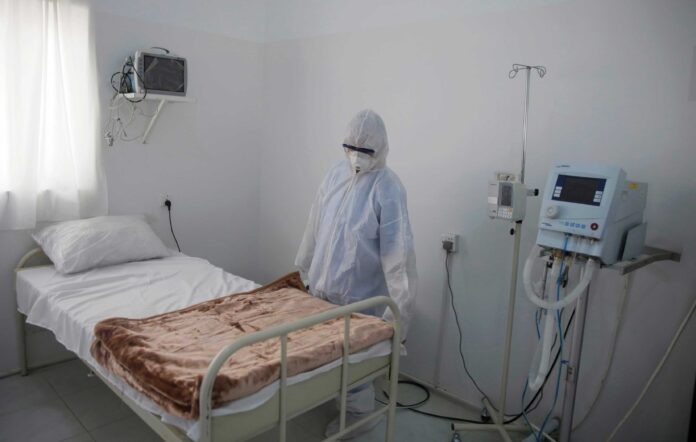 You would assume that in the middle of a global pandemic, the one industry doing well would be healthcare. Yes, it is understood that doctors are at their wits end and healthcare systems are stretched thin, but this is the case in oversubscribed and underfunded public healthcare systems.   
What about the significant presence of private healthcare options and private hospitals? One would assume that the rich would want to be treated in style, and in comfort, and would be willing to cough up the cash for a luxury quarantine or more individualised attention at not-so-busy private hospitals. 
The reality, however, is different. Even as China staggers to recovery and Europe shows the first signs of hope in the battle against Covid-19 and the epicenter of the virus in the United States, New York, finally seems to be passing the worst, private hospitals in Pakistan are facing a crunch – and things have barely even started to get bad.
The problem starts with the lack of preparedness that pervades even the private healthcare industry in Pakistan. 
As the coronavirus epidemic continues to spread throughout the world, healthcare workers have become heroes in many countries, putting their own lives on the line to help patients recover. There are gut-wrenching stories of doctors and nurses losing their lives to treat patients, and some of those stories exist in Pakistan too, at least in the public hospital system.
Some private hospitals, however, have no time for heroism and are keeping coronavirus patients away, even if it means losing money. That is, at least in part, because those who own those hospitals have not invested in protective equipment.
One might think that these places of medical practice, already rigged with all the necessary trappings, might just be used to treat Covid-19 in the current scenario. However, only a handful of private hospitals have established quarantine centers. In Lahore, only Ghurki Trust Hospital, Doctors Hospital, Bahria Hospital and Farooq Hospital have offered to establish quarantine centers for those who can afford to stay there.
As things stand, people have stopped visiting hospitals for routine checkups and treatment, and there is a growing concern that the business of private hospitals will be shut down soon. A number of private hospitals have expressed concerns that they will never be able to recover from the losses they are facing. 
According to the 2019 Economic Survey of Pakistan, there are 220,829 registered doctors, 22,595 registered dentists and 108,474 registered nurses. This gives us a ratio of one doctor for every 963 persons, 9,413 persons per dentist and one hospital bed available for every 1,608 persons.
However, it is worth remembering that the vast majority of these medical professionals are private practitioners. What comes to mind when someone says 'private' hospitals are the likes of Doctor's Hospital in Lahore or Shifa in Islamabad. But many doctors open smaller operations that are registered as hospitals, and many more run clinics, some from small offices within their homes. 
However, as the pandemic continues to spread, people continue to be wary of any place where medicine is practiced as a hub of disease, and private practitioners also hold back from seeing patients that might put them in the line of fire. 

According to data provided by an insurance company, there are currently nearly 2,000 private hospitals registered under all categories that operate across Pakistan. The breaks have been hit on these operations, and the shutters are down from orthopedic to dentistry clinics. 
But with a significantly long road to go ahead, how will private medical practitioners manage? Will private healthcare be in shambles and a distant relic in the times to come? And will innovations like telehealth have a significant impact on how medicine is practiced in a post-pandemic world? Profit takes a look.
What's with the crunch? 
You would think that things would be stable for the hospital business, if not booming. Even if private hospitals do not want to delve into the messy and possibly libelous business of testing, quarantining and treating for the Covid-19, one would not expect demand for them to go down.
Just because there is a global pandemic, does not mean people are not getting sick in all the other ways that they normally would be. However, non-essential visits to doctors count enough, and so does the virus scare, because visit numbers have dropped drastically. 
With the lockdown and people generally cautious about visiting hospitals, except when a visit to the hospital is absolutely necessary, hospital visits for what would otherwise be called a normal consultation session have dropped dramatically. So even as frontline medical professionals serve extra long shifts and risk their personal well beings, private doctors are forced to give consultations over the phone. 
One doctor who is part of the hospital management of the upscale National Hospital in Lahore's DHA, said that only a few weeks of lockdown in Punjab had seen the hospital's occupancy rate drop by a drastic 90%. Running a hospital is not naturally an immediate cash cow business as it is, and such a drop in business does not bode well for the future of the business, even if it is temporary, said the doctor who wished to remain anonymous. 
"This situation could be fatal to the healthcare industry," says Dr Muhammad Sarwar. He is the President of the Private Healthcare Association and one of the country's leading cardiologists. "Private hospitals are a specialised kind of industry. We cannot ask patients already undergoing treatment to simply come back later."
According to Dr Sarwar, any hospital calculates its cost based on how much money they spend per bed. "If you observe the Government of Punjab's health budget, the daily cost of a bed in a government hospital is around Rs15,000 per day," he says. "For Mayo Hospital in Lahore, that has 2,000 beds, the provincial government incurs a daily cost of Rs30 million regardless of whether the patients occupy these beds or not."
"In private hospitals, the expenditures are doubled because there is no subsidy or nor donation. The daily cost of a bed in a private hospital is Rs30,000 inclusive the cost of operation, medication, tests or consultant fee," he explains. "There are also bills, taxes, staff salaries and a lot of other expenses. Those who are healed give us bad prayers for charging money and those who die become our enemies for the rest of our lives."
In addition to these factors, private hospitals are also huge investments. A single 100-bed private hospital takes at least Rs2 billion in investment to set up before patients can start coming in. Such a hospital will have monthly expenses of at least Rs50 million and only the ones who earn more than that are able to survive, according to the doctor.
Where are they going
The way private hospitals work is that the hospital provides doctors a place to work, trained staff, offices, equipment and all the things they need for their practice. In return, the doctors offer a commission of their earnings to the hospital. While the doctors have been affected, they have simply shifted their practice to digital mediums. The hospitals, however, are still as big but do not have the visitors to fuel them.
If the monthly cost of say, National Hospital, is Rs100 million, it is now bringing in only Rs30 million. Turning a profit is long gone, we are not even close to breaking even," says Dr Sarwar. "In such a situation, the hospital will either close its doors or invest if there is money on the backup. But they can't afford to use their backup money for long, because they don't have deep pockets."
"One of the major problems of hospitals is that they cannot lay off their staff as each staff member is involved in one shift or the other. If one staff member is removed from any shift, then the whole shift will be shut down and a proper hospital cannot even think of closing the entire shift."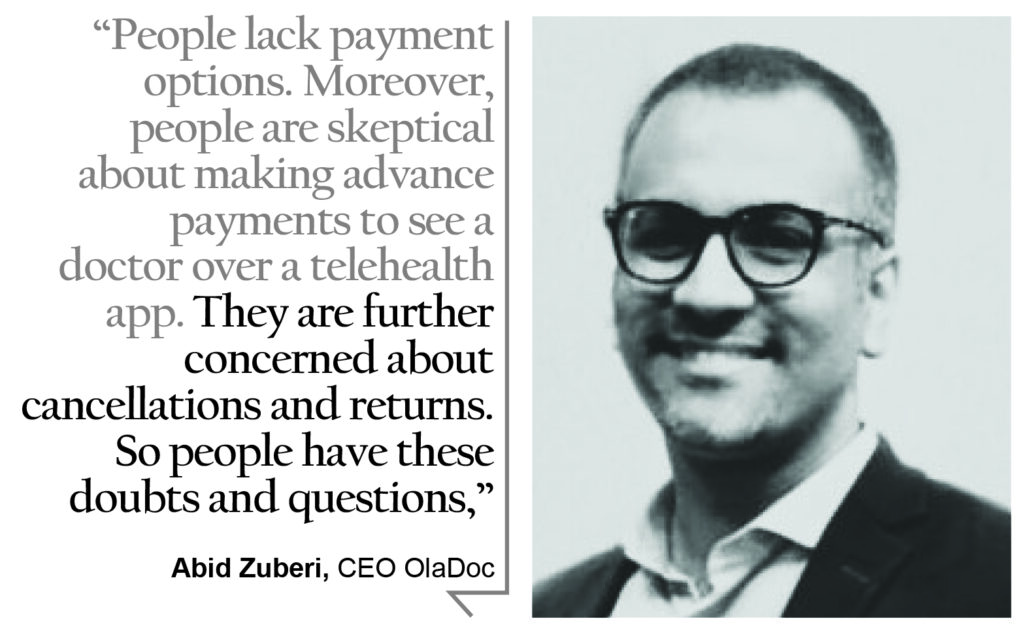 The situation, to put it mildly, is dire. But these hospitals are still not considering going into treatment for Covid-19. For starters, a lot of private practitioners and staff at these hospitals would not be willing to put themselves on the line. Already, incidents have been reported in private hospitals where patients coming in for non-coronavirus related illnesses have had to face mistreatment from staff because they were suspected to have the virus. 
"People are scared and fear has arisen in them due to Covid-19. The media has also played a negative role because they have scared people, including doctors and nurses," Dr Sarwar claims. "Who will take the risk when there are reports that doctors and nurses are dying from the coronavirus? We need to protect our doctors and paramedical staff first, and we don't even have the proper PPE [personal protective equipment] to send them out into battle."
He added that the coronavirus protected dress can be used only once. "If a staff of ten people is working in any ward of hospital, the cost of providing dresses to them is Rs10,000, since one dress costs Rs1,000. And if there are three shifts in the same ward then the cost will be Rs30,000 for one ward to run three shifts. This is not affordable because most of the people who come to our hospitals are salaried and cannot bear the additional cost of these dresses."
What the private hospital industry is asking for at this point is help. An official of the top management of National Hospital suggested that the government should give soft loans to private hospitals to stand again. "The Prime Minister is giving various relief packages to different industries then why are we being ignored? Large hospitals with a large capital can cope with this situation, but the government should think for the hospitals that rely on the profit and loss of monthly basis," they said. 
Meanwhile, Dr Sarwar also suggested something similar, saying the government would have to do something to help the industry out. "Doctors in the private hospital industry are hired on the basis of competence and skill," he said. "The government is well aware of all the issues our industry is facing. Contrary to popular belief, most doctors are middle class, and there should be something for this industry by the government."
Telehealth's moment? 
Dr Sarwar's case for government intervention in the private healthcare industry is based on an appeal for doctors that work there. The problem is, since these doctors are not the ones on the frontlines in the battle against Covid-19, they will not exactly be the top priority. Then there is the fact that even these doctors have found other ways of making money in this time. 
And this is where telehealth comes in. The good thing about a skilled profession like medicine or the law is that you are never really unemployed because the world will always need more doctors and lawyers. In these times, doctors have simply switched to giving consultations over the phone and the internet. And the telehealth industry has been noticing, and taking advantage. 
The CEO of digital healthcare platform OlaDoc, Abid Zuberi, told Profit that the number of people visiting their application and website for consultation with a doctor had grown by 40-50% during the days of the lockdown because nobody was going to the hospitals anymore. So when people need to see a doctor, they go for telehealthcare.
"The concept of telehealth is new in our system and with the onset of this pandemic, this turned out to be something inevitable for the time being. With social distancing measures at peak and facing the lockdown situation this seems to be a life saviour for the needy patients at the moment," says Dr Fatima Bukharie, a Lahore-based consultant psychiatrist. 
"For instance, when every other person is suffering from the psychological effects of this pandemic, many psychiatric patients are relapsing back to the severe stage of their illness and without telepsychiatry, these patients could suffer a lot. Because of telehealth, they are still able to approach a qualified psychiatrist/psychologist." 
People choosing teleconsultation, as an alternative to going to a hospital or a private clinic to see a doctor, only when these hospitals and private clinics are not operating, tells us that telehealth is not a disruptor. And what does not disrupt would always remain a secondary choice. 
One can only make guesses as to how the post pandemic world will look, but it is clear that the virus is here to stay for now, and it is certainly forcing people to change their habits. But the prospect of telemedicine becoming the 'preferred' option for people to consult a doctor is contingent upon the COVID-19 lockdowns and social distancing measures continuing for a period long enough to change the habits of the people to create that 'new normal' in life. That much, hopefully, will not be the case. 
But there are constraints to creating that 'new normal'. Firstly, whenever and wherever telemedicine is advertised, the phrase 'improved access to healthcare' always comes as a corollary. The reality, however, is that telehealth is still a long way to go to improve healthcare in communities that lack access to adequate healthcare, and the surge that it has received in the number of patients using teleconsultation during the lockdown, has mostly come from metropolitans like Lahore and Karachi. 
Even the forced adoption of telehealth in the rural population – the segment of population that is considered marginalised and that lacks access to proper healthcare and that forms the bulk of the total Pakistani population – has been slow. It has been slow even as the number of cellphones increases and high speed internet (3G/4G) becomes available even in remote areas. 
The bigger problem that prevents the mass adoption of telehealth, according to Zuberi, is the nonavailability of payment options, especially in the remote communities, and concerns surrounding digital payments. 
"People lack payment options. Moreover, people are skeptical about making advance payments to see a doctor over a telehealth app. They are further concerned about cancellations and returns. So people have these doubts and questions," he says. "The experience is also not the same as a brick-and-mortar doctor office."
Telehealth is only qualified to provide healthcare services at primary level healthcare. At primary level is a patient's first and foremost contact with a doctor, mostly a general practitioner. If at primary care level a doctor tells you that your symptoms might require a specialist's attention because your symptoms might not be of a common disease, a visit to a specialist would be inevitable 
On the other hand, doctors with private practice are moving onto telehealth apps in swarms. There has been a phenomenal increase in the number of doctors signing up on telehealth apps, with OlaDoc disclosing to Profit that within 10 days, they have signed more than 2,000 doctors on their platform. 
Telehealth companies market doctors on their platform to get more patients for that doctor, without the geographical constraints of physically reaching the doctor from far flung areas. Online consultations would also remove the costs associated with setting up and operating physical clinics, whereas the costs associated with working on telehealth apps might include marketing fee for the doctor on the app, a certain percentage on consultation fee charged by these companies – just like hospitals – or both.
A doctor from Lahore's Omar Hospital said that private consultants are making money these days by operating online. "Private doctors or consultants have never been liable for the profit or losses of the hospitals. They only visit the hospital and check the patients by charging their fee and pay a share of their earnings to the hospital. These private doctors are still consulting and taking patients through online clinics," he adds.
"In these lock-down days, some consultants have even cut their fees through online consultations, while some are still charging full fee," he says.
So the doctors might have the incentive to stay on these apps for longer durations, even after the lockdown ends, because it only enhances their earnings. But for the patients, the thinking about it would be different.
"Though no service is perfect, telemedicine is a positive and growing medical treatment option. Studies continue to show that telemedicine saves time, money, and lives. With the healthcare model and healthcare beliefs we had in our society I think our people will be using this to some extent in times of emergency, or may be if this saves them finances in some way (travelling expense etc.) they would always prefer to see their doctor," Dr Fatima Bukharie says.