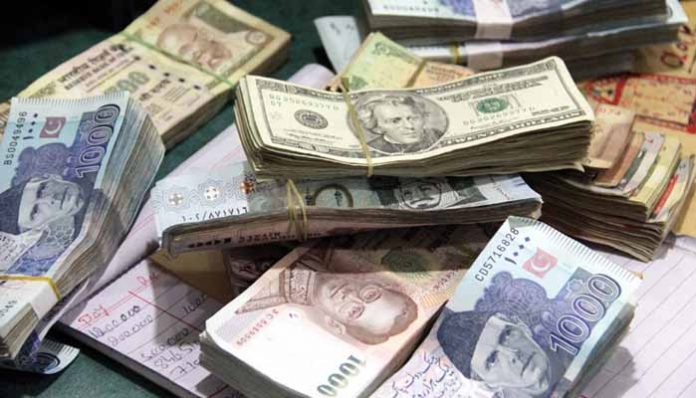 KARACHI/LAHORE: After a week of downward pressure on the currency, the Pakistani rupee appreciated 29 paisas against the United States (US) dollar on Wednesday, closing at Rs167.3631 per USD.
Earlier on Wednesday, the State Bank of Pakistan (SBP), through a tweet informed that it had received $500 million from Asian Development Bank (ADB) and $500 million from the World Bank (WB), following which speculations began in the foreign exchange market regarding the strengthening of the rupee.
On Tuesday, the Pakistani rupee had closed at Rs167.6508 after touching it's all-time low during the day.
The value of the Pakistani rupee has been depreciating against the US dollar since June 15, marking consecutive losses.
"Once we adjust for inflation we estimate that the Pakistani rupee was as weak as Rs179 per US dollar back in 2001, in terms of today's money. So we don't consider Rs168 a record low," says Renaissance Capital Global Chief Economist Charlie Robertson.
"Today the Pakistani Rupee is only 8 per cent cheap to its long-term average rate on our Real Effective Exchange Rate (REER) model. In comparison, Latin American currencies are around 25 per cent cheap. So the Pakistani rupee looks strong relative to other emerging market currencies," Robertson adds.
According to Robertson, the key reasons behind the weakness of the rupee are weak textile exports from Pakistan and lower remittances.
AKD Securities Chartered Market Technician Qasim Anwar's technical analysis suggests that the Pakistani rupee is expected to peak around Rs172 to Rs175 per US dollar price zone.
"The Pakistani rupee needs to break below Rs163 per US dollar to reverse the bullish trend," says Qasim Anwar.
Will foreign inflows strengthen the Pakistani rupee?
Despite Pakistan receiving $1 billion in total from ADB and WB on Wednesday, Axitrader Chief Market Global Strategist Stephen Innes believes that the impact of Covid-19 on the Pakistani rupee cannot be discounted and that such foreign inflows cannot lead to long term stability of the rupee.
"Pakistan is ill-equipped to deal with a huge Covid-19 outbreak from both a healthcare and financial perspective. The government's coffers are bare and Pakistan's fragile healthcare system will be put to the test," he says.
"Although injections from WB and ADB may go some way to pamper over the cracks, the fissures remain just waiting to erupt," he adds..
On the other hand, Capital Stake Director Research Maha Jafer Butt feels that some stability in the value of the Pakistani rupee can be expected going forward.
"With Pakistan receiving $1 billion collectively from ADB and WB today and an emerging trend of contraction in the current account deficit, reserves of the country will see an improvement," she says.
Similarly, Khadim Ali Shah Bukhari Securities Managing Director Arsalan Soomro seems certain that the Pakistani rupee will stabilise.
"The International Monetary Fund's (IMF) money is yet to kick in. This gives confidence to the markets, government and investors despite an overly ambitious tax target which was necessary to pave the way for structural reforms," he says. Arsalan Soomro expects the Pakistani currency to remain below Rs170 per US dollar for the next few weeks until oil prices jump.
Pak Kuwait Investment Company Head of Research and Development Sami Tariq feels that the rupee will recover with the inflows. "$500 million is expected to come from Asian Infrastructure Investment Bank (AIIB). Another commercial loan is also expected from a Chinese bank. Together, this will help finance repayments and shore up reserves" he says.
As for future inflows into the Pakistani bond market, Charlie Robertson believes that the interest rates offered on Pakistani bonds are not high enough to encourage inflows. "Pakistan offers the fourth highest one-year interest rate of 7.4 per cent in emerging markets, but this is not high enough to encourage inflows into Pakistani rupee bonds," he says.