When Abid Baig found his wife displaying serious symptoms of Covid-19, he rushed her to a private hospital in Lahore. There, they were quick to admit her, slow to test her, and late to tell her husband that there would be charges other than the room and doctors' visits that they had not told him about earlier. After keeping his wife admitted in the hospital for three days, the hospital finally came back with her coronavirus test results, which were negative. She simply had the flu, for which the hospital ended up charging Rs350,000.
The story is fast becoming a familiar one. Social media was in uproar recently, after singer Fakhre Alam came forward with the story of a relative who was charged Rs1.7 million for 10 days of treatment at the Agha Khan Hospital in Karachi. "It baffles me how 1,800 latex gloves and PPE suits are charged to a single patient for ten days and the price per unit is ridiculous. I understand the business, but this is unfair," he said on Twitter.
While the uproar is loud, if these patients had been taken to these private hospitals back in April, they would have been refused entry. When the global pandemic was first picking up steam in Pakistan, the private hospital industry was buckling under pressure.
But this was neither because the hospitals were oversubscribed, nor because of government regulation of pricing during a pandemic situation. Rather, a lack of preparedness, the fear of diving into treating Covid-19, and the fear in people of visiting hospitals even for non-coronavirus health problems combined to mean that the private hospitals were one of the industries worst affected by the pandemic. 
At a time when most people would expect these hospitals to be raking it in, they were teetering on the edges of going bust, refusing to treat or set up facilities for patients battling Covid-19. But as time passed, and the owners of private hospitals realised this was a wave they could not hope to ride out, they decided to embrace their fears and start accepting patients with the virus. They are now, finally, raking it in.  
After making strides in securing Personal Protective Equipment (PPE) for their doctors and health workers, these private hospitals have set up their own coronavirus wards, isolating patients in individual rooms and charging hefty sums for treatment.
Article continues after this advertisement
And while they have been able to lure patients with the promise of more attentive care, individual attention, and a significantly more comfortable stay than at government hospitals, allegations of extortionist pricing through hidden charges have run rife since private hospitals have joined the coronavirus fray. While these kinds of complaints are nothing new with private hospitals, in the middle of a public health emergency, they are now bringing up the question of government regulation, and whether or not it would be legal to implement.
Hesitant beginnings 
In the initial days of the pandemic, private hospitals essentially pulled up the drawbridge, boarded up their windows and armed their guards with infrared thermometers to keep themselves safe and aloof from the health crisis. A number of hospitals, such as Lahore's Ittefaq hospital, even closed the doors to their emergency departments, only allowing patients with normal temperature or conditions that clearly had nothing to do with the virus. 
In almost all major cities of Pakistan, patients were being kept in isolation wards of government hospitals. Part of the reason for this was the government's surveillance of the disease, but also the reluctance of the private healthcare industry to be a part of the battle against the pandemic. This was the case in all major cities of the country until March. 
In the federal capital, Islamabad Deputy Commissioner Hamza Shafqat said that according to the policy of the federal government, Covid-19 patients were being treated at government-run hospitals such as the Pakistan Institute of Medical Sciences (PIMS), polyclinics, and the National Institute of Health (NIH) under the supervision of the Ministry of Health.
In Punjab, Lahore Additional Deputy Commissioner Safdar Virk said that Covid-19 patients in Lahore were kept in Mayo Hospital, Services Hospital and other government hospitals so that they could be kept under government supervision. He said there was no law forcing private hospitals to treat coronavirus patients, but the government had spoken to their association.

Karachi was the only city in Pakistan where the private Aga Khan University (AKU) Hospital initially cared for coronavirus patients. However, some of AKU's doctors were later diagnosed with the coronavirus, after which the hospital temporarily stopped taking more patients and testing them.
This pattern continued until the middle of March, when it was becoming clear that public hospitals would not be able to keep up. With this growing situation of patients in mind, the Punjab government set up coronavirus wards in all major private hospitals in Lahore. Punjab Specialized Healthcare Secretary Nabil Ahmad Awan had also released a list of the said private hospitals in Lahore in which separate coronavirus wards had been set up. 
Eighteen beds in Hameed Latif Hospital, 15 in Fatima Memorial Hospital, 10 in Khidmat Teaching Hospital Mansura, 8 in Hayat Memorial Hospital, 6 in Ittefaq Hospital, 6 in National Hospital, 6 in Adil Hospital, 5 in Doctors Hospital, 5 beds at Surgimed Hospital, and one at Farooq Hospital were designated. Awan also said that Covid-19 can be treated in the said private hospitals for their requisite fees, while it will be treated in government hospitals completely free of cost.
Now, directed by the government to treat the coronavirus, and with no way to stop the pandemic from entering their doors, the floodgates opened in private hospitals. According to the Punjab Healthcare Commission, as many as 52 private hospitals in eight cities across the province are treating Covid-19 patients back in May.
From the initial 11 hospitals in Lahore where coronavirus beds were reserved by the government, there are now 21 private hospitals treating the virus in the city alone. In addition to this, 10 in Faisalabad, six in Rawalpindi, five each in Multan and Sargodha, three in Gujranwala while one each in Narowal and Lodhran are treating coronavirus patients where 228 Covid-19 patients are being treated. The isolation wards and high dependency units have been developed separately where 1,222 beds have been allocated for the Covid-19 patients.
What's the cost? 
The rich want to be treated in style and in comfort, and would be willing to cough up the cash for a luxury quarantine or more individualised attention. After all, this is why private hospitals exist in the first place. While the properly wealthy can afford to spend heavy amounts, sometimes in the millions of rupees, for a couple of weeks stay at a private hospital, there is also a growing middle class that has gotten used to private hospitals, but are scraping together their savings in the hopes of better treatment. 
To this end, Profit acquired the rate list for the treatment of patients of Covid-19 in Lahore's renowned Hameed Latif Hospital, which has recently inaugurated a grand new hospital building next to their old one. Private room charges with a medical officer (MO)/Nursing care are Rs27,000 at Hameed Latif Hospital, whereas the semi-private room charges with MO/Nursing care are Rs20,000 per day. Interestingly, the hospital also offers 'executive' rooms – presumably more luxurious – at the rate of Rs35,000 per day.
The medical intensive care unit (ICU) charges of the hospital are Rs50,000 per day, postoperative ICU charges with MO/Nursing Care are Rs24,000 per day, Operation Theater Covid charges are Rs20,000, and Operation Theater equipment charges and disposables are Rs7,000.

If a patient of Covid-19 is kept in the ICU of this hospital [Hameed Latif Hospital] for ten days only, which is four days fewer than the average recovery time required for a normal case of covid-19 that does not need hospitalisation, this bill becomes Rs500,000. Similarly, if he also takes the service of a semi-private room, the bill reaches up to Rs700,000, while the cost of medicines is in addition to that. For context, most basic commercial health insurance policies have a maximum coverage of Rs500,000 for a full year of healthcare expenses.
Officials of the Hameed Latif Hospital have declined to provide an exact figure for the revenue generated from their coronavirus ward, citing the fact that the hospital has not even been treating Covid-19 patients for an entire month yet, but it is clear that the business generates significant revenues. 
Up until last month, private hospitals had been complaining that their businesses were going down the drain and demanding the government bail them out like other industries affected by the pandemic. The complaints have slowly disappeared, only to be replaced by the hue and cry of patients over the exorbitant pricing, and hidden charges that make their final bills much higher than they initially suspected they would be.
A Profit survey has shown that private hospitals are receiving daily charges ranging from Rs25,000 to Rs100,000 for room rents, not including the charges of medicines, tests, ventilators, examination by a doctor and nurse, while a patient stays in a room for 10 to 15 days for treatment. The hospitals also charge separately for PPE, expecting patients to provide it for their doctors and healthcare staff. However, the problem is that most families of patients have come forward to say that the hospital informs them of PPE and other expenses after their patient has been admitted. 
An official of Punjab health department said, on the condition of anonymity, that 21 private hospitals are treating coronavirus patients in Lahore. According to the list provided by the private hospitals to the health department and Punjab Healthcare Commission, the private hospital charges Rs10,000 to Rs30,000 per bed for one corona patient on a daily basis. But some private hospitals charge even higher, suggesting they are not accurately disclosing their rates to the government.
"In addition to bed charges, patients are charged a separate fee for doctor's examination, consultant's examination, nursing care, PPE kits, medicines and tests and if a patient goes on a ventilator, [their] daily charges are Rs10,000 to Rs15,000 per day, thus the daily cost of a corona patient exceeds Rs50,000 to Rs150,000 in these hospitals," said the official. "But it all depends on the patient's condition, the history of the other diseases the patient is suffering from and the medications and equipment the patient needs with each passing time in the treatment."
Can the government legally do anything? 
As the complaints grow, particularly about a lack of transparency when it comes to hospital pricing, the families of patients are hoping the government can step in to help. And in this regard, it turns out that the government is legally empowered to do quite a lot. Health, being a provincial subject, has to be managed by the relevant administrations, but all of them have wide powers under different pandemic ordinances, as had become practice over the rest of the world going through the crisis.  The government's powers in this area can be applied through two routes. 
"The Punjab Emergency Pandemic Ordinance gives all kinds of emergency powers to the provincial government. Such ordinances have also been brought into play in other provinces, such as Sindh, and the federal government has also issued one in their own administrative territories," says lawyer Usama Khawar. "Decreasing fees is a small thing, they can take over hospitals with these powers. You have seen how they gave relaxation in rents as well as decreased private school fees under the ordinance," he went on to say. 
"The Punjab Healthcare Commission can also look at issues such as alleged extortion, but the government has simply seemed uninterested. Back in the day, former Chief Justice Saqib Nisar had also taken suo motu notice of private hospital fees when an issue had arisen over the price of stents. However, the matter has not progressed since." 

Yet despite its overarching powers, the Punjab government has been little done. In Lahore, for example, there are 22 private hospitals treating Covid-19 patients, but the government has yet to enforce laws even around price transparency for these hospitals. Permission is simply granted to those who have ventilators and other facilities including ICUs, high dependency unit (HDU) rooms, meet the Covid-19 standard operating procedures (SOPs), and have isolation areas in their hospitals.
The closest the Punjab government has come to regulating private hospitals is when Dr. Suhaib Khan, CEO of the Punjab Healthcare Commission, on June 16 directed private hospitals in the province to display the hospital rates, including but not limited to per day charges of a bed room or isolation area, HDU/ICU, ventilation services, and injections such as Actemra. However, no price caps were set. 
While speaking to Profit the spokesperson of Punjab Healthcare Commission said, "We do not have the authority to check the rates at private hospitals. However, there is no compromise on the quality of treatment provided by hospitals. Strict actions are also taken against the hospitals which are negligent in quality treatment and we also give them notices and in some cases fine them."
Private hospitals in Khyber-Pakhtunkhwa have also been ordered to post the cost of treatment of corona infected patients on their official websites. The Khyber-Pakhtunkhwa Healthcare Commission has also issued an official statement in this regard and directed the private hospitals to post the cost of treatment of every patient on their notice boards.
Similarly, the Islamabad deputy commissioner (DC) has also issued a regulation for private hospitals in which the DC has directed private hospitals to upload their fee structure on their websites. The rule also states that private hospitals would be bound to disclose the amount charged for a patient if inquired, the orders are to make the charges easily accessible to the public.
The spokesperson of the Punjab government Musarrat Jamshed Cheema told Profit that she had brought the issue of high fees of hospitals to the notice of the Prime Minister of Pakistan and the Chief Minister of Punjab.
"It is one of the most important problems faced by the public during the Covid-19 crisis. It is inhumane how some private hospitals were extorting money during these times. We are going to form a committee to estimate the cost of treatment of a Covid patient and then the prices of private hospitals will be regulated by the government so that they do not make more profit."
A senior advocate of the Supreme Court of Pakistan and former senator Dr Khalid Ranjha speaking to Profit said, "There is no law in our country regarding the fees of private hospitals. Private hospitals pay only taxes to the government. Then the government also allowed public doctors to practice privately, which is completely wrong."
"Private hospitals claim to be under the supervision of the Pakistan Medical and Dental Council (PMDC), while doctors working in the PMDC also have their own private hospitals. Fees are not regulated by the alliance of PMDC and private hospitals. Legislation should be enacted immediately to regulate hospital fees. Provincial governments should legislate directly instead of forming commissions. Forming commission means that the government wants to delay the matter. Just as the PMDC supervises private hospitals, so the PMDC should also have a supervisor to evaluate its performance."
The hospitals' perspective
According to the private hospitals, however, the problem is that every case is different, and some of the more complicated cases that require extra treatment are highlighted on social media and give the wrong impression.
A representative of the earlier mentioned Hameed Latif Hospital told Profit that there was no truth to the claim that private hospitals were charging exorbitant fees from patients. "Every coronavirus patient has a different condition and treatment. The bed charges of our the best grade hospital range from Rs9,000 to Rs35,000 per day, while the doctor's examination, nursing care, oxygen, ventilator, PPE kits used on a patient and other expenses are also borne by the patient," he said. 
"If a patient has a complaint regarding their bill or staff, it is also resolved. If I only talk about Hameed Latif Hospital, we are treating the patients of Covid-19 under duress. The hospital's deficit ranges from 50 to 70 percent. We have not only increased the number of beds for coronavirus patients, but also spent a considerable amount on ventilators. Treatment of coronavirus patients in private hospitals was not started earlier because there were few patients," he explained.
The hospital management said they also want the number of patients to get lower, and that the treatment results of private hospitals were far better than public hospitals, which could in some way justify the cost. 
"In these circumstances, we have doubled the salaries of our staff. Due to Covid-19, our businesses are in deficit but the expenses, electricity, gas bills, salaries of employees and other expenses are being incurred in the same way. We are the most affected," they said. 
"We are borrowing from the bank every month for the salaries of our employees because of this pandemic. Like other sectors, we are working in extreme difficulties because of Covid-19 but we are working closely with the government to fight with this pandemic."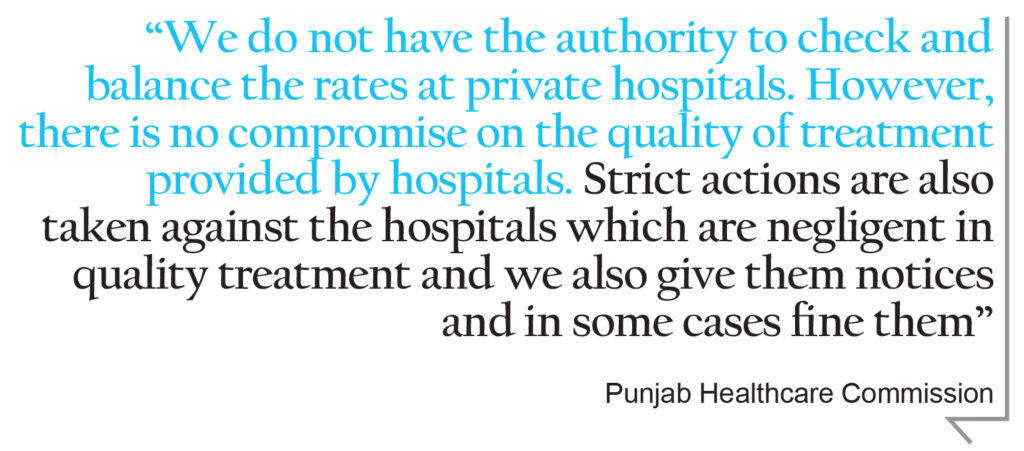 Dr. Muhammad Sarwar, president of the Private Healthcare Association, says that the prices are justified, and actually on the lower end, and that government hospitals are not businesses so they can provide the treatment for free. "The government claims to have 100,000 beds in Punjab. Each bed costs Rs15,000 per day, whether the patient is treated or not. Now add another Rs15,000 to the cost of these beds for PPE kits, as a patient has to be seen by at least two doctors, three nurses, a nanny and one or two of the staff in the course of 24 hours. Two to fifteen liters of oxygen has to be used for a coronavirus patient, then there is the cost of tests and medicines and the government is spending on it."
Dr Sarwar claimed that the quarantine center set up by the government at the Expo Center Lahore has electricity bills alone of around Rs7.8 billion, which the government has yet to pay. The government has provided only beds in the expo center while there are no nurses, no central supply of oxygen and no central air conditioning.
Dr. Sarwar believes that there are 1,800 beds in Mayo Hospital, 1,800 beds in Jinnah Hospital and 1,800 beds in Services Hospital while no operation is being carried out in these hospitals due to the pandemic. Only dialysis is being done or routine treatment is being given to non-coronavirus patients.
"There is a reason people come to us for treatment, it is because they trust us. We do not force anyone to seek treatment from a private hospital. All the hospitals across the world, whether Mayo Clinic or Harvard Medical School [in the United States], have become bankrupt. The earning of a private hospital was according to its normal business," said Dr Sarwar. 
The statement is not true. While the Mayo Clinic, like other US hospitals, has undergone financial duress, it has not declared bankruptcy. Harvard Medical School does not run its own hospital, and instead works with other academic medical centers in the Boston metropolitan area, such as Massachusetts General Hospital, Brigham and Women's Hospital, Beth Israel Deaconess Medical Center, Dana–Farber Cancer Institute, and Boston Children's Hospital. None of those hospitals has declared bankruptcy.
"Eighty percent of our regular non-corona patients are not coming to private hospitals due to the fear that they might contract the virus. Our patients have decreased but our expenses are still there. We also have to pay the salaries to our staff, utility bills and many other bills."
He also admitted that his association was not denying that Covid-19 patients in private hospitals will have to pay Rs1.5 million to Rs4 million depending on their condition. But he said this had to do with the fact that only the more serious cases actually needed to be admitted in a hospital, and the cost for caring for them was naturally higher.
"The cost of treatment for a Covid-19 patient that is on a ventilator is from Rs100,000 to Rs125,000 per day. Such a patient has to be seen by at least ten consultants because his life is in danger. The bills are paid by people that can afford it," he said. 
"If people complain that private hospitals charge high fees, then the government should take private hospitals into its custody and run them. When there is a free service in government hospitals, those who are spending Rs1.5 million on their treatment should go there instead of objecting to private hospitals."