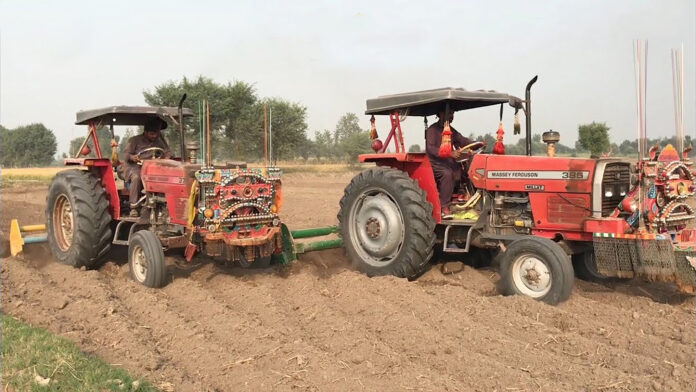 How important is agriculture to Pakistan? The sector contributes 18.5% to the country's gross domestic product (GDP) and employs 38.5% of the national labour force. Even our state emblem is made up of four crops: jute, cotton, wheat, and tea. 
Yet for a country that prides itself on its agricultural base, we do not have enough of the one machine one really needs: a tractor. 
According to the Pakistan Economic Survey of 2019-2020, there are only 634,000 tractors operating in Pakistan. This, however, is a significant increase from when there were only 35,700 tractors in 1975, 157,300 tractors in 1985, 252,000 tractors in 1994, and 401,700 tractors in 2004. 
Granted, this is an improvement from the decades before, this still means that the penetration of tractors in Pakistan is only 0.9 horsepower per hectare of cultivable land. Compare that to the required power of 1.4 horsepower per acre, meaning there is a shortfall of 0.5 horsepower per hectare.
Now, from July 2018 to March 2019, the total tractors' production in the country stood at 37,399. Of that, a substantial 64% was produced by one company alone: Millat Tractors. 
Millat has always had a bit of a headstart when it came to tractors. Started in 1964 in Lahore, it is the authorized manufacturer of the American Massey Ferguson tractor in Pakistan. The company was nationalized in 1972, and made a part of the Pakistan Tractor Corporation (PTC). 
The PTC started an indigenisation programme in 1980, and got Millat Tractors on board to set up engine assembly plants in Pakistan. To this day, that programme has been successful: the tractor industry has achieved 95% of localisation in production.
As a result, this has led to cheap tractors when compared to tractors around the world, but is still unaffordable for the majority of farmers in Pakistan. As has been previously locally reported, most farmers find it difficult to invest in a tractor given that the average size of their farm is quite small for the purchase of a tractor to make sense. In addition, rates on loans from banks have not been generous in previous years, thus deterring more farmers from owning their own tractor.
That is why analyst Yasin Muhammad Hanif at Darson Securities is a little more optimistic, in his note sent to clients on June 29. 
Farmers' incomes are set to improve for three reasons. First, the government announced a Rs56.6 billion agriculture package. Importantly, this package would also include Rs2.5 billion subsidy on the sales tax on locally-manufactured tractors for a period of one year.
Second, the interest rate has been slashed by 625 basis points over the course of four months, from 13.25% in March to 7% in July. This will help in procuring loans. 
Finally, there is an increase in the wheat support price to Rs1400 per 40 kilograms in March, up from last year's Rs1,365 per 40 kilograms. 
All of this bodes well not just for the tractor industry, but specifically also for Millat Tractor, given its high market share. Because the penetration and production figures are so low, there is a strong opportunity for growth. Hanif predicts a five-year compounded annual growth rate of 11% for Millat's volumes. 
Though the majority of the focus is on agriculture, it is also important to note that tractors are very useful in the construction sector, especially for cement. In fact, between 20% to 30% of Millat's sales come from this segment. 
In the first nine months of fiscal year 2020, cement dispatches had grown by an average of 4.2% year-on-year. However, sales severely declined in April and May of this year, due to lockdown. To prevent a total collapse, the government announced a relief package for the construction sector.
"We think the incentives will play well in reviving private sector consumption therefore demand for tractors would also increase," predicts Hanif. 
Finally, Millat also benefits from investing early on in Hyundai Nishat Motors. The company currently has an 18% stake in Hyundai, with an investment of Rs1.3 billion. This could contribute Rs30.37 per share.
And so: even though 2020 may have low numbers for Millat, the coming years are expected to be positive. The company's net profitability is set to rise Rs2500 million in 2021, to Rs3000 million in 2022, to Rs3500 million in 2023. Similarly, its net sales are set to rise from Rs20,000 million in 2021, to Rs27,000 million in 2022, to roughly Rs35,000 million in 2023. 
Are there any upcoming risks? Yes: there could be an increase in the general sales tax, or perhaps construction will not pick up as predicted. However, perhaps the most worrying factor could be out of everyone's hands: the locust. 
Locusts are now present in 46 districts out of Pakistan's 131 districts. The United Nations' Food and Agriculture Organization (FAO) has estimated $2.5 billion worth of losses to winter crops and $2.8 billion to summer crops. If our crops collapse, then there is no need for tractors in the agriculture sector – and by default, only the construction sector to save Millat. Though at that point, that would be the least of our concerns.