At the start of the pandemic-induced lockdowns, a meme started doing the rounds among professionals on LinkedIn: "Which of the following has done the most digital transformation at your company or industry? The CEO, the CTO, or Covid-19?"
Large companies – particularly ones that have been around for over a century – tend to have a reputation for being laggards when it comes to technology adoption, with at least some justification. It is often the nimbler young startups that use better technology to outcompete against their rivals.
There are of course exceptions: big companies that recognise the need for a technological transformation early and decide to do something about it. And it seems that Unilever Pakistan is one of those exceptions.
Executives at Unilever Pakistan had set out to address a large problem in the fourth quarter of 2017 around playing a larger role in the direct to consumer (DTC) space, specifically around their Wall's business division, something that the company began toying around with for technology solutions, including partnering with startup incubators and software development companies.
Following a hackathon with NEST I/O, a large startup incubator based in Karachi, in March 2018, the company found that many of the contestants whom they had recruited to help build a solution had a remarkable similarity of ideas, which in turn reinforced the value of the DTC approach. To move the idea along further, Unilever engaged in a joint venture with VentureDive – a software development company that, among other successes, developed the initial app for Careem – by mid-2018, with the beta version rolling out in mid-2019 to a select number of users.
According to sources familiar with the matter, the initiative was granted $1.5 million in internal funding. By the fourth quarter of 2019, plans were in place for the initiative to be assigned a dedicated team across operations and marketing. Going after the snacking category market – valued at €1.6 billion according to a spokesperson from Unilever Pakistan – the idea is a snack delivery app called Munchies.
Article continues after this advertisement
And it has been operating in stealth mode ever since, with 40,000 total downloads, averaging 12,000 monthly active users, and an unknown average revenue per user. 
The app first came to the attention of Profit after several LinkedIn posts advertising the role of Growth Manager at VentureDive for a product called Munchies. Across both Google Play and the Apple Store, the app points to VentureDive as the creator with no indication towards Unilever in any manner.
During its investigation, Profit looked at all app update logs and marketing materials going back to the first quarter of 2019 to reach the conclusion that the app has ties to Unilever Pakistan. The overabundant presence of Unilever's dehydrated mixes and frozen desserts portfolio across both Facebook and Instagram also confirmed this hypothesis. 
Profit reached out to Unilever Pakistan and interviewed both Zaeem Khan, digital transformation manager at Unilever Pakistan and Saad Fazil, co-founder & managing director at VentureDive to understand the business case, operating model, portfolio mix, revenue model, pivots due to C19, and the macro-challenges faced on a daily basis. 
"At the Unilever end, we look after the operations – which is the fleet – and the marketing of the platform with the team that we have," said Khan. "With VentureDive we look at the growth aspect with VentureDive looking at the technology and product lens apart from creating and refining the ecosystem overall."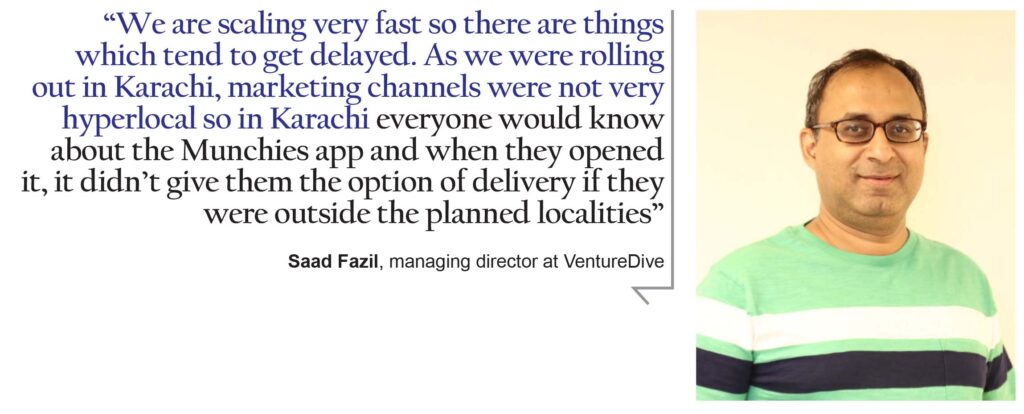 Speaking to Profit, Fazil said that while structurally there is a distinction between Unilever and VentureDive, both companies work as one unit around Munchies. A spokesperson declined to comment on the joint venture status of Munchies, adding only that the structure would be formalised and finalised in the future. 
Justifying a $1.5 million investment for delivering snacks
Speaking with Profit, Khan shared that the digital transformation team is a relatively new department at the global consumer goods business and has been tasked to modify existing processes, experiences, and workflows to meet the new normal and experiment with new revenue streams initiatives. One of these initiatives is Munchies, which Khan said he has been looking after since December 2019 to disrupt the snacking delivery market in a very nontraditional way. 
"[Munchies] started way back at the end of 2017," said Khan. "It was an idea that was actually conceived by our vice president of customer development at that time, now our CEO, Amir Paracha. We were actually thinking of avenues of implementing new channels for our ice cream business, that's where the thought process really initiated. With ice cream in Pakistan, it's a very traditional retail-based model with a slight pivot to our bike model. Like any snacking product, one of the key fundamental requirements is instantaneous fulfilment of any snack craving that you have which is triggered by the advertisement that we do on TV or on digital."
Khan told Profit that instant fulfilment was missing in the ice cream space, with interested buyers left to either go to the nearest store to buy the product or to wait for the Wall's bicyclist. Unilever wanted to create a digital D2C platform wherein the product is delivered to the customer doorstep within 30 to 40 minutes. Over time, the team looking after this initiative realized that instead of zoning in on selling one product category, it was far more prudent to launch a marketplace.
"We did not want to enter the grocery market as well, because like you've seen post Covid-19 there's been a lot of entrance and space is heating up," said Khan, adding that the team settled on the documented and branded snacking market, which Profit was told is a €1.6 billion growing at a compound annual growth rate of around 12% year on year.
"It's growing faster than overall grocery – we have these huge manufacturers who are investing a lot in growing the market so we really saw this as digital whitespace, where if we create an online marketplace which is snack relevant only – with the promise of instant fulfillment within 20 minutes – and that is something as the days go by, we are trying to cut down on."
Khan told Profit that the decision to work with VentureDive came from an internal realisation that Unilever lacks the technological know-how to create an algorithmically powered marketplace on its own. After a meeting between Peracha and the co-founders of VentureDive in 2018, the joint venture began to create an ecosystem that satisfies any snack craving in a very short period of time.
For Unilever, this investment ranks as one of its foremost digital transformation investments, with Khan sharing that the official launch was around May 2019 representing the alpha testing phase in product rollout. 
By the fourth quarter of 2019, Unilever made five dedicated internal appointments for Munchies: Faiza Shafqat, Zaeem Khan, Humza Mahfooz, Muhammad Nehal, and Muhammad Saqib Pervez as the end to end operations lead, digital transformation manager, marketing lead, project resource, and the end
to end operations manager respectively. During that time, Munchies made 10,000 deliveries according to people familiar with the matter and executed a robust fleet management strategy that has dropped the estimated time of arrival from two hours to under 30 minutes.
The operating model – when testing met learning
During the alpha testing phase of Munchies in mid-2019, the operating model consisted of an app for the retailer to ensure stock fulfillment was 100% accurate. In this model, after an app user placed an order, a nearby retailer would be informed and after confirming the existence of the desired product, he would confirm within the apps user interface, whereupon a delivery person would come to pay and pick up the item for delivery.
"Our fleet model at that time was more of a crowdsourced model and not a dedicated model. Also, [at the time], Munchies was so small that a lot of retailers didn't even bother accepting the order," said Khan. "We faced a lot of difficulties in that so we decided to let go of the retailer app, keeping it simple by selecting outlets based on a survey which desired a 90% accuracy that SKUs [stock-keeping units; company lingo for the specific product that the customer wants] on the app were available."
Learning from this, Munchies currently operates on a dedicated fleet hyperlocal model – and has been doing so since November 2019 – that depends on predictive algorithms directing delivery personnel to the retailers that are most likely to stock the product being ordered.
A probability model created by VentureDive makes an educated guess on which nearby delivery person is the best fit to reach the retailer that has the requested stock-keeping unit (SKU) and prioritises that hub, taking into account the least possible time from order demand to order fulfillment.
"Initially we started in DHA, Clifton [Karachi]. For the first three months, that was our pilot," said Khan. "Got a good response there, we expanded to PECHS, Bahadurabad, and right now we are covering around 80% of the consumer community in Karachi including Gulistan-e-Johar, Gulshan-e-Iqbal, Garden Town, Soldier Bazar, North Nazimabad, FB Area, and so forth."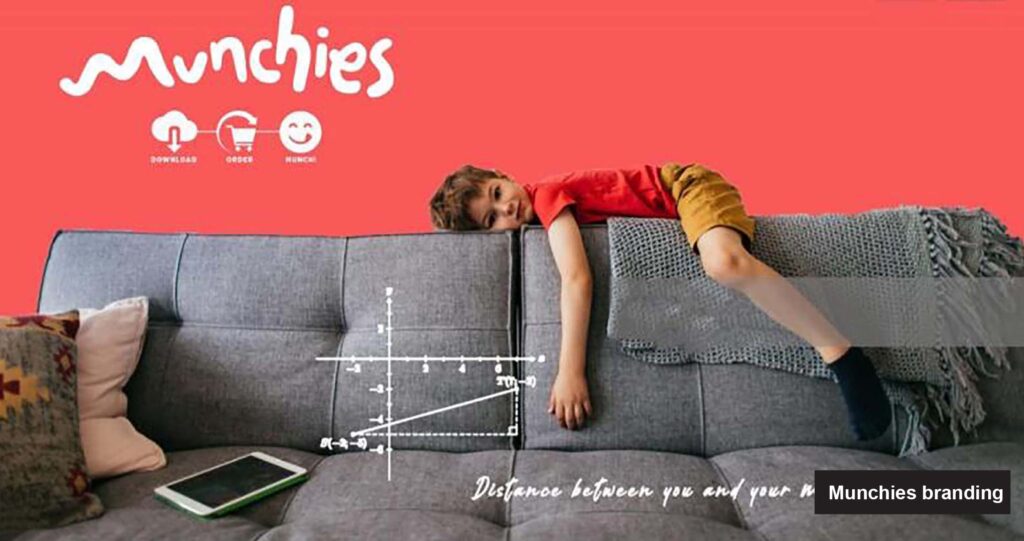 Aside from revamping the workflow after a customer places an order, Munchies shifted from a crowdsourced fleet model to a dedicated model, initially thinking that working with Foodpanda and Careem would be enough, realising later that Munchies would need build equity to attract delivery bikers in downloading the app. Since November, Munchies has had a dedicated fleet with a fixed and variable salary that is focused entirely on the snacking app. A source familiar with the topic told Profit that the dedicated fleet consists of 300 personnel, which spokespersons from Unilever neither confirmed nor denied.
The portfolio model – expanding beyond the core
While the intention of the Munchies marketplace was to list frozen desserts, mixes, and beverages under the Unilever portfolio, marketing material as early as April 2020 indicates the arrival of snacking products from PepsiCo, Nestle, and Mondelez with chips, yogurt, biscuits, and chocolate joining the fray.
"We actually did not approach these companies and add them – it was the other way around," said Khan. "We did send out a feeler, with subtle approaches to these organisations. Officially, I think, around February [2020], we approached [these companies] because we wanted to have a proof of concept in terms of how well this is received from a consumer point of view." 
When asked whether Munchies would be open to list products from direct category competitors – such as the frozen desserts from Engro Foods or instant noodles from Nestle – respondents from Unilever shared that the initiative is still in its most early stages and the decision to list a direct category competitor is still unknown. Interviewees also declined to share whether participating consumer goods businesses had demand category exclusivity, such as PepsiCo demanding to be the sole vendor listed for the chips category.
The revenue model: burning cash for growth
As stated, Munchies claims to have a dedicated fleet for product delivery, compensated through a fixed and a variable salary. When a user places an order – say for Rs1,000 in products – the rider visits the assigned retailer, hands over the Rs1,000, and delivers the items in record time to the interested buyer, who in turn pays either an additional Rs50 or Rs150 for the delivery itself. Including the costs around marketing and technology refinement, the fixed overheads for the business unit far outweigh the recurring revenue stream.
While spokespersons from Unilever declined to share the strategy and future models for creating project profitability, it was inferred by Profit that there is a larger data play at hand, wherein the project serves as a chance for Unilever to create its own D2C digital business which is relatively cheaper than a billion-dollar acquisition and own first-party customer data, an area it struggles with [details in the forthcoming CPG study] along with the larger CPG ecosystem in Pakistan. Rather than be disrupted, the D2C approach allows business to disrupt the market, with the pace of the business unit forcing an agile mindset devoid of red tape and slow decision making, a culture shift CPG businesses are desperate to adopt for survival. CPG business leaders in Pakistan told Profit that their own D2C initiatives were in the pipeline, with the business case focused on relatively low barriers to market entry, no physical footprint requirement, a favorable cost structure, the direct ownership of customer relationships, the access to first-party customer and transaction data, and the aptitude for hyper-target marketing.
"Right now it's very early days, we want to grow first, create value," said Khan. "We want to gain a lot of consumers, we want to gain our brand equity, and that is the first stop. Yes, models around revenue/profitability will be built as we go along, We do not charge a premium, just a delivery fee, and not share any margin from the retailers."
Covid-19 has entered the chat
Khan told Profit that Covid-19 impacted Munchies because retailers ordered the shut shops at the time of the day when snacking orders were at the highest, based on existing customer behavior data. In response, the team dedicated to Munchies experimented with mini-warehouses to fulfill orders after stores are shut down. 
"Initially, when we didn't have a warehouse, it really affected our demand," he said, adding that since May 2020 the business unit expanded pivoted drastically, adding essentials such as antiseptic soaps, which is arguably against the snacking delivery ethos envisioned by Unilever for the platform.
Across the Google Play Store and Apple App Store, the app has a 3.6 rating and a string of negative reviews, the lion's share of which refer to the period following Covid-19 and the lockdowns. The complaints range across app loading speed, false advertising, lack of pricing incentives, and limited delivery range.
"We are scaling very fast so there are things which tend to get delayed," said Fazil. "As we were rolling out in Karachi, marketing channels were not very hyperlocal so in Karachi everyone would know about the Munchies app and when they opened it, it didn't give them the option of delivery if they were outside the planned localities."
Fazil insisted that a big percentage of Karachi was not covered even a month ago, adding that the app now covers nearly 80% of the city, and is confident that the stated issues will be addressed and the reviews turned around in a very short amount of time.
Teething problems and challenges
From a technological standpoint, the perfect execution of the operating model would ideally involve an accurate understanding of the inventory at every major large, medium, and small retailer within the  coverage range. This would involve a high level of product cataloging and point of sale tracking, augmented with application programmatic interfaces connecting fleets – owned or crowdsourced – through a reverse auction to determine the best fit retailer and delivery service. Unilever, through VentureDive, currently has none of these capabilities.
"We don't know the products the store is carrying," said Khan. "We select stores based on the probability of the SKUs that are on Munchies. We don't have inventory linked or integrated with our platform. One of the key areas we will have to improve, moving forward, is availability for our consumers. That is part of the pipeline because we are asset light, we have to be dependent on inventory and our algorithms do kind of give us a read on the historical data based on which hub is suitable in terms of availability and it's not 100% accurate."
Fazil told Profit that his team uses big data and data science to predict the likelihood of a product being in stock and by how many units. He said that the algorithm created by VentureDive does try to pick a store and route that has the best chance of fulfillment.
Respondents to the forthcoming CPG study by Profit shared that the combined frustration of working with online marketplaces and the need for supply chain optimized owned channel at scale resulted in an internal business case to partner with Brandverse, a D2C infrastructure solution for product cataloging that populates branded sites with high-quality images, content, and integrations with an agile fulfillment network, including pick-up points determined through a reverse auction.
Fazil told Profit that while he was aware of Brandverse and its ability to solve the problems faced by the Munchies initiative, he would not confirm whether the company would be hired to help Unilever tackle these challenges in its D2C infrastructure. 
"As you scale, you have to ramp up quality and ETA [estimated time of arrival of the delivery]," said Fazil. "We focus on a balance of low ETA with best service, I think the challenge will be as we scale very fast, how do we keep the same ETAs, same service quality? So far so good, that's something that keeps us up at night."
Why do CPG companies experiment with the D2C model?
When Unilever acquired the widely popular and deeply unprofitable Dollar Shave Club for $1 billion in 2016, it served as a direct signal to a long-time rival Procter & Gamble that it was going up against Gillette and was vital for acquiring the type of agile talent that have formed small businesses that are eating market share of the larger, slower market leaders.
Unilever paid $1 billion to own what was 16% of the US shaving market at the time and benefited with a technology-oriented brand to teach its own budding intrapreneurs the building blocks of a D2C enterprise.
In a paper titled "COVID-19 and Global Commerce: An Analysis of FMCG and Retail Industries of Tomorrow", researchers from the Devi Ahilya University Institute of Engineering and Technology said that consumer packaged goods (CPG) companies struggled to serve the market demand at the panic buying phase-in the last weeks of March and the first half of April, due to disruptions in their supply chain.
As stated in the forthcoming Profit CPG study, this includes sourcing raw materials, manufacturing, till last-mile distribution. With lockdown and travel restrictions, companies are still producing at sub-optimum levels and pushing sales of only essential items. 
"Though D2C has not been a new model, many companies [that] followed traditional supply chain models had no plans of adopting the D2C model," said the researchers. "In D2C, the FMCG [fast-moving consumer goods] company would try to eliminate all the intermediate levels between itself and the consumer. These levels would have distributors, wholesalers, etc. The company would try to directly reach the retailer or the consumer."
In diversifying with D2C business units, all types of large businesses finally gain a one on one relationship with the end customer, acquire customer data that supersedes the insights coming out of market research agencies, and tap into the mindset of building a good customer journey map. This exercise in agile thinking, leads business teams to consider – perhaps for the first time – how data can be used to determine the needs, questions, and requirements buyers have during brand interactions, including an understanding of which marketing touchpoints are most influential.
The traditional way by which a CPG company speaks to its final customer is through several middlemen: the creative agency, the media agency, the digital agency, and the various media owners whether they are online or offline. Speaking to Profit, CPG leaders shared that DTC concepts place the production, fulfillment, attention, and data stacks across one another to access warehouse-as-a-service marketplaces and shift away from relying on identity resolution providers, data resellers, including demand-side platforms that offer third party datasets. Instead CPG businesses that invest in DTC concepts access first party data at the owned point of sale with email addresses and phone numbers, refining the collected information with customer data platforms, understanding actions through app analytics, and tapping into social analytics to create user profiles within the psychographic space.
The frozen desserts business at Unilever Pakistan already has two DTC concepts: nearly five thousand bicyclists for Wall's and the limited presence of the Magnum Store at select malls or prime locations. The dehydrated mixes and beverage business at Unilever Pakistan have 'Snack Up' stations and vehicles that serve Knorr and Lipon at tourist spots across the Khyber-Pakhtunkhwa province, offering residents and visitors instant soups and noodles including tea. 
The activation allows companies like Unilever to demonstrably position their products with prospective customers and initiate repeated trials, at the buyer's expense. When the share of the throat – the measure by which companies such as Unilever determine category-specific market share – trumps profitability, the D2C model has been pushed by leading CPG companies. And yet, with the exception of Munchies, it is worth noting that at no point of the DTC concepts listed above does Unilever actively collect first party data.
Challenges of the D2C model
According to an analysis by Profit of data from the Pakistan Bureau of Statistics' Household Integrated Economic Surveys, the retail industry is worth $125 billion a year, of which $48 billion are just groceries. As the forthcoming CPG survey by Profit repeatedly states, the most common challenge faced by CPG companies in Pakistan, following the Covid-19 lockdown, was redirecting an inflexible set-in-stone supply chain apparatus to be agile and that too with e-commerce in the mix. 
Simply put, the set-in-stone supply chain infrastructure that CPG companies have come to rely on for millennia has no room for flexibility nor agility, evidenced by the rapid bottlenecks created within just one day of the Covid-induced lockdown.