Between 2015 and 2020, more than 1.5 billion people began using the internet for the first time. Another billion more are set to join them online by 2025. Most of these new internet users come from Asia, Latin America and Africa. 
They experience the internet differently from those who came before them—connecting on their phones and adopting new apps and tools incredibly quickly.  More and more, it's their needs and ideas that are shaping the future of technology, in areas from financial inclusion to language translation.
Today, though, new internet users face their biggest challenge—the impact of Covid-19. How we help them get through it will go a long way towards ensuring the recovery from the pandemic is inclusive and sustainable.
A half-decade of change  
Without question, the internet is more accessible and democratic than it was in 2015. Data costs have plummeted, helping the number of smartphone owners reach more than three billion people. The proportion of non-English speakers using the internet has reached three quarters of the global in total, and people around the world are increasingly using video and voice as their tools to find information and services online.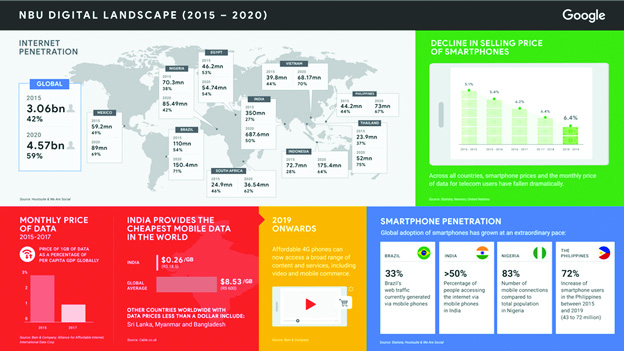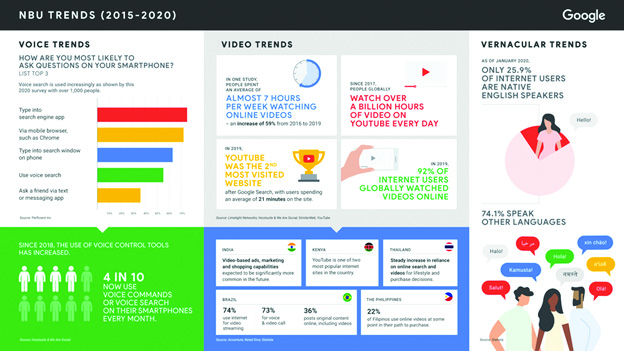 For Google, our work building for new users has helped us build better for everyone. Since launching the Next Billion Users initiative five years ago, it has led to breakthroughs we wouldn't otherwise have made—from offline modes in YouTube and Maps, to AI that can help kids read in multiple languages, to apps that protect privacy on shared devices, and the new user experience in Google Pay. We are also sharing open-source tools and guidelines to help others, because we know that supporting new users is a shared goal.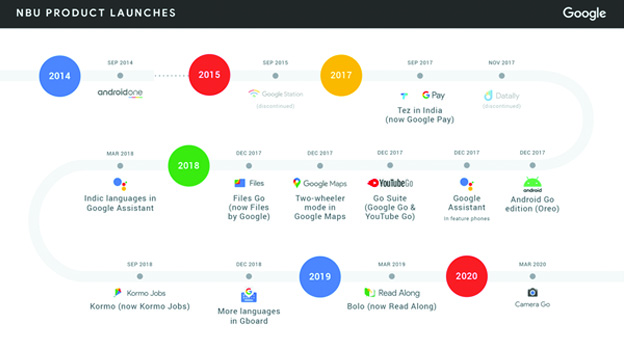 How we help new users: economy, education, ecosystem 
Countering the impact of the virus by helping new users through and beyond Covid should be a priority for industry, governments, international organizations and nonprofits. Firstly, we have to make sure new users have easy-to-use tools that meet their immediate economic needs.
We recognise Google's responsibility in this. In the coming months, we will be experimenting with a new Google product that can provide additional earning opportunities through crowdsourcing, recognising that for most new internet users, protecting income is the first priority.
Secondly, we have to increase our focus on education—helping new users better understand online information and services, and adapt to deeper changes like the rise of online education.
Grassroots, nonprofit-led literacy initiatives like those Google.org is supporting in Southeast Asia are important steps in the right direction. So too are the Google News Initiative's partnerships throughout Latin America, and Grow with Google's global programs like Be Internet Awesome, which promotes online safety and confidence for kids. It's critical that we build on these programs in the aftermath of the pandemic 
Thirdly, we have to keep building a supportive ecosystem around new users. We should aspire for every organization that owns or builds technology to prioritize inclusion.
Too often, the responsibility for helping new users get online falls to 'informal teachers', the friends and family around them. Initiatives like the Design Toolkit for Digital Confidence show how we can begin to change that, equipping technology-makers to build tools that are intuitive for everyone, no matter what their circumstances.
And finally, we have to keep advancing the work that led Google to create the NBU initiative in 2015: ensuring the internet and the devices and the tools it supports are helpful and accessible to more people, in more languages and more ways (including for those living with disabilities).
Covid-19 is a challenge for everyone, and it's hitting new internet users especially hard. But if governments, businesses and civil society organizations work together, we can and should make the internet better and more inclusive in the post-Covid world, for the billions online today, and the next billion to come.