Askari Bank has a new president – and they are a familiar face to anyone who is a cursory follower of corporate Pakistan. On July 28, the bank informed the Pakistan Stock Exchange that Atif Bokhari would be the new president and CEO of Askari Bank, effective from September 1, 2021. The previous CEO, Abid Sattar, who had joined in August 2018, would be completing his term on August 8, 2020. Meanwhile Khurshid Zafar, the COO, would be acting president for the interim period. 
Askari Bank has always been an unusual bank: it is owned by a military-owned foundation called the Fauji Foundation Group, and yet does not operate like other government entities. In fact, it behaves like any other profit-oriented bank. And the recent influx of private sector experts – like Sattar, and Bokhari – are testament to the Fauji Group's pivot to try and run a more efficient, and profitable venture.
First, who is Bokhari?
Bokhari has a long resume. And why wouldn't he: he's a career banker with 32 years of experience in domestic and international banking. He started his banking career in 1985 with Bank of America, where he remained for the next 15 years. Subsequent to leaving Bank of America in July 2000, Bokhari joined Habib Bank, where he was Head of Corporate and Investment Banking.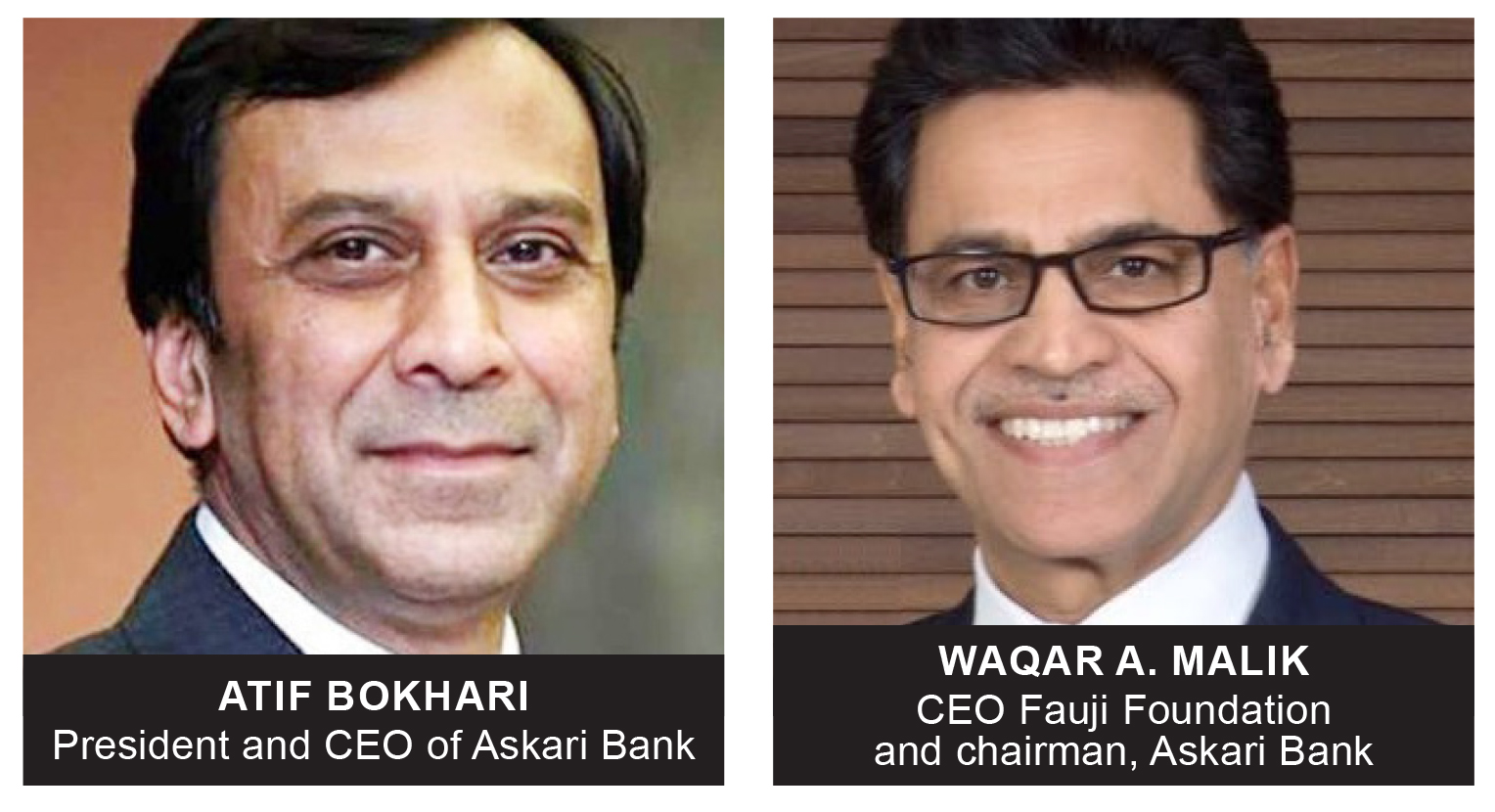 Perhaps most famously, Bokhari is known as president and CEO of UBL Bank, a position he took up in May 2004. He remained in this position till June 2014. In this ten-year period, UBL expanded into consumer financing, e-Commerce, branchless banking, asset management and general insurance. Bokhari was also the chairman of UBL Tanzania, UBL AG Zurich and director of UBL UK.
Article continues after this advertisement
After this successful stint, Bokhari then had a not so successful two-year stint as the president and CEO of NIB Bank. This bank ceased to exist in January 2017, with its assets shifted to MCB Bank. 

So, Bokhari left banking for a bit. Instead he became the founding director of a private equity company known as Adira Capital, which successfully acquired Linde Pakistan (subsidiary of Linde AG). In his spare time, he served as Director of State Bank of Pakistan Board and Member of the Monetary Policy Committee. He was also a founding Director of the Karachi School for Business and Leadership, and also features on the Board of Governors of Kidney Center Karachi, Patients Aid Foundation, Shaukat Khanum Memorial Hospital and Indus Valley school of Arts and Architecture.
The Fauji connection
Askari Bank has existed since 1991; it was bought by the Fauji Group only in 2013. It was previously owned by another military-operated charitable organisation, the Army Welfare Trust. The Fauji Foundation, was founded in 1954 as a charitable trust and was initially designed to help provide welfare for the Pakistan Army's retired soldiers as well as their dependents. 
The two most important, and most lucrative, of those companies are Fauji Fertilizer Bin Qasim Ltd. and Fauji Fertilizer Company. While Fauji Foundation itself only has a 7.19% share of Askari Bank, because Fauji Fertilizer Company and Fauji Fertilizer Bin Qasim own 43.15% and 21.57% respectively of Askari Bank, in essence, Fauji Foundation has control over Askari Bank. 

In April 2020, the foundation made the news for hiring a civilian as the managing director and CEO of the group: Waqar Ahmed Malik. The man had zero connection to the army: instead, his career began with the ICI group based in the UK, and then Akzo Nobel in the Netherlands. In Pakistan, he was appointed as the country head of ICI Plc's operations in Pakistan, the largest foreign investment in the chemical sector at the time. For over 10 years, Malik served as the CEO of ICI Pakistan and also the CEO and Chairman of Lotte Pakistan (formerly Pakistan PTA Limited). 
Remember Adira Capital? In fact, it was Malik and Bokahri who had teamed up together in 2017 to found the company. The company bills pitches itself as akin to a private equity firm, but instead of several funds with limited life spans, it has a pool of permanent capital that it deploys on behalf of some of the wealthiest Pakistani families. In late 2017, it acquired a controlling stake in Linde Pakistan, a provider of industrial gases (now called Pakistan Oxygen). 
It seems both Malik and Bokhari moved on. Now that Malik became the CEO of Fauji Foundation, it seemed only natural that his former partner and co-founder be tapped for the role of a bank CEO. What is more interesting is that Bokhari, after running one of the country's largest bank, was convinced to come back to banking, and that too, for a much smaller bank. 
What kind of bank does Bokhari inherit?
In general, Askari Bank's financials can be divided into two: pre, and post Fauji. The year 2013 represents the worst year financially for the bank, and also the year when the bank was acquired by the Fauji Group, which then attempted to make some turnarounds, to some degree of success. 

Much of the credit of the last three years at least, is to Sattar, who took over as CEO in August 2018. The banker had previously started his career in 1982 at ANZ Grindlays Bank, moving to Chase Manhattan, before moving on to have extended stints at Citigroup and Standard Chartered. He then went on to run large divisions at Habib Bank – just like Bokhari. At Askari, he reshuffled senior management and tried to implement changes in the performance measurement systems, in order to bring more of a professional culture to the bank. 
The bank's deposits have been steadily increasing since 2009, when deposits stood at Rs 206 billion. In particular, deposits grew 13.9% year-on-year in 2011, and at 15.6% year-on-year in 2014. Deposits crossed the Rs300 billion mark in 2012, and the Rs400 billion mark in 2015, and finally, crossed the Rs700 billion mark in 2020. Deposits in 2019 and 2020 grew 18.4% and 16.5% year-on-year. If one looks at the deposits as a share of the total deposits in the banking industry, Askari Bank's share has actually fallen. In 2010, the market share stood at 5%, the highest share it would ever have; by 2016, it fell to 4.2%, before hovering around  marginally to 4.4% in 2020. 

The bank's non performing loans were a definite problem area. Between 2011 and 2015, the ratio of the non performing loans to gross advances was significantly higher than the industry average. The greatest discrepancies were seen in 2013 (20.2% compared to the industry's 13.4%) and 2014 (18.4% compared to the industry's 12.3%). In fact, the greatest success of Fauji has been to decrease non-performing loans, both in absolute terms, and as a percentage. By 2018, non-performing loans were contained to just 7.8% of gross advances, or less than the industry average of 8%. 
Between 2014 and 2019, Askari Bank saw its revenues increase. In particular, it saw growth in its non-interest income segment, which jumped to the Rs9,000 billion ballpark range in 2020. Net interest income climbed to Rs 30 billion, the highest it has ever been. 

A similar trend can be observed with the net income at Askari Bank, which has hovered between the Rs4-5 billion range after 2014, and shooting to Rs10 billion in 2020. For the most part, Askari Bank has enjoyed a high ROE, which is an indication of financial health (basically, how effectively management is using a company's assets to create profits). While the bank suffered from an appalling ROE of -28.5% in 2013, it bounced to 22.4% in 2014, and stayed above the 20% mark for four out of the next five years. Its ROE in 2020 stood at 25.5% – the highest it has ever been. 
It now remains to be seen if Bokhari can continue leading the bank forward in the trajectory it has set itself upon.