The neighbourhood kiryana retailers are under a constant threat. On the one hand, we have the venture capital backed quick commerce startups, who have made their intentions of disrupting the kiryana stores public. While one such startup, Airlift, has been reduced to ashes by a harsh turn in startup investments, Pandamart and a few others still remain. On the other hand, we have hyper markets such as Metro, Alfatah and Imtiaz, with the potential to kill many small retailers by opening just one of their branches in a locality. 
The situation it seems is not in their control. What if a big retailer opens up right next to them? For example, a fairly large-sized grocery store in Bahawalpur saw a dreadful decline in sales because Imtiaz opened up a branch nearby, forcing the smaller retailer to eventually exit that locality.  
So what do you do when you are faced by the threat of a big retailer or a quick commerce player opening a new dark store nearby? A new league of startups in Pakistan thinks that these small retailers that get disrupted by big ones have fundamental 'flaws' in their operations that make them easy prey for the big boys. These flaws can be fixed by digitisation of small retailers, and if done successfully, it would bring substantial changes in the entire retail ecosystem.
It starts with something as small as equipping the kiryana retailer with a machine to record transactions and ends with a goldmine of retail data and influence how decisions are made at the top in the retail chain, which would trickle down through the entire chain of stakeholders to end consumers. It also ends with smaller retailers having the opportunity of aggregating at a platform to negotiate better margins which only currently hypermarkets like AlFatah and Metro are able to do. 
There is also an opportunity for big money to be made and it all starts with enabling the small grocery retailer to be able to make more money than it does now. 
How to be efficient in business
Article continues after this advertisement
The conventional method of doing business on pen and paper is as old as it is inefficient – we can all agree to that. All of us have popped over at kiryana stores at some point in our lives. These are small general stores or even smaller pan shops. We've also seen kiryana store owners recording transactions on shabby registers, but only for transactions on credit so that they remember who owes them what. They are obviously not recording each and every transaction of walk-in customers at the store. 

They could of course, but it would be a herculean task given how much writing it would involve and how fast they would need to be especially at peak hours. Nostalgia aside, what is happening here is that they are are missing out on deep insights which would enable their business to grow; insights that can be obtained when every transaction is recorded and analysed to figure out what exactly is selling at the store and what is not, which stock items are the most in demand and must be always kept in stock, and which ones can be discarded altogether. Its an inefficient operation which hinders their growth
"Small retailers have a cash flow problem. And because they have a cash flow problem, they have frequent stockouts which drags their growth," says Amer Pasha, founder and CEO of Aladdin Informatics.  
If these stores are equipped with the right systems to record the movement in their inventory, they can bring about a fundamental change in how retailers carry out their business. They can stock inventory based on precise sales data, follow trends, restock on a timely basis, reduce theft and wastage, keep better margins products over products that eat away margins, eventually increasing growth in revenue and profits, and ultimately getting bigger and focusing on expansion.
The question is, which systems can bring about these efficiencies? And the answer simply put, is what we see when we get groceries at AlFatah or Imtiaz. An oft misrepresented fact is that if you use an app your business will be very efficient. It is not so. The app could be both inefficient and inaccurate if not used correctly. Manual entries are authentic but like mentioned above can be time consuming, unless of course, the app being used has the functionality to automatically record a sale each time it is made.
Basically, it is the combination of hardware and software being used together at retailers such as Imtiaz and Alfatah, or any other reasonably large (in terms of variety of option being sold) grocery stores in urban localities in the country. A barcode scanner, a printer that prints receipts and a tablet or a computer comprise what is collectively called a point-of-sale (POS) system, is the answer. This stores entries not just for recording inventory movements and transactions but also collecting mammoth data which can be turned into meaningful insights for better decisions to grow the business.
A new crop of startups in the country is eyeing this opportunity keenly. It is in this climate that Nielsen, the iconic American data company famous for its TV ratings business, is making a comeback, after two years of shutting operations in Pakistan. Nielsen should be worried right now. Relaunching its retail audit business for the Pakistani market when there are so many new players in what used to be their dominant ground will be challenging. But this will provide a much-needed impetus to the industry to digitise more retailers thereby creating the space to collect, create and convert data into insights for distributors as well as manufacturers. This is what Nielsen does for manufacturers too. 

There is, however, a lot more to this digitisation than just being a challenger to Nielsen's business. Before we get into the details about how such digitisation would potentially unravel, there are intros to be made and some other plans to be detailed.
Meet SnappRetail and Aladdin Informatics
On September 7, one of the startups from this league of startups announced a $2.5 million raise in pre-seed funding from funds including Pakistan's Zayn Capital, and global investors Antler and Century Oak Capital. Founded by Adeel Rasheed and Moazzam Ali Khan, both with experience in FMCG retail at places such as Unilever and L'oreal, SnappRetail is currently the first one to announce funding and come forth with its plans. But it is not the only one.
Aladdin Informatics has been operating in stealth mode and has at its helm Pasha. A seasoned business executive with experience in FMCG retail at Recckitt Benckiser and Coca Cola, Pasha's career includes a stint as country manager for Visa in Pakistan and also senior director of sales looking after Central Europe, Middle East and Africa for the global payments giant. For the last two years, he has been building Aladdin Informatics, which has not yet raised a round.
Needless to say, he is a man of stature and when people such as him are building something, there are great expectations. Pasha does not quite fit the mould of Pakistani startup founders, but neither do the folks at SnappRetail. Both SnappRetail founders and Pasha are older than the other founders in the startup ecosystem, and while it maybe believed that start-ups are mostly run by younger people, it would appear that such retail digitisation does not require the aggressiveness of a young founder to pull, say an an Airlift-style blitzscaling. Digitising retail the way SnappRetail and Alladin Informatic want to do is going to be a tough and slow journey, which would entail driving behaviour change of retailers, used to working on pen and paper since decades, towards digitisation.
In this ecosystem of retail digitisation, SnappRetail plans to first of all bring that hardware and software to the retailer through which it is able to record transactions.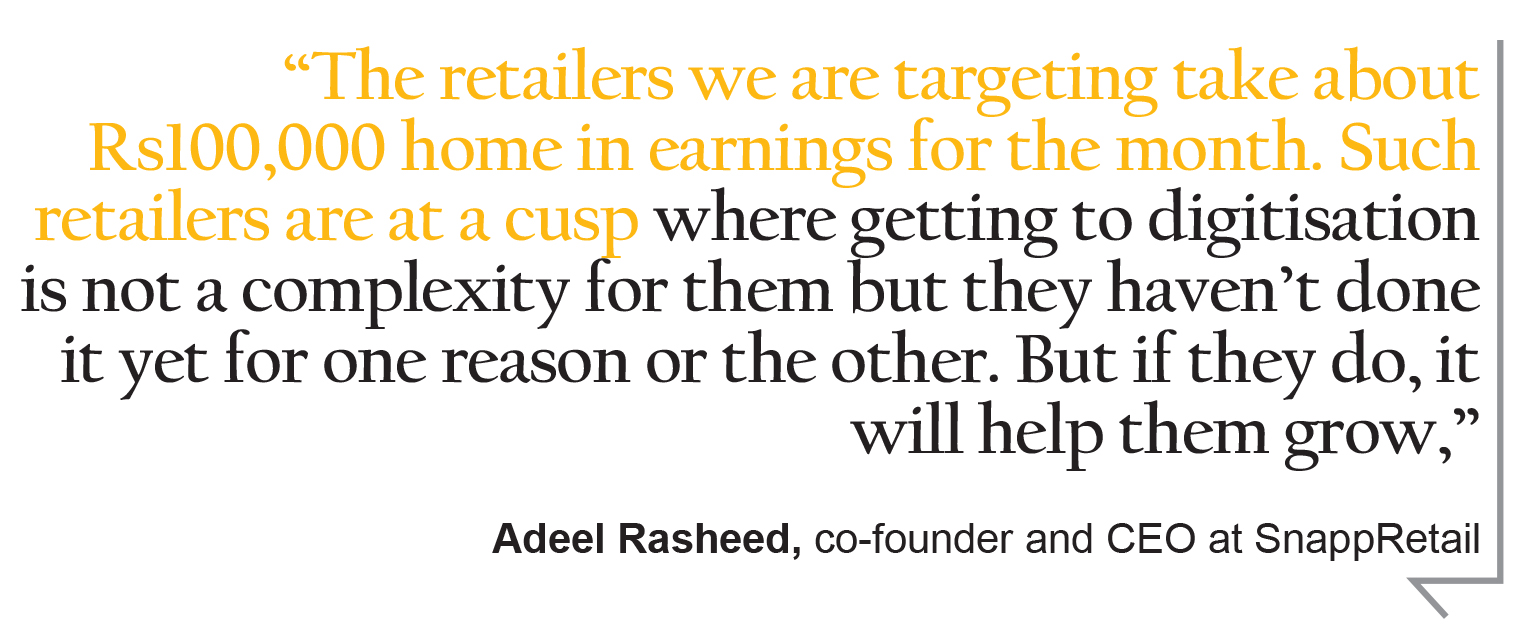 Not every kiryana store fits the criteria of becoming a SnappRetail or an Alladin customer. The systems we are talking about are sophisticated enough that only retailers which are at a certain scale will have the utility for such a system and would be able to derive benefit from it. SnappRetail CEO Adeel Rasheed tells Profit that the scale of a target customer is a retailer who has Rs1.5-3 million worth of sales monthly, which is an estimated target market of 200,000-300,000 retailers according to their estimates. Adeel further estimates that 5,000 or even less than that number of retailers are digitised with these systems right now, on their own.
This number is small because these systems cost a hefty amount to buy and deploy. Pop kiryana stores are not likely to have such volumes and these systems would add to their overall costs. The systems to digitise retailers in this manner can come at a cost of Rs100,000 or over that upfront.
"The retailers we are targeting take about Rs100,000 home in earnings for the month. Such retailers are at a cusp where getting to digitisation is not a complexity for them but they haven't done it yet for one reason or the other. But if they do, it will help them grow," says Rasheed.
To increase the willingness of retailers to sign up for such systems, SnappRetail brings them these systems without any big upfront charges and, instead charges a smaller rental amount, which they have currently priced at approximately $7, with eventual plans of increasing it up to $20 per month. 
This certainly wouldn't cover the costs of deploying the machines for a few years. SnappRetail has currently deployed these systems at 100 stores, which they plan to take to 1,000 stores in a few months time. Even if they take it to 1,000 stores, the cost of deploying these machines would be approximately $450,000 dollars for 1,000 retailers, while the revenue each month from that would be $20,00 only at $20 for the month from each retailer. 
This does not look like an impressive business, certainly not the one with a pitch that would get you $2.5 million from venture capital investors that are overly cautious these days. But tell them what data you can gather in this arrangement and what you can do with that data and you have a model that investors will put money in these days as well. 
Payments and lending 
Both Aladdin and SnappRetail are using this digitisation as a strategy to penetrate the market, and after building a strong relationship with the retailer, they will be equipping retailers further with different components to help these retailers grow. 

The key here is monetising data. The machines, while they will be making transaction recording easier, would be collecting data of the transactions which would be converted into insights for the retailer for suggesting to retailers on decisions crucial for the growth of the business. For instance, based on the data over any given time, SnappRetail or Aladdin can provide reports and suggestions on what are the best running SKUs at a particular retailer that they need to have backup inventory of, or which items are running out of stock and need to be replenished. These insights could be crucial to reduce out of stock items, replacing non-running items with the items that are running, eventually helping the retailer increase sales and profits.
"Printed receipts help increase customers. There is double digit inflation and customers are very particular if they are being charged as per the price and it helps with their budgeting as well through printed receipts," says Khan. "Customer magnification because of that is the immediate effect that we are seeing with our systems. In the bullseye, we have to keep the retailer focused on a few points: Increase their revenue and decrease their costs are two of them," he adds. He outlines that the third point of focus on retailers would be to provide them with access to credit for working capital.
You see there is another angle to the data collected in this arrangement.  For a long while now, banks have avoided lending to SMEs such as these retailers because there isn't enough digitisation here to collect enough data points for credit scoring for the purpose of giving out loans. Startups before in many domains have been gunning to collect the right data to extend loans to these retailers. B2B eCommerce apps record purchases by neighbourhood kiryana stores, whose owners decide how much to purchase intuitively rather than in an organised, calculated and precise manner. These retailers not only make purchases from the B2B apps, they do it from the largely informal wholesale markets as well, and the purchases from there would not be recorded in these apps. This data, hence, might not be an accurate predictor of a retailer's credit worthiness.  
On other hand, ledger apps allow manual recording of cash transactions. Being manual can bring some inefficiencies in the data. While all of these startups' efforts to collect data are much respected, SnappRetail and Aladdin Informatics or their likes to come will have a better shot at collecting more accurate data on which credit scoring could be built. Each transaction that goes through a barcode scan with a printed receipt will be accurate, reliable and more representative of a retailer's financial position for better credit scoring.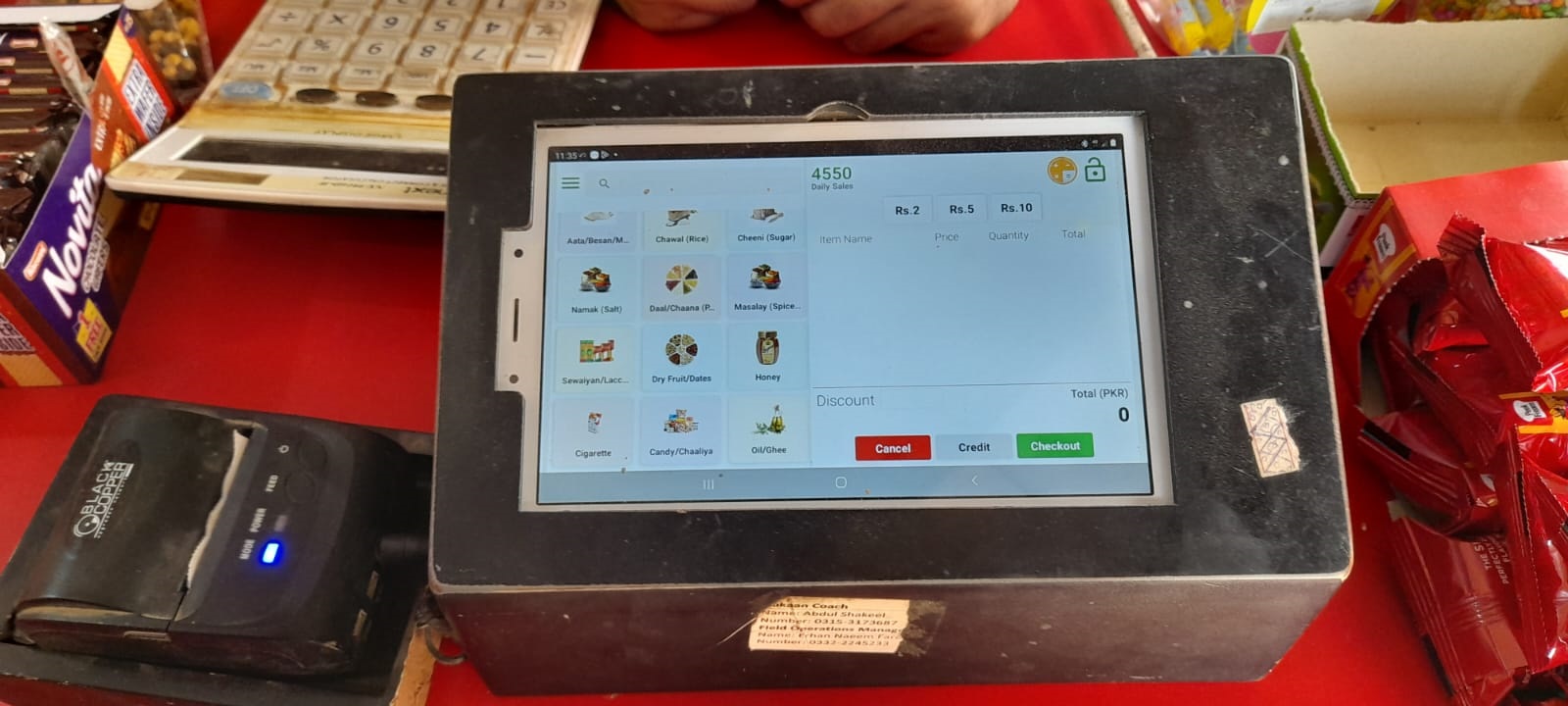 "The systems are sophisticated. Retailers would have the option of pressing a button to mark a transaction as a credit sale and it will pop up on their digital ledger as a credit sale, while adding onto their total sales data for the day," says Rasheed. 
The loans would serve the working capital needs of the retailers to eventually help them grow bigger and even expand branches. For the startups, these loans, provided through collaborations such as with banks and/or lending-focused fintech companies, would be a lucrative source of revenue as well in form of a cut in the interest paid by the retailers. 
SnappRetail told us that they also plan to embed digital payments in the POS system which will also add to their revenue each time they take a cut from the MDR charged to a merchant. SnappRetail told us they plan to do this by partnering with acquirers to deploy their machines and then taking a cut each time a card transaction is processed on these machines. 
While payments can also potentially serve as a lucrative source of revenue, it might also not really be the biggest. Instead, it would likely be how this data that the startups would be collecting would be monetised.  
The bigger picture
On a broader level, once thousands of such retailers are brought onboard and are using SnappRetail or Aladdin's systems, the data collected will be an aggregate of a big number of stores valuable not only for the distributors, but also the manufacturers who want to keep a track on their brands and their sales. 
Rasheed tells Profit that SnappRetail wants to eventually get into this play where they would be furnishing reports to distributors, partnering with them for supply of inventory to these retailers and getting a cut in the process, while also enabling them to optimise their supply chains based on actual sales data, as opposed to the intuitive guesses of a retailer.
They have contracts with clients in place already, but did not disclose their names. These reports will give manufacturers valuable insights on their brands and their sales, allowing them to try new strategies based on granular level data. For example, Unilever could monitor the trend of sales of one of its brands in one designated area of Karachi, and compare it with another, through access to the granular level data of each retailer in that locality through SnappRetail or Aladdin. Unilever could then decide on marketing strategies or running discounts on the brand for that locality based on these insights. 
This data further turns both SnappRetail and Aladdin into something far bigger. The retail sector is big with the number of grocery retailers estimated to be 800,000 or over that. While the target market of SnappRetail and Aladdin are the 200,000-300,000 retailers out of the overall number of retailers, that is still a big number to be able to influence what margins they get from manufacturers. 
Hypermarkets like CarreFour and AlFatah get FMCG products at better prices than a small retailer because of the sheer size and the volumes of sales at these big retailers. Because the volumes are big, manufacturers are willing to lower the prices for these retailers, giving them better margins – something unavailable to smaller retailers like neighborhood stores. Collectively, however, the smaller retailers generate more volumes overall for manufacturers than the big hypermarkets because their overall number is very big, but are not able to negotiate better prices. That is because individually, neighborhood retailers are very small for manufacturers to take them seriously. 
So if on a platform, thousands of retailers are aggregated, they are collectively generating big enough volumes of sales to be able to negotiate better margins. SnappRetail and Aladdin can be those platforms which, once they have onboarded thousands of small retailers, can potentially secure exclusive rates and deals from manufacturers and distributors, for each retailer that uses their systems, if they order through these startups. These startups would have a play in supply chain as well, helping small retailers procure inventory from distributors and manufacturers, and take a cut on it. 
While there are only two startups in this space at present that we know of (there could be others as well operating in stealth mode), the number of retailers presents a big market for others to enter and digitise them. 
The data collected, and the deep insights derived from the data in this arrangement, of course at a bigger scale when the majority of the retail chain is digitised, could be monetised because such information is very valuable for the manufacturers to decide on how much to produce and how much to sell, optimising the supply chain based on production and optimising margins for distributors and retailers, and end prices for consumers. 
It is going to be an arduous journey, however. As founders of both these startups say, they would have to drive a behavioural change in the retail ecosystem as it currently exists. "Our success depends on how successful we are in bringing behavioural change and digital adoption in a very traditional retail segment," says Pasha. 
For now, the indicators are favourable. There is a generational shift at retailers where batons have been passed on to youngsters in the family who are savvy about technology which will lead to better adoption. On the other hand, a lot of dry powder has made it to the retail sector in Pakistan already which is one of the biggest contributors to the GDP. B2B eCommerce startups in grocery retail secured $165.5 million in funding this year alone, the biggest for any sector startups are in. But this digitisation would not happen overnight because it is not about just delivering products to kiryana stores or delivering groceries to consumers. Both startups believe the process would be slow as it would require the retailers to see their sales and profits grow, which will happen over time.
In the process, they will be helping kiryana store owners from disruption by bigger retailers. "We will reverse the trend of what has happened in the developed markets. by saving local communities and heritage created by the historical presence of kiryana stores, and not have an environment where large super markets killed them," says Pasha.