LAHORE: Suzuki reported its Q1CY23 earnings to the Pakistan Stock Exchange (PSX) on April 18, revealing a shocking turn of events. The company experienced its highest loss in 16 years, totaling a staggering Rs 12.9 billion. This represents a jaw-dropping 2706.39% YoY increase from Q1CY22. The magnitude of this loss is so significant that it can only be compared to Suzuki's annual earnings.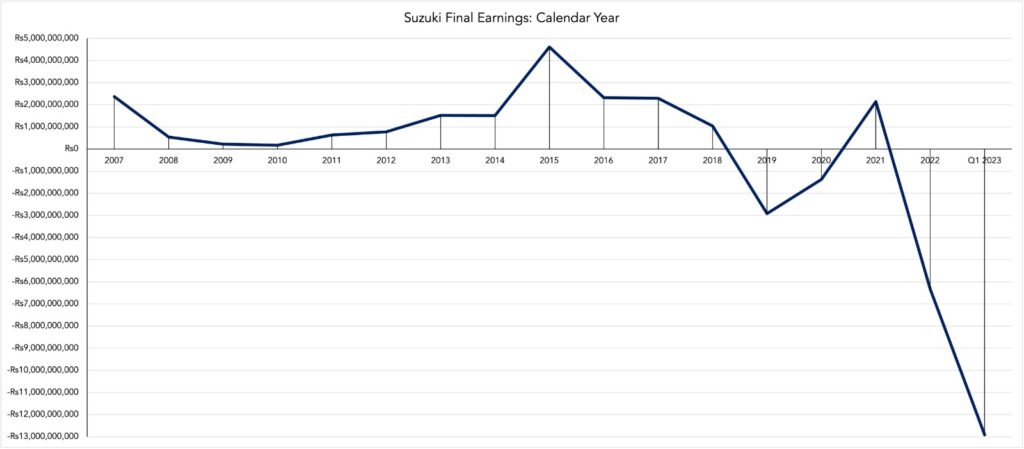 Looking at the results 
Suzuki's sales revenue decreased from Rs 47.7 billion in Q1CY22 to Rs 21.8 billion in Q1CY23. This decline is largely due to a decrease in sales, with Suzuki selling only 15,724 units across its two and four-wheeler portfolio in Q1CY23 compared to 46,379 units the previous year – a YoY decrease of approximately 66%. The reduced scale of operations also contributed to a 57.19% dip in Suzuki's cost of goods sold, which declined from Rs 46.386 billion last year to Rs 19.856 billion.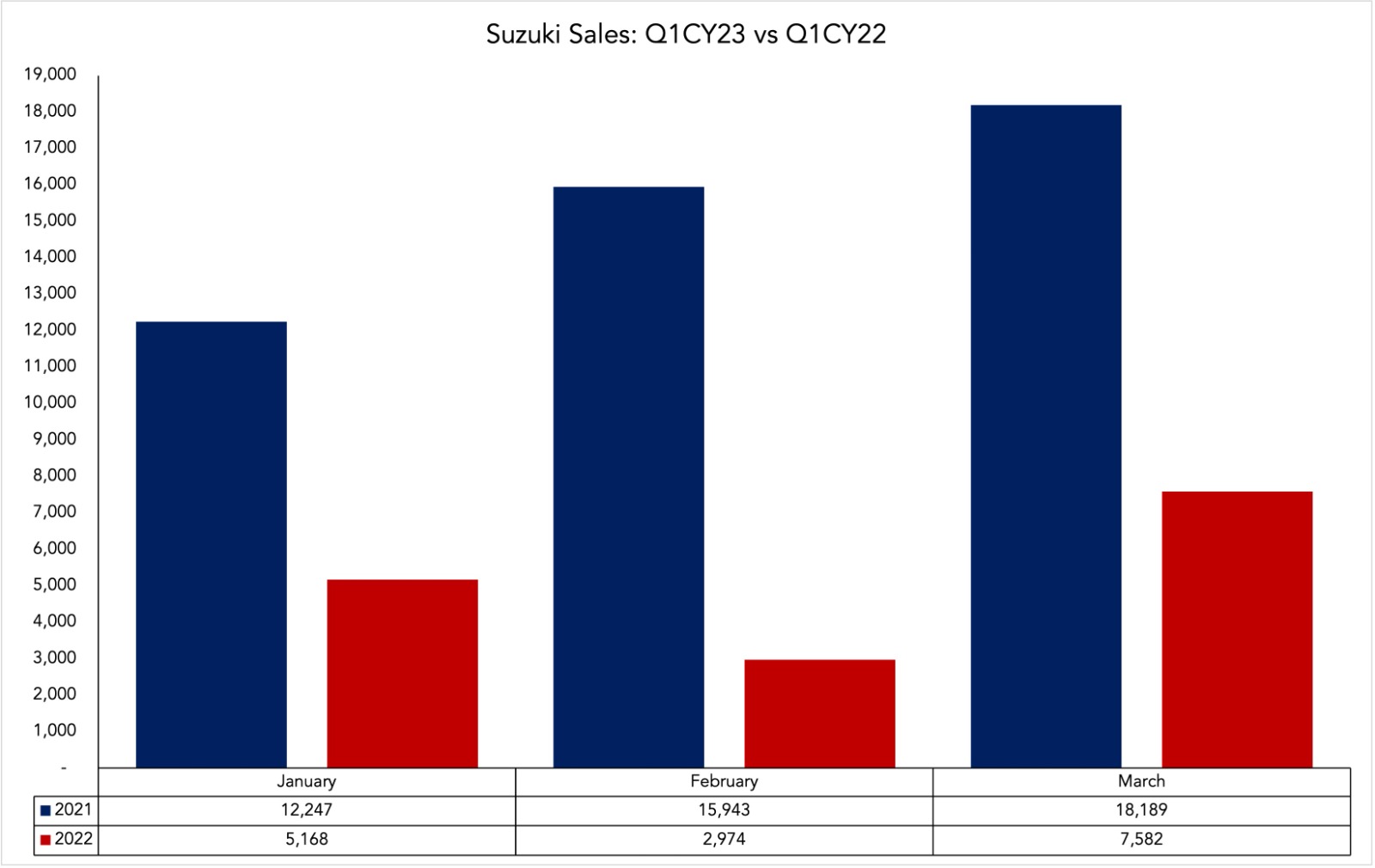 Suzuki improved its efficiency by reducing its cost of goods as a percentage of revenue from 97% in Q1CY22 to 91% in Q1CY23. This improvement is evident in the company's gross profit margin (GPM), which rose from 2.83% in Q1CY22 to 9.08% in Q1CY23. The increased efficiency is also reflected in Suzuki's gross profit, which grew by 46.98% YoY from Rs 1.349 billion to Rs 1.983 billion.
The reduced sales activity did not, however, translate into reduced operating costs for Suzuki. Its distribution and marketing costs rose 19.98% YoY from Rs 732 million in Q1CY22 to Rs 878.4 million in Q1CY23. Similarly, Suzuki's administrative expenses rose 24.29% YoY from Rs 740 million to Rs 919.8 million. 
Suzuki's cost of finance rose by 1143.38% YoY, from Rs 1.031 billion in Q1CY22 to Rs 12.82 billion in Q1CY23. This significant increase is the main reason for Suzuki's poor results. Although Suzuki does not provide a detailed breakdown of its cost of finance, it includes costs related to mark-up on late delivery, demurrage and detention charges, exchange loss, and loans and borrowing. In a notification in March, Suzuki cited the increase in its cost of finance as the primary reason for its loss in its 2022 annual report. It attributed this increase to the current economic climate and the State Bank of Pakistan's import policy. The exponential increase in the cost of financing in Q1CY23 is likely due to the same reason.
Suzuki's tax expense also rose by 245.68% YoY, from Rs 187.98 million to Rs 273.858 million. The company ended the quarter with a final loss of Rs 12.9 billion, an increase of Rs 12.455 billion from the Rs 460.2 million loss it made in Q1CY22.
What's gone wrong at Suzuki? 
"What's interesting is that the losses relate more to circumstances beyond the company's control, such as unhedged foreign exchange exposures leading to heavy exchange losses and record high interest rates. If you exclude finance costs, the company hasn't performed that badly given the conditions of the automobile industry," says Mustafa Mustansir, Director of Research and Business Development at Taurus Securities.
"I think we will see more similar cases where companies suffer heavy exchange losses, particularly in this earnings season," Mustansir added.