LAHORE: Suzuki announced their year annual earnings for 2022 in a notification to the Pakistan Stock Exchange (PSX). The company ended 2022 with a loss of Rs  6.3 billion. This is the lowest the company's profits have fallen/or losses have risen in the past seven years. The loss is in spite of the fact that Suzuki was able to sell 7% more vehicles in 2022 compared to 2021 based on the sales data provided by the Pakistan Automotive Manufacturers Association (PAMA).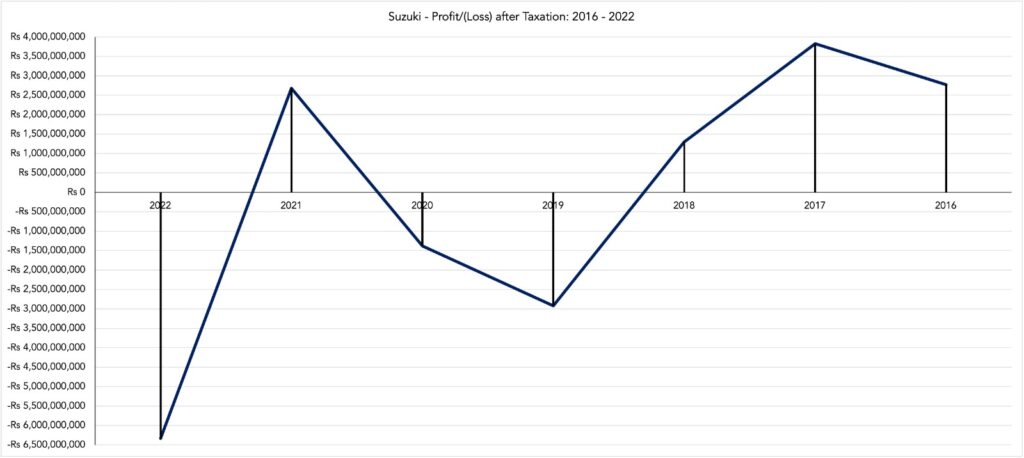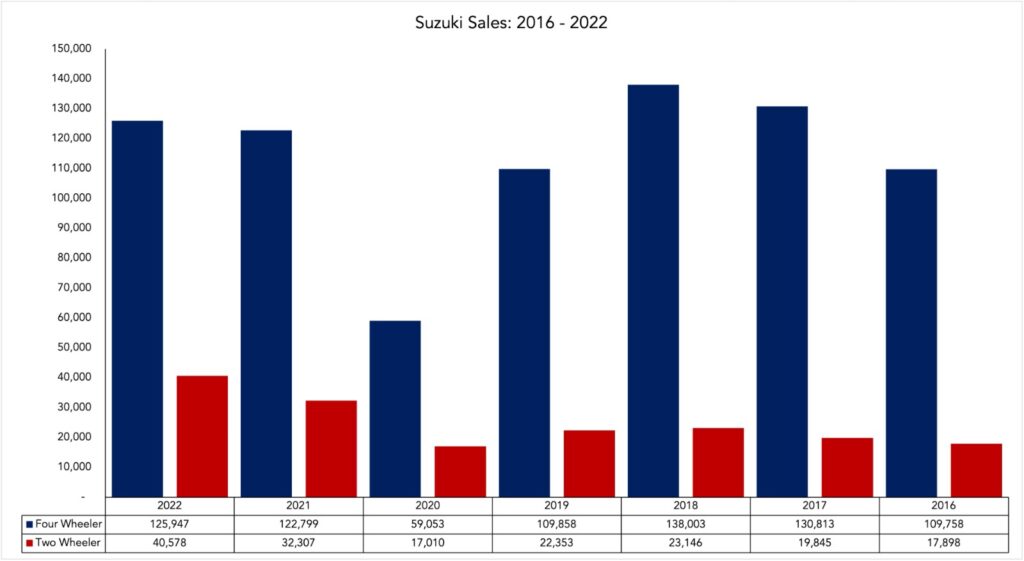 The motor company saw a year-on-year increase (YoY) 26% in both its sales revenue and cost of goods sold, whilst it ended the year with a 43% YoY increase in its gross profit. Gross profit clocked in at Rs 11.68 billion compared to the Rs 8.17 billion seen at the end of 2021. Similarly, the gross profit margin rose from 5% in 2021 to 6% in 2022. 
Similarly, it saw 9% and 19% YoY increases in its distribution and marketing expenses, and its administrative expenses respectively. However, the company's earnings would have remained higher irrespective of these increases had it not been for the increase in the cost of finance. Suzuki saw its cost of finance increase by 1476% YoY  from Rs 737 million in 2021 to Rs 11.6 billion in 2022. This increase is so staggering that Suzuki released a separate notification to the PSX explaining the matter. 
The notification stated how Suzuki owes foreign entities $184 million as of December 31, 2022, which increased to $218 million after the year-end. Until December 31, 2022, the Company lost Rs. 3.55 billion due to unfavorable exchange rates when conducting transactions and holding balances in foreign currencies. Since the year-end, the Pakistani Rupee has further depreciated against the US Dollar, resulting in an unrealized loss of approximately Rs 9 billion, which could negatively impact the Company's financial position in 2023.
If the Company is unable to pay off its foreign currency debt due to restrictions imposed by the State Bank of Pakistan, it may suffer even more losses due to exchange rate fluctuations. This could further harm the Company's financial position in the 2023 fiscal year.
In summary, the Company owes a lot of money to foreign entities, and unfavorable exchange rates have resulted in losses for the Company. The weakening of the Pakistani Rupee against the US Dollar has caused further losses, which may harm the Company's financial position in the future. If the Company cannot pay off its foreign debt, it could suffer even more losses due to exchange rate fluctuations, which would further negatively impact its financial position.
It is this massive increase that in turn led to Suzuki's overall loss of Rs 6.3 billion; a whopping 336% YoY deterioration on the Rs 2.679 billion profit it made last year.