When you hear the word 'trading', your first thought will likely be about stocks or the Pakistan Stock Exchange (PSX). Few people will think of the lesser-known Pakistan Mercantile Exchange (PMEX). Fewer still will know that you can also trade gold, silver, oil, cotton wheat etc.
Unlike the PSX, the Pakistan Mercantile Exchange — a multi-commodity futures exchange — is more friendly for retail investors: non-professional market participants who invest smaller amounts compared to institutional investors. Any person interested in trading via the PMEX can open an account through one of the brokerage firms listed on their website, after which they can access the PMEX's portal and trade on their own. 
Investors can buy gold, silver, platinum, palladium and copper; crude oil and natural gas; cotton, corn, wheat and soybean; US and Japan Equity Indices; and certain currencies. However, despite being arguably more accessible, the PMEX has a very small number of investors — 35,000. 
The Exchange's managing director believes the number should be around 30 to 50 lakh. The PMEX is hence planning to expand across the country and launch some interesting initiatives including a global commodity trading platform and digital gold. 
Gold – physical vs. digital
 The love that Pakistanis, and South Asians in general, have for gold is already well-known. It is given at birth, on birthdays and other important occasions, and of course, no marriage is complete without a dazzling display of gold. However, the precious metal also serves a secondary purpose – that of a 'safe' investment, especially in times of turmoil. 
Article continues after this advertisement
With the rupee weakening against the dollar and the USD-PKR exchange rate crossing Rs 315 in the open market, buying the greenback appears to be a surefire way of protecting yourself against inflation, which conversely, is still near all-time highs. But what if, as is the case, there is a dollar shortage and you are unable to buy any? How else can you protect your hard-earned rupees and put them in something that is "guaranteed" to provide good returns? This is where gold comes in. The yellow metal's price has only gone up in recent years, and it soared to Rs 240,000 per tola in Pakistan on May 11, 2023. While it has since come down from the record high, it has remained above Rs 200,000 since mid-March. 

 There is, however, a caveat. Pakistan's domestic gold reserves are not enough to meet the country's demand, which hovers around 150-200 tonnes according to estimates. This means that gold is smuggled into the country to meet that fresh demand that cannot be fulfilled by existing jewellery and gold bars. The country's gold trade is largely unregulated, which means buyers can be sceptical about the authenticity and quality of the gold they want to buy. And if they are buying it for investment purposes, there are further concerns given the country's street crimes situation — what if the gold gets looted and what would the safest place be to store it? 
 "If you buy gold from the market, you do not know whether it is real or fake. You will have to buy insurance, it may get robbed etc., so it is a hassle," PMEX Managing Director Ejaz Ali Shah noted. 
The PMEX plans to address these inherent risks with buying physical gold in Pakistan through the launch of digital gold. The concept of digital gold — buying the precious metal online without taking physical custody — may be novel but it is by no means a new idea. Companies across the world offer options to purchase gold in various quantities, including The Royal Mint in the UK and Augmont Gold Limited in India. In an interview with Profit, Shah explained how digital gold trading would be offered. 
 "What it means is that you can come to the Exchange and buy a certain quantity of gold, say one, two [or] five tolas, and pay the money at today's rate. That quantity is then reflected in your PMEX account — an electronic entry is made and your gold stays there [in the PMEX's storage].
 "You come back to the Exchange after two or three years or whenever you are in the mood to get your investment cashed, and sell that gold at the prevailing rate. So, for instance, you bought gold worth Rs 200,000 back then and after three years, it is worth Rs 500,000. You can sell it and get Rs 500,000 in cash," the managing director elaborated. 
It is like buying stock. But instead of purchasing shares in a publicly listed company, one buys a commodity, gold in this case. The physicality of the entire transaction is removed from the equation, but the value the investment/saving holds is similar. 
The PMEX already offers trading in physical gold and once the amount a person has bought reaches 10 tolas, they can withdraw it from the PMEX's storage and take possession. It is important to note, however, that since people would buy the digital gold solely for investment and not consumption, they would never be able to take physical possession of it, the managing director said. Why then would people invest via the PMEX and not buy it from the market to store in lockers or at home? According to the PMEX MD, it is because the gold sold by the Exchange would be authentic and safely stored, thereby eliminating some of the investors' key concerns. 
 "It is the easiest way to invest and get returns," Shah said, adding that if people wanted, they could use the money they earned by selling digital gold to go to the market and buy it.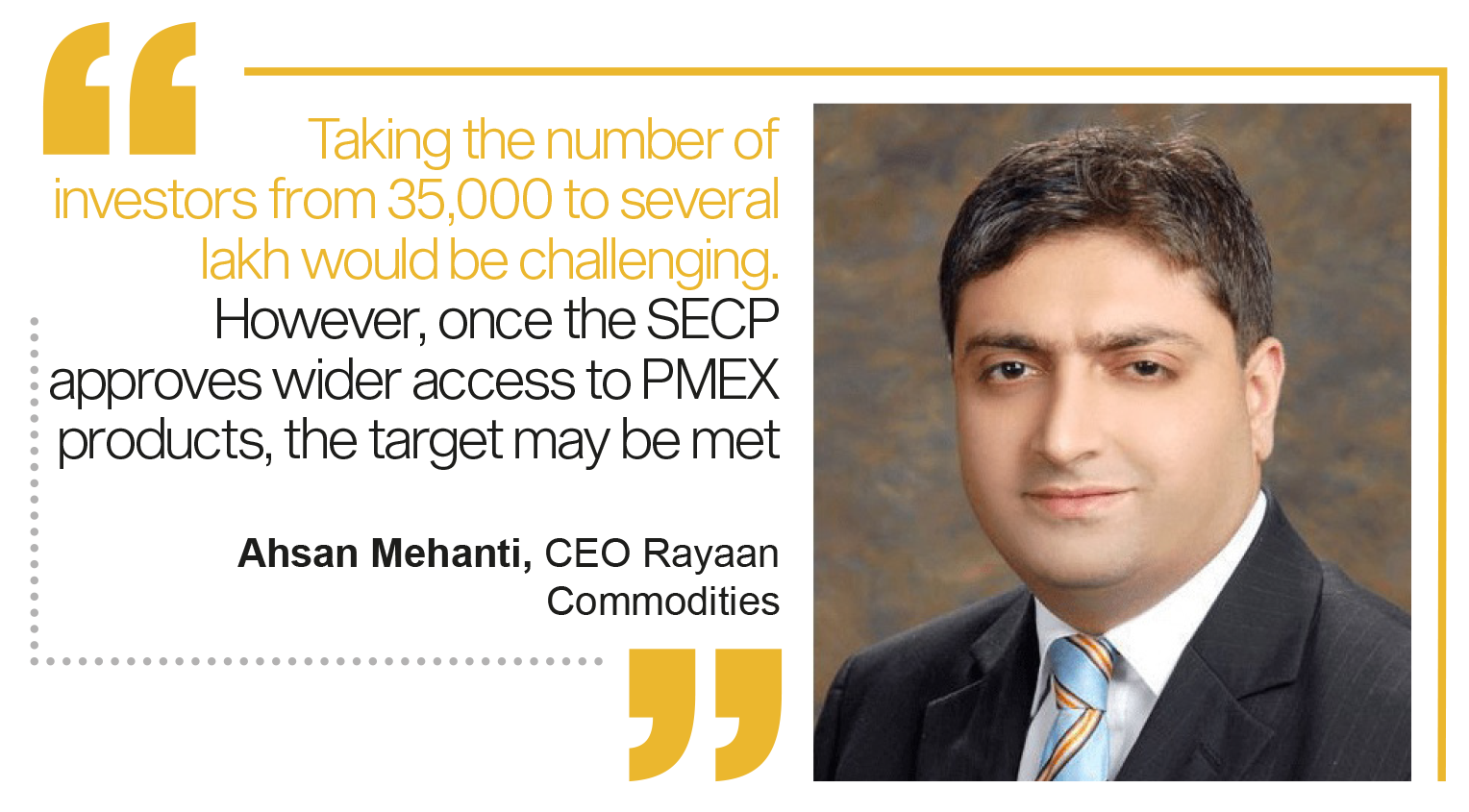 Shah noted that gold was already present in the country in large quantities and was an important strategic asset. Therefore, the Exchange pitched the idea of allowing it to "organise" the gold market by documenting gold already present in the country, developing mechanisms for its import and becoming a central point for purchase, where jewellers could also buy.
 "Gold can be converted into euros, pounds, dollars or other foreign currencies; it is an international commodity. If we [document] and consolidate it, we are creating an asset that will give us many advantages and will strengthen our economy. The Pakistan Mercantile Exchange can offer its services here and develop mechanisms," the MD added. 
 But can the PMEX organise the gold market? An official of a provincial jewellers' association was insistent that the Exchange would fail if it tried. "They can never do it because even the international gold market is not organised. The gold rate is tied to the US dollar rate. They cannot stabilise it. Even developed countries could not do it. How can Pakistan?" he asked. 
 When asked what he thought about the PMEX's digital gold plans, the official was sceptical, noting that Pakistanis preferred to have physical assets and were untrusting of anything on the web. 
 However, this was countered somewhat by Rayaan Commodities CEO Ahsan Mehanti who pointed out that physical gold came with "significant handling risks" and mutual funds and corporates were already using the PMEX as an "organised market" to make investments instead of the grey market. 
Floret Commodities CEO Abdul Aleem Piracha shared a similar view, saying digital gold would be a "much better" way to invest for people who bought gold from the market solely for investing, kept it with themselves, and sold it later to make a profit as it would eliminate any risks. They would not be concerned about physically possessing that gold since they never meant to keep it for use, he added. 
"Our gold market is basically operating in black. [Jewellers] do not want to be documented. They are the biggest obstacle," he said in response to the comment from the jewellers association's official. "The PMEX is making efforts and they may be able to slowly document the market with the government's help. And if that happens, the [gold trade] situation will become much better," Piracha said.
 This raises another question; what would be the advantage of investing in digital gold offered by the PMEX compared to a gold fund? Shah said it was a matter of the investor's temperament. "Mutual funds have their own dynamics and fees. A lot of investors are not comfortable with this, they want to have complete control, invest themselves and deal directly."
 Compared to this, digital gold would offer investors complete control, he explained. "You can buy whenever you want and sell whenever you want. Mutual fund managers will definitely take their fee irrespective of the returns. Here there will be no such cost."
 "It depends on clients' aptitude and understanding. Some of them will want mutual funds, others will want a direct role. There is no problem with offering as many avenues as we can to customers as long as we are documenting it and the commodity is being organised."
 Is digital gold going to become a reality any time soon? PMEX MD Shah said the Exchange was working on it and believed the idea has "good potential". He said talks had been held with the previous government and regulator, and would resume once a new government had been sworn in.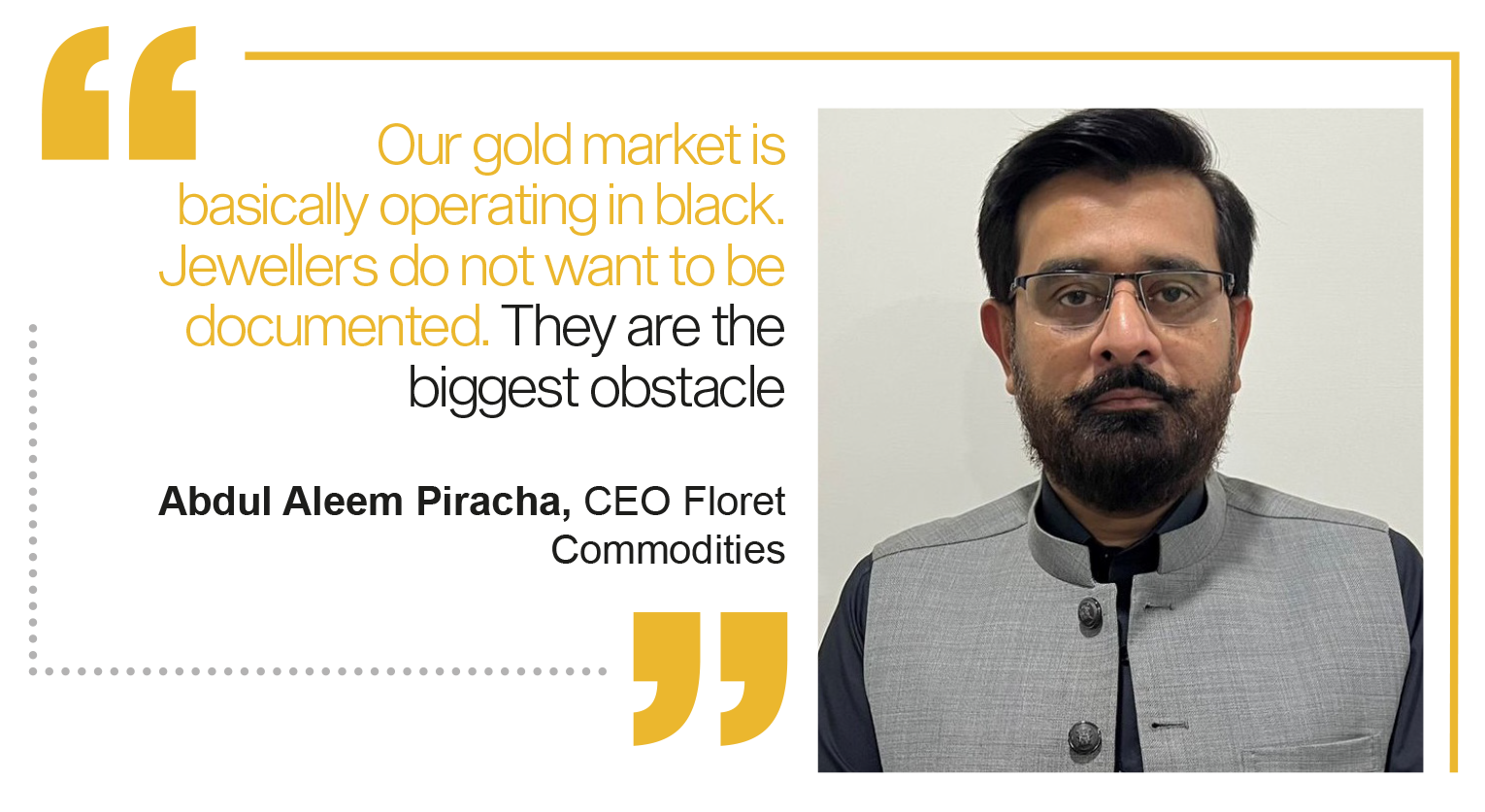 He denied the impression that there were any hurdles to launching digital gold from the regulators' side, saying that it was "just a matter of convincing the decision makers that what is being done is in the right spirit and will work out". 
 Shah said that the process to launch digital gold had already been initiated and the regulator — the Securities and Exchange Commission of Pakistan — would be supportive. 
Profit also reached out to the Pakistan Gems Jewellery Traders & Exporters Association as the PMEX had held talks with them, but association representatives did not comment.  
Opening the Pakistani agriculture market to the world
Digital gold is not the only PMEX plan in the pipeline. The Exchange's ultimate goal is to organise Pakistan's domestic commodities, including agricultural ones, with help from the government in such a way that buyers from anywhere in the world can directly purchase from Pakistani farmers or mill owners through an e-commerce platform — Global Commodity Trading Platform. 
The platform has been in the works for years. Profit did a detailed story on whether the platform could transform the Pakistani farm for the better back in 2020. However, some progress appears to have been made. One or two transactions have been done through the platform to determine teething problems, and the beta version will be launched soon, according to Shah. 
He said the beta launch would not be made public but the platform would become functional, and once a dozen or so transactions were successfully conducted, it would be launched formally with a "big bang". 
The managing director called the platform a "one-window Amazon" but for bulk commodities instead of retail. Explaining how it would work, he gave an example of a rice mill owner from Hyderabad who wants to sell his crop of Irri-6 rice — a kind of non-basmati long grain rice mostly cultivated in Sindh. While he can sell it through the PMEX's current platform, it would limit his buyers to within the country. It could possibly be bought by a "middleman" who would then export it at a higher rate. The GCTP would instead allow the rice mill owner or a farmer to sell his produce not only to Pakistani buyers but also seamlessly showcase it to the world, according to Shah. 
The farmer would list the quantity of his A-grade Irri-6 produce on the GCTP and set a per-tonne rate. If a seller in Toronto, Canada wanted to buy 50 tonnes and have it shipped to Dalian, China, the platform would provide him with an entire logistics market — containers sorted by price and variety, temperature control, tracking, shipping, and any certification required by the country the produce is being delivered to. 
Once the buyer decides everything, a detailed bill would be sent to him and he would be asked to pay a small advance to confirm the order. Following this step, the supplier would deliver the produce to a warehouse where it would be checked by the customs and narcotics departments and certified by SGS Pakistan — an independent third party that would verify the produce matches the quantity and quality ordered by the buyer. The certification would be sent to the buyer by SGS, after which he would pay the remaining amount and the produce would be shipped off.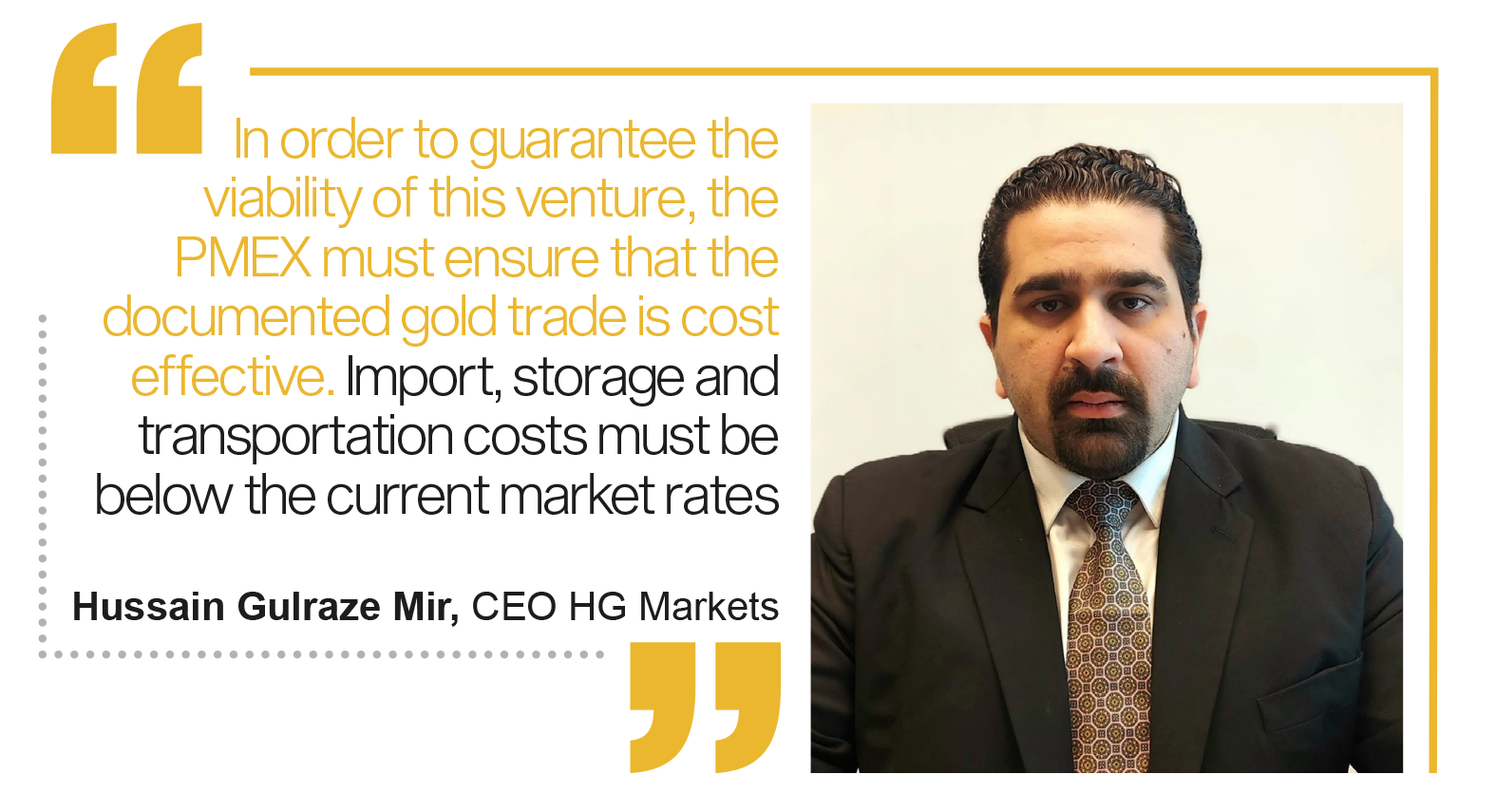 "It is a one-of-a-kind platform. Alibaba acts as a connection between buyers and sellers. We are creating a one-window platform," Shah explained. The PMEX was solving "12 different hassles" for both the seller and the buyer by acting as a one-window conduit between them, he added. 
"We have eliminated all the intermediaries; there is no middleman. The seller is selling to the ultimate customer. When we remove the middleman, both the buyer and the seller are getting a better price. So, it becomes a very viable solution." said Shah. 
There is a major hindrance to the PMEX's ambition to connect those producing domestic agricultural commodities with international sellers on one platform — in Shah's own words, the country does not have the infrastructure to be able to do it as spot markets are still very primitive. Spot markets are places where traders can buy directly from the farmers at rates decided on the spot (hence, the name). But these markets have no infrastructure and no standardisation. 
"We are neither quality conscious nor have we ever graded even the easy [products]," Shah said, noting that the United States had classified eggs by size 40 years ago and thus, created different price categories for them whereas Pakistan still lacked such a classification. 
"When we come to the difficult commodities such as rice, wheat and cotton, there are a lot of elements and a lot of tests to be performed. We have not reached that point. So, one big problem is this: if the PMEX sells commodities, are graded commodities available for it to sell? And is there some price stability in the market? Until the price is aggregated and consolidated, the PMEX cannot do anything because it is a futures exchange."
[A futures exchange allows the selling and buying of a commodity at a predetermined rate for delivery at a settled future time.] Shah said the spot markets need to improve and convert into electronic mandis that give access to buyers across the country. He acknowledged that it was a "humongous" task and superb government support would be needed for its materialisation. 
He noted that the government's Electronic Warehouse Receipt initiative was a step in the right direction. The initiative gives farmers the facility to store their produce at the time of harvest in accredited and standardised warehouses. 
This is beneficial for three reasons. It lets farmers store their produce safely till they get a favourable price, avail financing based on the electronic receipt they receive, and sell the receipt on the PMEX. The latter freed the farmers from delivery issues as well since the seller would pick up the produce directly from the warehouse, Shah said. 
"So, this ecosystem now exists. PMEX will lead the effort to implement this across Pakistan. We are working very aggressively to make this a success," the MD said. 
Besides this, the PMEX also plans to offer single stocks of blue-chip US companies such as Google and Apple, and treasury bills. However, there is no fixed timeline for when these plans come to fruition. It all depends on when the Exchange gets the go-ahead from the regulator, according to Shah. 
More brokers & investors
But what about the really low number of PMEX investors and how does the Exchange plan on increasing them? Shah said it was very sad that in a country of around 25 crore people, there were only 275,000 investors on the PSX and 35,000 on the PMEX. 
One way the PMEX wants to tackle this is by increasing the number of brokers, reducing their risks and roles, and taking fees in a staggered manner. 
This is because the PMEX provides everything under one roof and has reduced the role of brokers to a minimum — they are only essential for opening accounts after which the client makes all the investment decisions and handles the cash with the Exchange directly. The broker's role is thus limited to sharing research with the client, Shah said. 
Because of the ease that has come with this system, the PMEX now wants to expand its presence across Pakistan so even a broker based in Muzaffarabad can open an account for his client. 
Floret Commodities CEO Piracha pointed out that a lot of Pakistanis — several lakhs in his estimation — were already using mobile apps such as Binance to invest in international markets. "They are not aware that we have a local Exchange through which they can do the same. These investors can be brought to the PMEX if a bit of relief is given in the fees as well as documentary requirements," he said.
Separately, the brokerage's Manager Operations Sameer Ahmed gave the example of Sahulat Accounts on the PSX, which are aimed at retail investors and only require the individual to select a brokerage, fill a simple form and provide a copy of their CNIC. He said that most investors using the mobile apps were students or entrepreneurs, some of whom were investing their savings for which they could not really show a source of income. So, if the PMEX introduced Sahulat Accounts, it would greatly facilitate all such investors, he added. 
Meanwhile, HG Markets CEO Hussain Gulraze Mir said the PMEX has an advantage when it comes to its plans to document the gold market and become a central place for buyers because the prices listed on its terminal reflected international rates, which was the practice elsewhere as well such as at the London Mercantile Exchange and CME Group — a derivatives marketplace made up of four exchanges, Chicago Mercantile Exchange, Chicago Board of Trade, New York Mercantile Exchange, and The Commodity Exchange.
Commenting on the PMEX's plans to drastically increase investors, Rayaan Commodities CEO Mehanti said that taking the number of investors from 35,000 to several lakh would be challenging. However, once the SECP approves wider access to PMEX products, the target may be met. 
"In order to guarantee the viability of this venture, the PMEX must ensure that the documented gold trade is cost effective. Import, storage and transportation costs must be below the current market rates," commented Mir.
But for now, it appears the PMEX's plans, however interesting, may remain on hold till a new government comes to power and Pakistan sees some semblance of political and economic certainty.