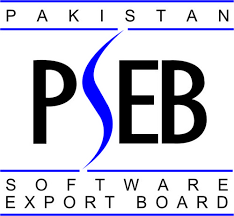 Pakistan Software Export Board (PSEB) is fully committed towards promotion of modern technologies and capacity building of IT graduates and companies.
Managing Director Pakistan Software Export Board (PSEB), Asim Shahryar Husain said while talking to APP, "We aim to provide guidance to fresh IT graduates, start-ups and young entrepreneurs on various subjects like: queries related to company setup, business planning, competitive analysis, optimal positioning of products/services, social media marketing, international marketing, business financing and exports reporting. PSEB also provides training in relevant courses such as Android programming iOS development, Java programming, Net programming and Agile methodology", he added. He said that IT and IT-enabled Services (ITeS) companies operating in Pakistan are registered with Pakistan Software Export Board (PSEB) in order to avail the benefits and incentives being provided.
Official sources said, "Ministry of Planning, Development and Reform (CDWP) has approved a series of IT Industry support programmes for the next five years, under PSEB's project titled "Enhancing IT Export through Industry Support programmes". He further said," PSEB is mandated to facilitate Pakistan's IT industry and increase in the export of software and services of Pakistan and one of the major functions of PSEB is to set up and operate Information Technology (IT) parks and provide conducive and enabling infrastructure for the development of IT industry.
PSEB also builds capacity of IT companies by subsidizing the cost of international certification for standards such as Carnegie Melon's CMMI, ISO 27001 and ISO 20000 for improving Quality of processes, security of software and services. More than hundred companies have been certified in ISO, twenty companies in CMMI and the other 80 companies will be certified over the next two years, he added.