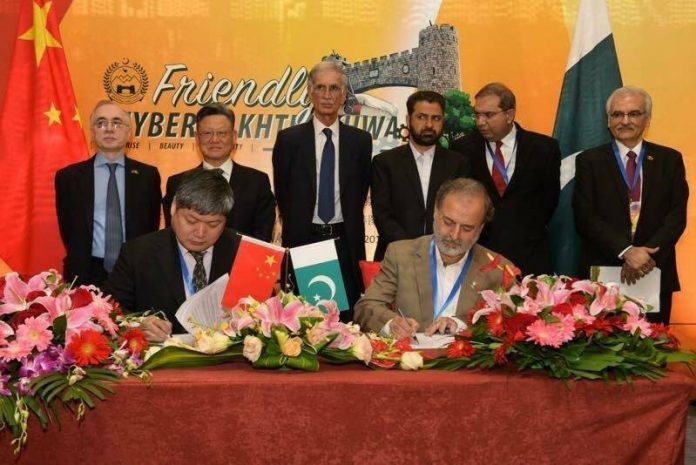 Beijing: The Khyber Pakhtunkhwa government on Monday signed 11 memoranda of understanding (MoUs) with Chinese companies relating to China-Pakistan Economic Corridor (CPEC) development, a press release stated. The MoUs were signed by Local Government Secretary Jamal Shah. Chief Minister Pervez Khattak, Minister for Local Government Inayatullah and Peshawar Development Authority (PDA) Director General Salim Watto were also present at the occasion.
As many as five projects worth Rs60b were signed relating to CPEC Tower, construction of a new bus terminal at Chamkani, Ring Road missing link, Health City at Regi Model Town, and Commercial and Residential Reconstruction Centre, the press release stated. Other projects relate to information technology, special economic zones, power plants, oil refinery, infrastructure and e-commerce.The projects will be a joint initiative of  PDA and Chinese companies, it added further.
The construction of the Ring Road missing link is estimated to cost Rs12b while that of the new general bus stand at Chamkani will cost Rs10b. The construction of CPEC Tower will incur costs of about Rs5b while that of Health City at Regi Model Township is expected to cost Rs22b. Furthermore, the construction cost of Commercial and Residential Reconstruction Centre is estimated to be Rs11b.
The PC-1s of these projects are complete and the Chinese authorities will soon be visiting the country to finalise the execution process, said Mr Watto. Speaking on the occasion, Khattak welcomed Chinese companies to explore investment opportunities in  KP. He added that the process of industrialisation has been initiated in the region and requires the cooperation and support between the two countries to streamline the path of development and economic growth. He added that the One Belt, One Road initiative will boost business, cultural and social ties between the two countries. He assured that the security of the foreign workers will be prioritised and a security force comprising of 4500 personnel has been already formed in this regard.
China-Pakistan Friendship Association President Sha Zhu Kang said, the success of One Belt, One Road initiative is linked with the CPEC, which he termed the pilot project of the grand scheme He added that the project will bring about social and economic prosperity in the region. Chinese companies are already working in KP, and numerous job opportunities for the locals have been created, he revealed.
Ambassador Khalid stated that some 86 projects relating to energy, agriculture and infrastructure sectors are on the cards for joint cooperation and investment. He added that all domestic political parties realise the importance of Pak-China relations. He added that the CPEC is showing steady progress and the completion and operation of the Gwadar port shows that numerous energy and infrastructure projects will be completed as per the deadlines, he stated.