We would like to state at the outset that we do not condone the worst attributes of seth culture in companies. Treating employees like chattel. Ignoring human capital investment. Paying low salaries. Not paying salaries on time. There is a good reason working at a seth company is considered embarrassing: it is what a middle-class professional must do when they have no other choice. Seth companies are probably why a large proportion of Pakistani expatriates left the country in the first place.
With that said, the questions of what exactly counts as seth culture, how it differs from a professional corporate culture, and whether it can have positive economic value, have gained salience in recent months as both Packages Ltd and Engro Corporation – long seen as bastions of professionalism in a sea of sethia companies – appear to be taking a U-turn.
Literally translated, a seth company simply refers to a family business. But in the phrase's use in the Pakistani business vernacular of a mix of Urdu and English, it can mean the very worst of what a family business can look like and is most frequently used as a pejorative
But how justified is the pejorative? And why does it matter that Packages and Engro are drifting in that direction. The answer, as always, lies in history.
Packages: the enlightened self-interest of Syed Babar Ali
Syed Babar Ali comes from a family that is arguably the very definition of Pakistan's urban elite. His father, Syed Muratib Ali was an industrialist who owned, among other properties, a Ford assembling plant in pre-Partition Pakistan. This is the kind of family that was able to afford sending their children to study in the United States long before anyone in Pakistan even dreamed of that possibility. Indeed, young Babar was at the University of Michigan at Ann Arbor, studying engineering, when Partition happened in 1947.
Article continues after this advertisement
In fact both Babar Ali and his son Hyder attended the University of Michigan and both pursued engineering degrees. (The US automobile industry, then much more so than now, was largely based in the state of Michigan.) Babar Ali never finished his degree because he decided to come back to Lahore in December 1947. But Hyder graduated in 1979.
Being part of the moneyed elite of Pakistan, and having that American education and connections, meant that Babar and his brother Wajid could think about expanding the family business through joint ventures with Western businesses: Coca Cola, Tetra Pak, Nestle, and Mitsubishi.
The brothers managed to become a fixture in the elite of the new country. Their eldest brother Amjad was made Ambassador to the United States from 1953 to 1955, and the family took the opportunity to have Babar's wedding ceremony conducted at Pakistan's Embassy in Washington DC. The ceremony was featured in Life magazine and was attended by Richard Nixon, then the Vice President of the United States.
You would think that a man who comes from a family that reeks of political and economic privilege like that would be the worst kind of employer, or at the very least one of those stereotypical disinterested sons of wealthy fathers. Neither of those stereotypes holds true for Babar Ali. Far from it, the man seems to have gone well out of his way to creating the kind of meritocratic professional culture that few companies outside of Western multinational companies operating in Pakistan offered their employees.
(Amjad made himself useful as well: when Pakistan faced a famine in the early 1950s, it was Amjad who secured an emergency supply of wheat from the United States.)
While Babar and his family were always on the board and exercised a great deal of oversight, management of Packages lay firmly in the hands of the company's General Manager, who was always an employee unrelated to the family.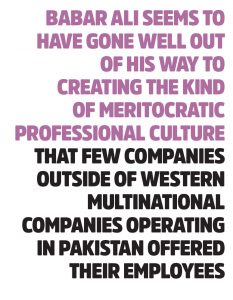 "Packages under Babar Ali was one of the most forward-thinking companies of its time," said one former member of Packages' management team, who spoke on the condition of anonymity in order to speak candidly about his experiences at the company.
In interviews with former employees who worked directly with Babar Ali, Profit was able to piece together a picture that suggests that Packages was the kind of company where the majority shareholders made an active effort to make their employees feel valued members of a team rather than simply cogs in a machine. The decision to do so, of course, was not out of benevolence on the part of Babar Ali, but rather an act of enlightened self-interest: taking care of Packages' employees helped the company's bottom line.
But it is one thing to invest in the human capital of one's own employees. It is quite another to dedicate resources towards the education of the nation's most promising youth. It is the latter act for which Babar Ali will most likely go down in history as one of Pakistan's most consequential individuals: in 1986, he laid the foundation for the Lahore University of Management Sciences (LUMS), unquestionably the finest institution of higher learning in the country.
The idea for LUMS came to Babar Ali as early as 1973, during a visit to Harvard Business School, where he was able to see just how far advanced the science of business administration had come in the United States. He resolved to create a business school in Pakistan, and found his opening in the 1980s when American aid started flowing into the country to finance the war against the Soviet invasion of Afghanistan.
Babar Ali managed to convince the US Agency for International Development (USAID) to spend $10 million on the creation of LUMS, which started off as a graduate business school in 1986, but quickly expanded to include an undergraduate liberal arts program in 1994, and now includes a law school and an engineering school.
It is this last act that makes Babar Ali and Packages unique. This is not just a company that let its employees rise to the top management position and gave them real autonomy. This is not even just a company that invests in ensuring that its employees are well-trained. It is a family business that undertook the effort in ensuring that its employees, and the employees of many other companies – including some of its rivals – were well-educated.
Few people can claim to have had a direct role in the creation of the Pakistani middle class, but Babar Ali is one of them.
Engro: where the Pakistani middle class found its guts and glory
If Babar Ali represents the finest example of enlightened benevolence from the top, there is another person who represents the very best of the up-by-the-bootstraps, create-wealth-from-nothing story that would give the Pakistani middle class the courage it needed to truly reach for glory. Shaukat Raza Mirza was a soft-spoken, unassuming sort of chap when you met him in person, and like a good Karachi middle class boy with an engineering degree, had worked in a safe, cushy multinational company job his whole life. But he is also the man who taught that same risk-averse middle class the virtues of entrepreneurial, bet-the-farm-on-your-best-idea risk-taking.
Babar Ali showed ordinary Pakistanis that they deserved better treatment from the economic elite. Shaukat Raza Mirza showed them that they did not need to wait around for a benign overlord, that they could take control of their own destiny if they dared take the risk.
In 1991, Exxon, the American energy giant, decided to divest itself of all non-energy assets. That long list included its fertilizer manufacturing business in Pakistan. It was at that juncture that Mirza and his team decided: "why wait for a buyer to determine who our new boss will be? Why not buy it ourselves and be our own bosses?"
The plan was to buy out 75% of the company's shares from Exxon through a combination of equity raised from the staff as well as debt raised from local and international financial institutions in what eventually became the first management buyout in Pakistani history. The new company would be named Engro and would immediately expand its fertilizer manufacturing capacity by importing an entire plant from the United Kingdom and the United States and reassemble it in Pakistan.
Mirza was so convinced of the virtue of his plan that he managed to convince not just his immediate subordinates and management employees but also the labour and factory staff to invest in buying out the company.
"Some of these people sold their homes and moved to rented houses while others sold their wives' jewelry to buy the company's shares," said Asad Umar, Engro's CEO from 2004 through 2012 and currently a member of the National Assembly from Islamabad.
It was a high-risk bet, "… perhaps, the most ambitious project, in terms of technical complexity, ever undertaken in Pakistan until that point. A relocation based chemical project on a scale that had never before been undertaken anywhere in the world before that and started a global trend," said Umar.
It was, however, needless to say, a spectacularly smashing success. On May 5, 1991 (a date that entrepreneurial Pakistanis should celebrate as the birth of their risk-taking spirit), the management buyout was completed. On May 6, the process of relocating that chemical plant began.
The project was a smashing success. In the 26 years since the management buy-out, Engro's revenues have grown more than 123 times, from Rs1,277 million in 1990 to Rs157.2 billion in 2016, an average annual growth rate of 20.3% (inflation averaged 8% during this time).
Needless to say, the stock price did quite well and those initial investors were materially better off. "With these gains, they married their daughters off, educated their children and bought property later on," said Umar said. "Before the buyout, there were hardly any cars even in the management section of the Engro colony at Daharki. Now, there are traffic jams in the labour section of the colony."
No good deed goes unpunished, however. Shaukat Raza Mirza was murdered in 2001 for being Shia by the Lashkar-e-Jhangvi.
Part of the consequences of having that many small shareholders is that Engro had a much larger free-float of shares than most other Pakistani companies, making it an easier target for a hostile takeover attempt, which is exactly what happened in 2002, when Hussain Dawood, chairman of the Dawood Hercules Corporation, began buying shares in a bid to gain control over the company. The Engro management sued Dawood, eventually settling out of court in 2003 through an agreement that allowed Engro management to retain a majority on the board of directors for the following ten years.
That agreement allowed Engro to continue operating the way it had after the buyout – a place where middle class Pakistanis could get jobs, take risks, build out the business, and rise to the top – despite having a wealthy family as their largest shareholders.
Engro became the platform for ambitious young Pakistanis to create new businesses with the power of one of the strongest balance sheets in the country at the time. The result was that the company diversified away from fertilizers, venturing into sectors like foods, energy, industrial control and automation, PVC resin manufacturing and marketing, chemical terminal and storage, becoming the country's largest private sector conglomerate. It is the 10th largest listed company based on market capitalization, which stands at Rs198 billion or $2 billion (approx.), and has about 4% weight in the benchmark KSE-100 Share Index.
All good things, however, must come to an end. At Engro, and at Packages, the family with the most shares is going through a generational transition, and in both cases the son appears to want a different relationship with the employees than his father.
Generational Transition: The Seth Strikes Back
Over the last five years, it has become increasingly clear at both companies that, as the older patriarch of the family that owns the largest number of shares moves into retirement, the new head of the family wants to assert considerably more control than the father. And that has unintended consequences in companies that had decades of a culture of an independent non-family management used to running the affairs of the company.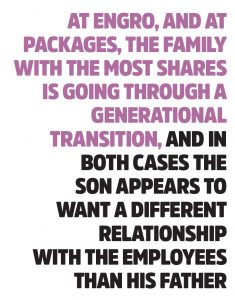 In the case of Packages, the transition is clear cut: in early 2016, Syed Hyder Ali, Babar's son, after taking control over the company as Managing Director and CEO, eliminated the position of General Manager, effectively destroying the hopes of any employees who dreamed of running the company one day. The highest ranking employee in the group is now Asghar Abbas, head of the packaging division.
A senior employee at Packages told Profit that Abbas is essentially a "yes man" who has very little desire or ability to assert any kind of control over the company and effectively just follows and implements orders. This new approach has rubbed many employees the wrong way, and some even left despite a long association with the company..
Among the departures includes Ali Aslam, who had previously run Packages' Sri Lanka subsidiary and was most recently serving as CEO of Bulleh Shah Packaging Pvt Limited a JV between Stora Enso and Packages Limited. Senior employees at Packages say Aslam left over differences with Hyder Ali over the new management approach.
In the case of Engro, the shift has been more subtle, but the result on senior management retention appears to have been even more drastic.
The transition appears to have begun in 2012, soon after Asad Umar's departure (he left of his own volition to pursue a political career). In June 2012, Hussain Dawood, using his Dawood Hercules portfolio companies, bought a significant stake and management control over the Hub Power Company, Pakistan's largest independent power producer. Since then, slowly but surely, Engro's investments have been redirected away from all other business lines and focused almost exclusively on power generation.
This transition has not gone over well with many employees and what started off as a trickle has now become a flood of senior-level departures over the last few years. After all, the whole attraction of working at Engro was that it offered a well-capitalised platform to try new business ventures. If the family that controls the most shares (the Dawoods own 38%) is no longer allowing that and focusing solely on energy, why bother staying?
Prior to 2012, Engro was consistently ranked the most desired employer in Pakistan by college students. Now, it appears to be struggling to hold on to its (very well compensated) CEOs, having had three in the last five years. By contrast, the company took 21 years to cycle through three CEOs after the management buyout.
And it is not just the very top. The departures have become more frequent over the last two years especially. Since 2015, Aliuddin Ansari and Khalid Siraj Subhani (CEOs, Engro Corp.), Sarfaraz A. Rehman (CEO, Engro Foods), Sheikh Imran ul Haque (Senior VP Engro Corp. and CEO ELengy Terminal Pakistan Ltd.), Andalib Alavi (VP-Legal and Company Secretary, Engro Corp.), Naz Khan (CFO, Engro Corp.) and Syed Mohammed Ali (CEO Engro Powergen Qadirpur) have all left the company.
None of these executives cited any differences with the management, but people familiar with the developments say some of them would have retired anyway while others had a difference of opinion regarding Engro's new strategic direction, and thus left early.
Engro's push in the energy sector is not new. The company set up its first energy subsidiary – Engro Powergen Qadirpur, a 224 MW power plant – in 2005. In 2009, Engro set up the Sindh Engro Coal Mining Company, a 3,960 MW project whose first phase comprises two 330 MW subcritical plants.
However, in the same decade, it also successfully entered the food business, which went on to become one of its top performing subsidiaries along with its fertilizers business. By end of 2010, the company also set up the world's largest single-train urea manufacturing plant in Daharki, the $1.1 billion project named Enven – the single largest private sector investment in Pakistan at that time.
Until 2012, Engro was showing no signs of pulling back from other sectors. However, after some initial success, Engro Foods' earnings suffered on the back of logistics and distribution issues. For most of 2013 and 2014, its revenues and margins remained under pressure. In fertilizers, the Enven plant continued to operate at a much lower capacity in 2011 and 2012 because of a shortage of natural gas, the major raw material needed to run the plant.
With two of its most profitable businesses running into problems, the company was already taking a new direction. For example, in 2012, the company made a big investment to set up Elengy Terminal Pakistan Ltd, a terminal for handling, regasification, storage, treatment and processing of liquified natural gas (LNG) and other liquids, gases and chemical and petroleum products. Later in 2015, its subsidiary Engro Powergen Thar (Pvt) Ltd obtained generation license for its $1.1 billion power plant project.
With an increased focus on energy, it needed more money to invest but already exhausted its single party limit so borrowing from banks was not an option. Therefore, in 2016, Engro divested 47.1% stakes in Engro Foods to the Dutch dairy giant FrieslandCampina and raised $447 million. This was in addition to another $185 million it received in proceeds from selling 28% of its shares in its fertilizer business. The company has also sold its investment bank, Elixir Securities, and was on the verge of selling the petrochemical business too, but decided against it.
It will deploy all these proceeds to energy sector projects, market analysts say. Engro has already announced its intention to set up another LNG terminal for a 450 MW power plant that would cost $700 million. "They now have the money in hand and they don't like to sit on it," an official said adding they will reinvest it.
More than just the strategic direction of the company, however, the composition of its board of directors has changed dramatically after the 10-year agreement between Dawood and the management shareholders expired. The current board has five nominees appointed by Hussaid Dawood, including his sons Samad and Shahzada, four independent directors, and the Engro CEO being the sole representative of management on the board.
Not much of the management buyout remains now that the management is effectively off its own board of directors.
The case for and against seth intervention
The reality of the shift in corporate culture, therefore, is not in dispute. However, it is unclear whether the seth asserting control at both Packages and Engro is necessarily a bad thing. Indeed, one might argue that the newer generation of the major shareholding family was stepping in to implement a course correction that the previous generation should have implemented a long time ago.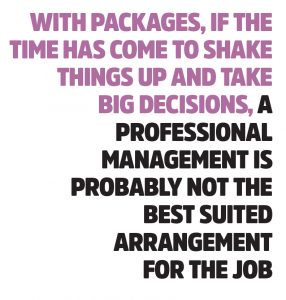 In the case of Packages, the company had been losing market share to newer competitors, like Saima Packages and Roshan Packages, for the last two decades when the company was run by non-family managers, says a former General Manager at Packages who declined to be identified in order to speak more candidly about his former employer. The majority shareholder in that case acted responsibly by stepping in.
Packages has shrunk its core packaging business, and as a proportion of the group's total revenues and profits, Packages Ltd, the listed entity, is significantly smaller than it was. At the same time it has invested in what it hopes will be far more profitable investment opportunities, such as a packaging business in South Africa, as well as commercial real estate in Lahore in the form of Packages Mall. "It is all but natural for some of the employees related to the Packaging division to feel uncomfortable with these changes", said the ex General manager.
And in the case of Engro, one might argue that the period from 1997 through 2012 was too permissive in allowing employees to create new lines of business, diversifying without a core strategic objective. Engro Foods was probably the best business line that came out of that phase in the company's history, but after a few years of a "me-too" expansion strategy that essentially copied Nestle and Unilever's product line, Engro Foods management ran out of ideas because Nestle and Unilever had not come up with them yet, resulting in stalled revenue growth and a decline in profitability.
Having a focus on energy at a time of an acute energy shortage may not necessarily be a bad decision. According to the Federal Water and Power Ministry, the country faces a 5,000 MW shortfall in production capacity. "In 2013, when Prime Minister Nawaz Sharif first took office, I promised him that our group would deliver at least 2,400 MW in increased power generation capacity," said Hussain Dawood, in an interview with Profit.
Family control vs professional control
"Usually when a non-family professional CEO takes control of a company, the share price of the company rises. Likewise, when the first generation of the family dies, the share price of the company tends to fall since the market assumes that there are lower chances of finding someone of equal skills in the next generation of the same family," said Arif Iqbal Rana, associate professor at the Suleman Dawood School of Business at LUMS and the head of the university's Family Business Initiative.
Those market reactions, however, belie a more complicated picture when it comes to the efficiency of the family business as an organizing force in the economy.
"The key way to think about family versus non-family businesses is that the two are simply very different. Overall, non-public family businesses perform worse than publicly listed professionally run companies, but those professionally run companies are outperformed by publicly listed companies that still have a family as their major shareholder," said Rana.
He goes on to elaborate on which situations best lend themselves to family control and which ones are best suited for professional control.
"Basically, the key word is 'discretion'. Whenever the effects of discretion are high, it is very difficult to trust a non-family member. That is why you see very few non-family businesses in something like textile spinning. In that business, 60% of the cost of doing business is the cost of cotton. That means that 60% of the fate of the business is determined by the one decision of when and which price to procure cotton. Whenever there are fewer decisions of enormous consequence for a business, you will see more family control. When there is a business that requires many smaller decisions to be taken on a day-to-day basis, that company is better off under professional control," said Rana.
By that logic, if Engro is shifting gears towards energy, it makes sense to exert greater family control, since the energy business requires fewer, but far more consequential decisions with respect to two main factors: capital allocation decisions on which projects to pursue, and contracting decisions on which government contracts are the most attractive from a risk-adjusted return perspective.

Similarly, with Packages, if the time has come to shake things up and take big decisions, a professional management is probably not the best suited arrangement for the job.
Therefore, in certain circumstances professional management is not always the best way to go and that the seth has his uses.
Read more: Seth-ification ahoy!
There is, however, something to be said for creating large companies as organized vehicles for economic advancement based solely on talent, regardless of the accident of one's birth. This is not to suggest, of course, that Samad Dawood and Syed Hyder Ali are not highly talented men. However, it is an attractive idea to have companies where the people who lead them are decided not by who their parents are, but by the value they have created for the company and for society as a whole.
Family control may allow for bigger, riskier decisions, and professional control for the smooth efficient every day running of a business, but must Corporate Pakistan live with this divide? Is it not possible for that professional management that ran a company smoothly to also make the big decisions? The employee-owned Engro, led by Shaukat Raza Mirza, was able to be bold, brash, publicly listed, and efficiently run all at the same time. Is employee ownership the only model that strikes that balance? Not necessarily. Lehman Brothers had substantial employee ownership and it became the largest bankruptcy in history and led to the largest global financial crisis since the 1920s.
Ultimately, of course, this matter is decided not by a professor researching the question at LUMS or by the family shareholder. The question of which companies will do best will be decided by the young, talented business, engineering, or liberal arts student. Where she decides to work, where she feels valued, nurtured, and appreciated, is the place that will thrive. Any corporate organizational structure that prioritizes attracting, retaining and utilizing her talent will prove more durable than its competitors.
Note: Top executives from both Engro and Packages declined to be interviewed.