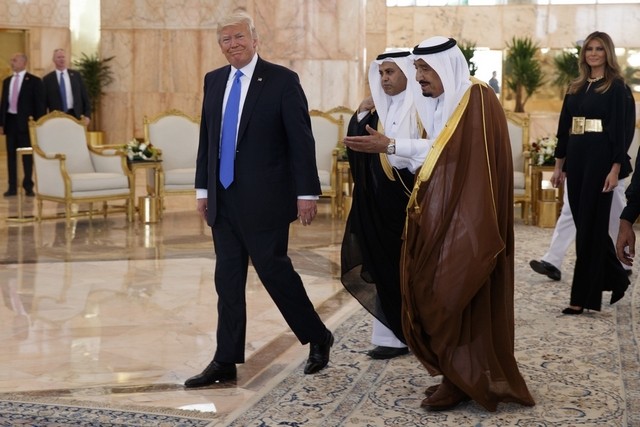 Saudi Arabia signed billions of dollars of deals with U.S. companies during President Donald Trump's visit to Riyadh. Estimates of their total value vary from $300 billion to close to $400 billion.
Here is a list of what's been announced:
The US and the Saudi Defense Ministry negotiated a package of about $110 billion, according to a White House transcript
Saudi Aramco signed accords with companies valued at about $50 billion
Saudi Arabia's wealth fund, the Public Investment Fund, agreed to commit $20 billion to an infrastructure investment fund with Blackstone Group.
While no complete breakdown has been provided, here is a list of U.S. companies involved:
Defense:

Lockheed Martin signed a MoU for 150 S-70 Black Hawk helicopters to be assembled in Saudi Arabia
Raytheon will establish Raytheon Arabia based in Riyadh
General Dynamics agreed to localise design, engineering, manufacturing and support of armoured combat vehicles

Industry:

General Electric signed MoU with Saudi Arabia valued at $15 Billion
Honeywell International signed a $3.6 billion MoU with Saudi Aramco
McDermott International also signed a MoU with Saudi Aramco with a potential value of about $2.8 billion
Boeing, SaudiGulf Airlines to negotiate wide-body jet purchase
Jacobs Engineering Group signed MoU with a value of $250 million

Oil & Gas:

Saudi Aramco updates MoU with Rowan Cos for design and selection process for offshore rigs as part of the $7 billion investment over 10 years; Rowan will own and operate offshore drilling rigs
Rowan signed MoU with Saudi Aramco's supply chain with an initial investment value of $1.2 billion
Saudi Aramco signed MoU for additional well services and studies into rig movements as an extension of a JV with Nabors Industries. The JV will see $9 billion of investments over 10 years
Nabors signed a MoU with Saudi Aramco for its supply chain with value of $1.6 billion
Saudi Aramco, National Oilwell Varco to create JV to manufacture drilling rigs and equipment
Weatherford International signed MoU with a potential value of $2 billion
Courtesy: Bloomberg