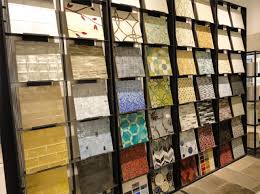 *Shabbir Tiles & Ceramics unveils 'Modish Collection'
KARACHI:
National Tariff Commission (NTC) of Pakistan has imposed provisional Anti-Dumping Duty from 6-59 per cent on the import of Tiles and Ceramics from China and Iran to save the local tiles industry.
"The decision has been taken to save the local Tiles and Ceramics industry which was facing a lot of price competition owing to the imports of different kind of legal and illegal tiles from China and Iran," said Masood Jaffery, Chief Executive Officer (CEO) of Shabbir Tiles (Stiles) and Ceramics Ltd, a PSX listed company.  The dumping duty would be fixed according to its brands and quality of the tiles being imported from China and Iran.
Launching new stunningly beautiful 'Modish Collection of Wall and Floor Tiles' for its consumers, he said, "after the Anti-Dumping Duty on the import of tiles, the Stiles may capture more share of 10-15 per cent of the Pakistani market."
He said, "the company had so far invested around Rs 1 billion on its old plants with world latest technology and standard, while it's planning to invest Rs 1.25 billion more in future."
In an exclusive event held at the Arena, Stile unveiled their new stunningly beautiful Modish Collection of Wall and Floor Tiles for its consumers building new homes or upgrading existing ones. Comprising of a wide variety of colours and designs the new collection is designed to suit the modern taste of Stile's consumers and to set their homes apart from all others.
With the launch of its new collection Shabbir Tiles & Ceramics Limited is continuing its tradition of being the pioneers in bringing new and innovative technology in the field of Porcelain and Ceramic Tiles, he added.
He said having made a total investment of Rs 1.2 billion in production and manufacturing in the past 6 months Shabbir Tiles & Ceramics Limited is committed to providing quality products to the end consumer. Stile's latest Italian technology under the supervision of the company's Italian production team launched "Glaze Porcelain Polish Tiles & Glaze Porcelain Matt Tiles" in 24×24 inches/60×60 cm.
The collection comes in a diverse range of designs and promises durability, low maintenance and high resistance to wear & tear.
Speaking on the occasion, Jaffery said, "I am pleased to announce the launch of our Modish Collection. The construction market in Pakistan is expanding at a rapid pace with heavy investments being made in the form of various residential and commercial projects. We are confident that with the extensive design range that we are offering, our modern Italian designs in collaboration with Arte & Grafica, Italy will be the preferred choice for architects, interior designers, builders and of course, our customers who are looking to design extraordinary homes."
The current demand-supply gap which exists in the market for tiles needs to be fulfilled by local producers while focusing on quality, design and variety. Having foreseen this issue Stile has constantly been striving to meet the needs of its customers' by focusing on their requirements.
Aamir Saghir added, "Today's Stile event is the reflection of our commitment towards providing the highest quality, best designs and colours to cater the changing demand of our valued customers."