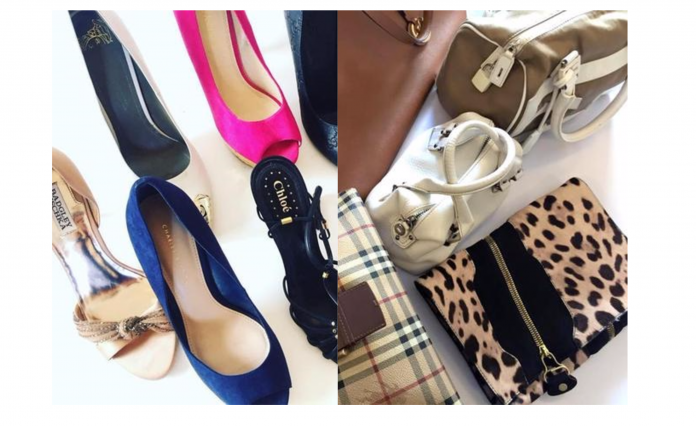 'In business you don't have to acquire a huge number of clients to be successful,' this is the simple philosophy of Secret Stash – an online clothes and accessories buy-and-sell platform targeting a niche market.
But what is so niche about a website that sells clothes like any other in the age of digitalization when there are hundreds of others doing the same thing?, one may ask. To find out more about this startup that deals with a narrow market – and is happy to do so, Profit sat down with Nazish Hussain.
Defining her three-year old venture, Nazish says: "Secret Stash is Pakistan's premier online website where you can buy and sell high-end designer items at a discounted price, anonymously."
An alumni of George Washington University, from where she did her graduation Hussain's corporate career revolved around top multinational like P&G and Unilever, where she has worked – and 'loved' doing it – in advertising, digital media and communications departments.
Her career was progressing smoothly, just as she had imagined while growing up in an entrepreneurial family where her father owned his business while her mother ran her private school. Hussain never aspired to have a business of her own.
Stumbling on the idea
After six years in the corporate world, she travelled over to San Francisco, on a vacation. Strolling and browsing in the streets of the City by the Bay, she stumbled upon an unexpected idea for a startup – to open a store where used high-end designer products could be sold for lower than the market price.
"They have a lot of high-end vintage stores over there and it's a really interesting concept," said the entrepreneur. "I was thinking, oh, it's so interesting, as the buyer has the option of going for designer stuff at a discount and the seller had the opportunity to divest it for cash. Why have we nothing like that in Pakistan, I wondered," said she, reflecting on the seminal idea.
After the vacation, Nazish went back to her work but the thought of setting up a local high-end store that sells used items stayed with her. Finally, after speaking to numerous colleagues and friends about her idea's feasibility and many positive responses, she quit her job in March 2014 and commenced work on building her vintage store in the country.
Her own experience in digital media, and the emergence of many e-commerce players in the market, motivated Hussain to set up online venture. In December 2014, 'Secret Stash' was launched, targeting a very select yet strong market.
The big 'niche'
"You have to remember that in 2014 the ecommerce landscape was very different and still very new compared to now," said the 33-year old.
The designer wear is a much-hyped segment of Pakistan's retail market, with the lawn alone as big as Rs40 billion, the whole idea of buying slightly used items – although high-end – or selling your own designer goods was entirely new. Hence, not a very large group was going to go for it.
"The idea was not to obtain big numbers. I wanted Secret Stash to stay niche and in all honesty in a country of 200 million people if you target just one per cent, it's still two million people."
Working within the constraints
Nazish knew the constraints that limited her startup's functionality, but she was more than ready to tackle them.
"One of the things that I realized about our society was that people were very concerned about other people's opinion. The idea that what I am wearing is old or someone else's, a lot of people do not want anyone to know that," said Nazish. Knowing the psyche of the people she was to deal with, she introduced the anonymity option. That helped her gain customers soon enough.
Now, as Secret Stash's website clearly mentions, the buyer and the seller both need not know of the other party and the deal is only through the entrepreneur that verifies both of them.
Another major limitation was that not many people seemed interested in buying a very expensive yet second-hand product. Nazish was not even going to target that segment – her core target audience and focus was entirely different, as she had decided to cater exclusively to the ones who were 'interested'.
"A lot of people aspire to own a certain thing [designer], but maybe they do not have that kind of budget; so it affords them an option of possessing what they desire of but at a fraction of the price," said Nazish.
So how does Secret Stash work?
Like any regular ecommerce website, an order can be placed on Secret Stash for the slightly used designer product – which has a detailed description including its imperfections (if any) as well. Once Secret Stash receives the order, a confirmation call is made, and following that the product is delivered within 3-4 working days.
Additionally, for a client in Karachi an additional option is available; they can visit the store in-person and check the product firsthand before buying it.
A flat 20% commission is what Secret Stash charges on successful sale of each item.
Spread its wings wider
Having run the startup for almost three years, and having built a sizable clientele across many cities locally, Secret Stash is now spreading her wings wider, by entering into export – embarking on it only recently when she dispatched a shipment to India.
When one asked Nazish where her buyers mostly came from, she mentioned far-off upcountry places in the Punjab and the KPK – making it evident that the lady entrepreneur has hit the right chord with upscale buyers.
"Karachi is largest in terms of both buyers and sellers, but Lahore, Islamabad and Rawalpindi have a very high number of buyers who order regularly from us," said she, speaking of her core customers.
One of the foremost reasons why Nazish has been able to attain a significant number of patrons is her commitment to maintaining quality.
To this end, all sellers are required to first send the product to Karachi – where Secret Stash is based at – and only after examining the product firsthand for its originality and condition it's uploaded on the website for sale.
And what if a product is not sold?
If a product is not sold out within 30 days, Secret Stash discusses it with the seller as to what should be done and whether price should be brought down further. In case the product still doesn't get the required attention, Secret Stash returns the product to its original owner after a period of two weeks without the latter losing any money in the process.
Having secured a customer base, Nazish maintains Secret Stash still has a long way to go.
With her growing recognition in the market – something she cherishes as her "biggest success" – she aspires for Secret Stash to be recognized internationally as Pakistan's one-of-its-kind store. Until that transpires, she is content with doubling her clientele year-on-year locally.