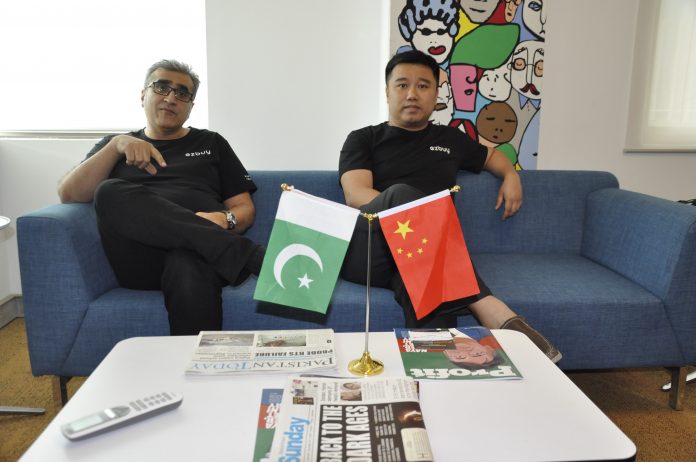 With the advent of social media – like Facebook, Twitter and Instagram – the online shopping has picked up in every Pakistani city and town.
A wide range of products – from cosmetics to fashion accessories to home textile products and clothing, from jewelry to laptops, cell phones and electronic goods – is only a click away.
A new vehicle in the form of a shopping portal is ezbuy.com.
Employing the social media massively as a promotional tool to expand its outreach to even far flung areas, Chinese, Thai, and Singaporean or Pakistani products are all available on ezbuy.com, for online purchases with minimum delivery charges.
"Our main agenda is to provide great value quality products to Pakistanis at their doorstep," said Vincent Xue Bin, Co-founder and Chief Strategy Officer at ezbuy.com. "We would have three platforms; first, ezbuy cross border and local products; second, Haute Shop fashion products, while, the third, B2B serves businesses
Vincent Xue Bin, who is also shareholder of ezbuy Holdings Limited in Singapore, have signed a joint-venture with Pakistani entrepreneurs led by Kamran Shaukat, with a vast experience in retail and online shopping. He has worked at different places including Walmart (China), Shell (Singapore), McDonald's (Malaysia, USA and Pakistan) and many other places and runs many small businesses.
Talking to Profit, he said, "one of my friends in Walmart (China) suggested that I embark on e-business in Pakistan, [with a view to offer] unique, innovative, unavailable and high-demand products," said Kamran. Being friends with Vincent Xue Bin, already engaged in similar business in Singapore, gave him a legup. "So, we joined hands to bring ezbuy to Pakistan starting with the largest product range of over 3 million products on offer for Pakistani consumers online, with delivery within 12 to 30 days of order."
Launch in Pakistan
"We went live on August 1, 2018 in Pakistan and since the launch we have gotten an overwhelming response on this website," said Kamran. Having launched ezbuy at the start of August, and Haute Shop 10 days later, our business service vertical is to open shop in October.
"China is manufacturing good quality products at great value rates compared to other countries including Pakistan and we can deliver it to the Pakistani people, schools, universities, hospitals at minimum delivery charges," said Vincent.
"Our trust with the Pakistani buyers is our main asset," said Vincent with a smiling face.
As one of the fastest growing online retail companies in SE Asia (Singapore, Malaysia, Thailand and Indonesia), ezbuy offers an unparalleled start up learning experience, said he. Founded in 2010 by a group of aspiring entrepreneurs, ezbuy had a single objective: to bring quality products in a convenient way to the locals via our platform, he added. As of today, ezbuy has more than 3 million customers in Singapore, Malaysia, Indonesia and Thailand. We have also brought millions of quality products globally from China, the USA, Taiwan and Korea for our customers, he claimed.
Maintaining focus on products demand in Pakistan, said Vincent, we strive towards service excellence and keep on developing new services that better suit Pakistani customers. That is why we have our ezbuy Prime service and expanded our operations from China to the USA, Taiwan, Korea and now to Pakistan.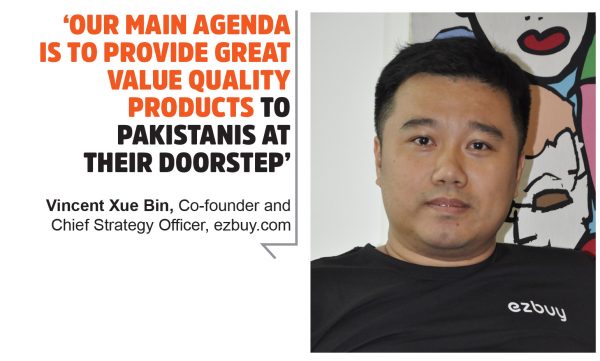 Last year, online shopping in Pakistan stood at $180 million, with the ongoing year potential projected to be twice the size – $350 million, Kamran claimed.  Pakistan is a huge market after India which is rapidly growing in online purchases and is expected to reach $5 billion by 2025.
Many companies like Ali Baba and others are coming to Pakistan to get their slice of the profits in online shopping.
Pakistani is a huge market for us, added Kamran. "We are expecting the new government to support the business community for it cannot be developed without it. Pakistan's economy is going in right direction and the Pak-China governments would have more cooperation on CPEC projects."
Dealing not in dollars but yuan
The company would, said Kamran, be dealing in the Chinese currency – allowed by the State Bank and the government of Pakistan to ease pressure on the dollar.
"Initially, we have put over 3 million products on our website – making it so far the biggest in Pakistan," he said. Now owned by Alibaba, Daraz.pk has one million to 1.5 million products available online. "The consumers would have to book online and our company after the quality check, packing, would deliver it through air courier within 10-12 days and by ship in 20-25 days. We are planning to sell our products directly to the customers, retailers, schools, colleges, universities and other educational centers, hospitals and companies etc on credit card, cash on delivery, and other banking channels' used in the country.
Over a question regarding the Pakistani market, he said, "We need to educate people through our website and also social media to get products delivered at their doorstep."

The company has hired over 45 people in Pakistan – and the process continues. Overall the company has around 1,000 people on its payroll, mostly in the Far East, in China, Singapore, Malaysia, and Thailand.
"We have made sizeable initial investment in Pakistan, with an intent to post profits within three years. And the response to the website in the country over the last one week has been indeed tremendous", claimed he.
Pakistan's e-commerce may cross $1 billion-mark by 2020, as predicted by experts – a year earlier than the previous projections citing the milestone to be crossed in 2020-21. The central bank' six-month data suggested this to be a positive development.