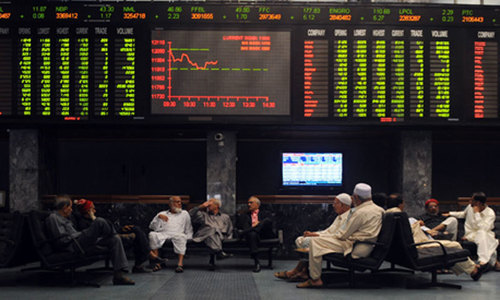 LAHORE: It was a mixed day at the Pakistan Stock Exchange (PSX) but the bears prevailed. Despite no solid news of stability or clarity, local investors have been net sellers as per the data compiled by the National Clearing Company of Pakistan (NCCPL). Data suggested that the local investors have distanced themselves from the market. During the first three days of the week, local investors sold approximately $ 15.66 million.
The KSE 100 index danced throughout the day with index gaining 288.23 points to 40,791.91 in the morning, then dropping 669.58 points to intraday low of 39,834.10, stooping below the 40,000 barrier. Not too far away from its 52-week low of 39,538.04. However, the index had one move to show before the day end and it resurrected to close short of 266.15 points at 40,237.53.
The KMI 30 index swayed between a positive 694.84 points and negative 1,021.99 points. With only 5 companies able to gain, it closed down 359.61 points at 66,826.70. The KSE All Share Index lost 110.72 points to end at 29,025.77. The advancers to decliners ratio stands at 76 to 281.
Bloodshed was across the board, the commercial bank sector saw MCB Bank Limited (MCB) decline 1.80 per cent, cement sector was red with no exception. Maple Leaf Cement Factory Limited (MLCF) was down 4.98 per cent.
The market volumes did not look very encouraging again. The total volume of 137.99 million was recorded during the session against previous sessions 129.56 million. K-Electric Limited (KEL -1.10 per cent) dominated again with 13.51 million shares traded. TRG Pakistan Limited (TRG -4.00 per cent) followed as 8.21 million shares were exchanged in the script and Aisha Steel Mills Limited (ASL -4.29 per cent) was third as 7.32 million shares exchanged hands.