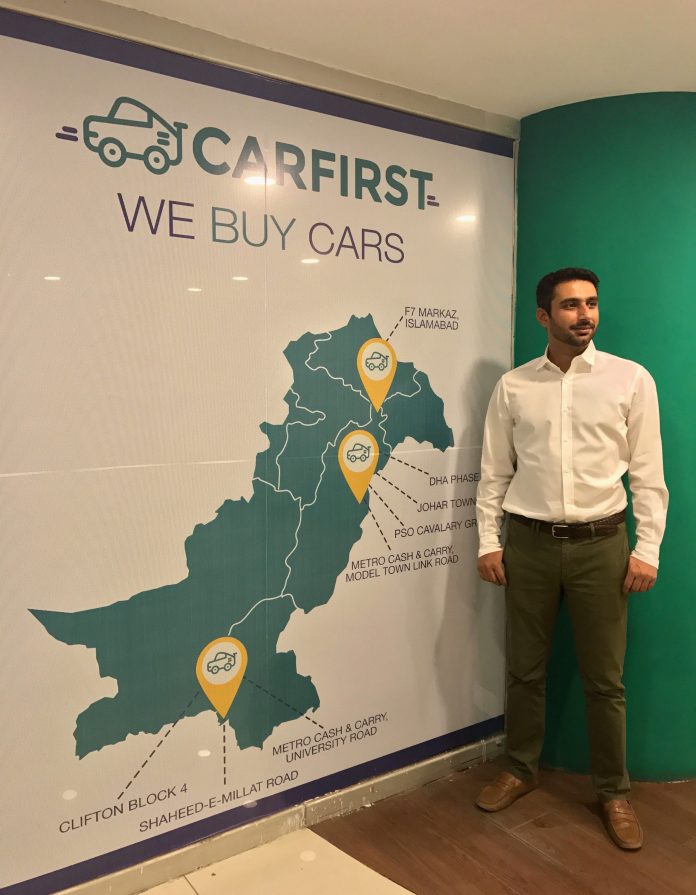 With online traction gaining strength in almost every segment of the economy, the buying as well as selling of cars have also seen major growth in the past few years. CarFirst is one such company offering a full range of services is available in a physical showroom. The only physical part of the process includes inspection of cars by the buyers, which can also be scheduled online as per the convenience of the buyer. Price evaluation service is provided free of any charge.
The business model works to facilitate both the car sellers and dealers. So far there is no other business operating at the same level with a similar set of features.
Raja Murad Khan is the Co-Founder and CEO of CarFirst – the first of its kind used car online auction platform in Pakistan. An alumnus of Aitchison College, Lahore, and IBA, Karachi, Murad has also had the critical advantage of having previously been the Managing Director of Carmudi Pakistan.
In June 2016, Murad founded CarFirst with two employees in a small home-office, and just enough capital to hold 3-4 small cars at a time – his first buy being bottom-of-the-line Mehran. A year and a half later, CarFirst is held by the Frontier Car Group (Delaware LLC) with over 200 employees and currently operates in Karachi, Lahore, and Islamabad.
One-window operation
"CarFirst started with a vision to reinvent how used cars are traded in Pakistan through technology and infrastructure creation. We developed a unique model where we make this a one-window solution offering competitive prices and a very secure experience to sellers."
It took Murad three years to recoup his initial investment. "We are a very revenue-focused company and intend to grow into a profitable and sustainable company in the next couple of years."
Aiming to set up 20 additional purchase centers across Pakistan, the management plans to take the company to Multan, Gujrat, Gujranwala, Wah Cantt, Hyderabad, Sialkot, and Peshawar. "On top of it, we are working to cater to an increased volume of additional warehouses where we can facilitate buyers and manage inventory."
Talking about the challenges of this industry, he said, "Pricing in the used-car industry is ad-hoc. There is no way of identifying an appropriate pricing mechanism because there are no set industry standards that they are measured by." He added that Car Registration Transfer can also be challenging as it does not allow owners to easily transfer ownership of their car to another owner.
CarFirst being the early bird, the market has so far not thrown up a direct competitor. Armed with an internally developed algorithm, market intelligence, and a professionally trained outfit to conduct inspections and valuations, the company is going about its business with aplomb. "Our technology development is done by our company-operated office in Berlin, Germany."
Regarding marketing, Murad says, the primary motive of his campaigns is to inform and bring an ever greater number of people to his platform. "The marketing budget is always dependent on the revenues. We are reliant upon a strategy that consists of three prime factors: generating awareness, leads and remarketing to those who are already our customers."
Online marketing all the rage
The concept of online car sale and purchase is still rather fresh in the country. Murad attributes it to certain key players that introduced the concept of e-commerce, which subsequently piqued the interest of international venture capital saw the potential in the Pakistani market. "Now, almost every other business is establishing its E-commerce store, thus making online marketing the rage that it has become."
Hitching online marketing has provided the auto sale and resale business a great fillip, so much so that the manufacturers have declared online marketing as their key source for lead generation. "For us, it is indeed difficult to reach the broader market through other mediums but with the digital marketing it is super easy as almost every other person is on Facebook, and almost 80% of our business is being generated through this vehicle."
Talking about the demand trend in the country, Murad said, "Due to fuel efficiency, better resale, and affordable maintenance, three brands literally rule the roost in the market. These are: Toyota Corolla Gli, Honda City Prosmatic, and Suzuki Wagon R."
Since all three have a price-range of Rs1 million to Rs2 million, it might also hint at the socio-economic class that is CarFirst's primary constituency.
Talking about the bad calls along the way, Murad noted, "Like most local company founders I took on too much responsibility for myself and it took a while for me to delegate. Let me quickly add: mistakes are part and parcel of growing a business but our policy is that we don't back down and learn from our poor decisions."