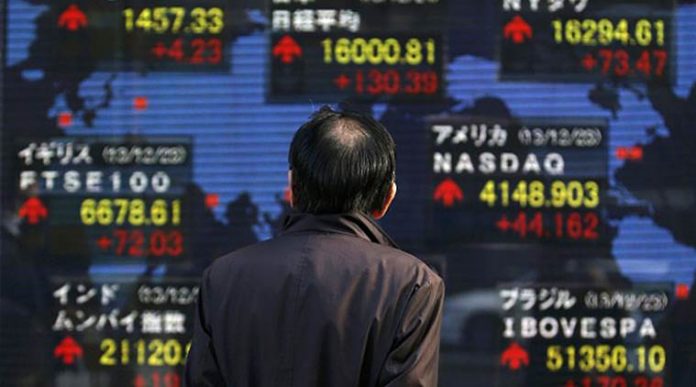 TOKYO: Share prices were mostly lower in Asia on Wednesday as the afterglow from Wall Street's extended winning streak faded. Chinese shares were buoyed by surging oil prices.
KEEPING SCORE: Japan's Nikkei 225 index lost 0.3 percent to 23,788.20 and the Kospi in South Korea lost 0.3 percent to 2,501.72. Australia's S&P ASX 200 slipped 0.6 percent to 6,096.70. The Hang Seng index in Hong Kong climbed 0.3 percent, shedding some morning gains, to 31,097.41 and the Shanghai Composite index lost 0.3 percent to 3,405.44. Shares fell in Taiwan and were mixed in Southeast Asia.
WALL STREET: Stocks pushed further into record territory Tuesday, with health care stocks and banks leading the gains. The S&P 500 rose 0.1 percent to 2,751.29 to equal its longest winning streak leading off a year since 2010. The Dow Jones industrial average rose 0.4 percent to 25,385.80 and the Nasdaq composite gained 0.1 percent to 7,163.58. The Russell 2000 index of small-cap stocks slipped 0.1 percent to 1,560.10.
CHINA INFLATION DATA: China reported that its consumer price index edged up to 1.8 percent in December from 1.7 percent the month before, driven by higher food prices. But broader gauges showed price pressures easing.
CURRENCIES: The dollar fell to 112.31 Japanese yen from 112.65 yen late Tuesday. The euro slipped to $1.1931 from $1.1938, and the British pound dipped to $1.3520 from $1.3540.
ENERGY: Benchmark U.S. crude oil rose 49 cents to $63.45 per barrel in electronic trading on the New York Mercantile Exchange. It jumped $1.23 to settle at $62.96 per barrel on Tuesday. Brent crude, the international standard, added 34 cents to $69.16 per barrel. It rose $1.04 to settle at $68.82 per barrel in London.