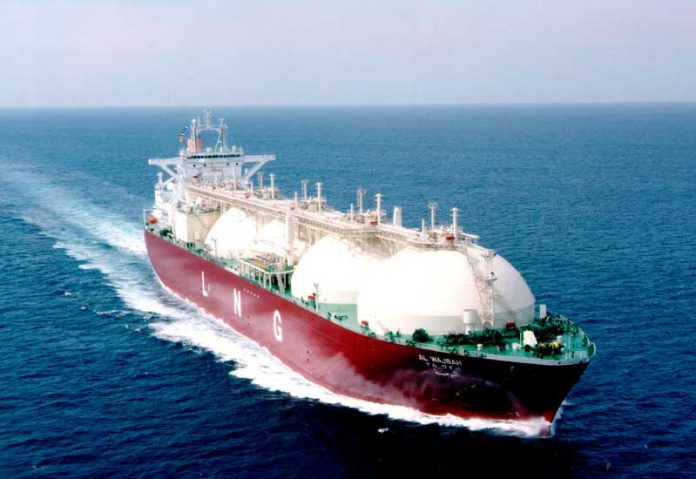 NUSA: Soaring gas demand from China, India and Southeast Asia is sucking up an LNG supply glut previously expected to last for years, opening opportunity for new production from East Africa to North America that had been deemed part of the overhang.
Trade flows in Eikon show global liquefied natural gas (LNG) imports have risen 40 per cent since 2015, to almost 40 billion cubic metres (bcm) a month. Growth accelerated in 2017, with imports up by a fifth, largely due to China, but also South Korea and Japan.
Asia's LNG market has been glutted since 2015, following massive development that began in the early 2000s. But a gasification programme in China last year and strong economic growth across the region pushed up demand, contributing — along with a cold winter — to a doubling of LNG spot prices from mid-2017.
The market is expected to remain relatively tight for the remainder of 2018, with China's gas programme continuing and delays at several export projects.
"The tight market is going to continue simply because demand is growing and expected projects have been delayed," said Jun Nishizawa, senior vice president at the energy division of Japan's Mitsubishi Corp's.
Nishizawa cited delays in projects at Cameron LNG export terminal in Louisiana, in which Mitsubishi has a stake, and Freeport LNG in Texas.
Freeport's first LNG train is scheduled to be completed in November 2018 and no delays have been announced.
"I don't think substantial LNG will be produced by these two projects by end of the year," Nishizawa said, speaking at an LNG industry conference last week in Bali, Indonesia.
In Australia, the Ichthys project developed by Japan's Inpex and France's Total has seen several delays and cost blowouts. Total's CEO said first exports now may not come until the second quarter.
The LNG tanker market is also tight, with few ships ordered in recent years.
"The global LNG tanker market looks increasingly bullish for 2018 and 2019, as strong demand growth and a thinning order-book pressure the available supply," BMI Research said this week.
This unexpected tightening potentially opens the way for new projects for the first time in several years.
Many projects were delayed or axed when oil and gas prices started tumbling in mid-2014. Now energy companies are returning to health as prices have improved.
In East Africa, US energy firm Anadarko Petroleum is getting closer to a final investment decision (FiD) as it lines up potential buyers for its Mozambique gas field.
Tokyo Gas is the latest to near an offtake agreement, according to three sources with direct knowledge of the matter, who asked not to be named as they could not talk about ongoing contractual negotiations.
Anadarko and Tokyo Gas declined to comment.
Anadarko's Mozambique concession holds an estimated 75 trillion cubic feet (2.1 trillion cubic metres) of gas, its website says, four times 2017's globally imported LNG volumes.
Several export projects in North America also hope for FiD this year.