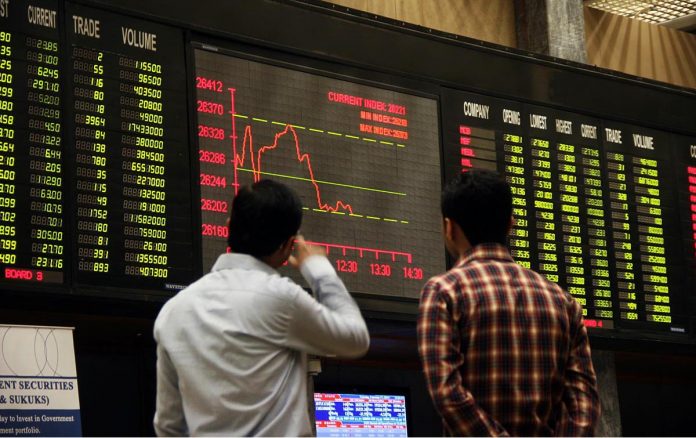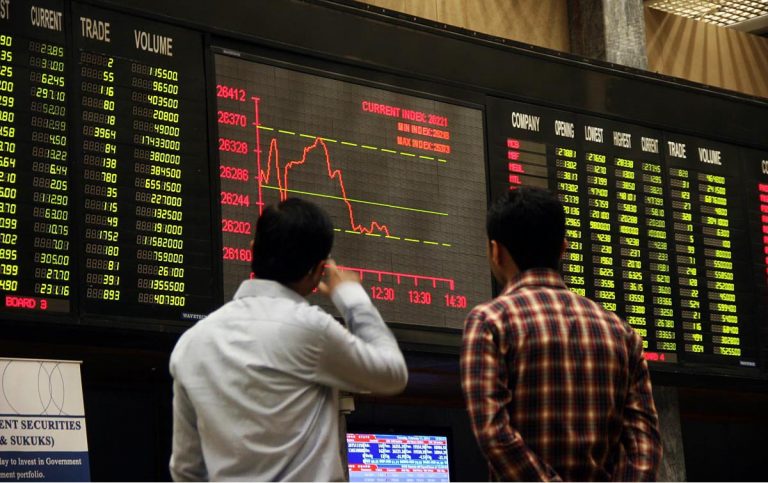 LAHORE: As the international anti-money laundering watchdog moves close to putting Pakistan on the global grey list, investors thought it wise to stay away from the stock market. The market steadily lost ground as selling pressure exacerbated on account of sizable position in future contracts of Rs 10.9 billion requiring settlement by end of this week. Investors even did not pay heed to the $ 0.60 rise in WTI oil price to touch $ 62 per barrel. Resultantly, the stock market closed lower at 43,573 points, down 54 points or 0.12 per cent.
Traded volumes were down 15 per cent, while value was down 12 per cent day on day basis.
The KSE 100 index just fell short of 44,000 when it hit its intraday high of 43,945.62 with a rise of 318.52 points. The index later lost all it added to its bag and a further 115.01 points to touch day's low of 43,512.09. It however settled -54.43 points lower than previous trading session.
The KMI 30 index clinched 643.23 points during the day before the midday. Thereafter it went downhill and settled flat with loss of a minor 7.40 points. The KSE All Share Index fell short by 159.58 points with 145 advancers and 190 decliners.
The market volumes contracted to 126.50 million. Fauji Foods Limited (FFL +4.97 per cent) topped the volume chart with 9.80 million shares exchanged. The company notified the exchange early Monday morning that samples of its milk brand have been cleared by relevant authorities and the milk has been declared fit for human consumption.
Decent financial results of index names such as ASTL, HUBC, FCCL, UBL and OGDC failed to boost investor sentiments.
Oil and Gas Development Company Limited (OGDC -0.20 per cent) posted earnings per share of Rs 4.57 which showed a 16 per cent increase against last quarter. EPS in the same period last year was reported at Rs 3.58.
United Bank Limited (UBL -0.59 per cent) announced financials for the year ended December 31, 2017. The bank posted a 9 per cent growth in markup earned during the year but net profits contracted 8 per cent to convert into per share earnings of Rs 20.77 against Rs 22.65 of FY16. The board approved a final cash dividend of Rs 4.00 per share to take the total to Rs 13.00. The board also resolved to issue Additional Tier I instrument(s) of up to Rs 10 billion.
Top 5 index point decliners were PAKT (-5 per cent), PPL (-0.9 per cent), FCCL (-3.2 per cent), UBL (-0.6 per cent) and TRG (-2.9 per cent) withholding 81 points, while LUCK (+1.9 per cent), PSO (+1.8 per cent), SEARL (+2.4 per cent), BAHL (+0.7 per cent) and KAPCO (+2 per cent) added 80 points to the index.
Fauji Cement (FCCL) announced its 2QFY18 earnings of Rs 0.6 per share, up 19 per cent YoY which was in-line with market expectations. However, sales were down by 6 per cent YoY to touch Rs 5.5 billion. According to a Topline Securities report, earnings improved mainly on the back of an increase in gross margins, up 4 per cent YoY to 26 per cent. Margins were improved as FCCL's damaged line became operational in the outgoing quarter. To recall, FCCL's silo incident (in May 2016) severely dented the company's cost of production as FCCL started procuring clinker from the market.
Hub Power (HUBC) HUBC reported 2QFY18 consolidated earnings of Rs 2.5 per share up 12 per cent YoY. Turnover was higher by 11 per cent YoY due to higher FO prices which are up by 21 per cent YoY. Gross margins rose slightly from 16.8 per cent to 17 per cent YoY. The company also announced a cash dividend of Rs 1.5 per share.
Technically speaking, Friday's buoyant close contributed towards an opening beyond the falling trend line resistance. Nonetheless, a weak breakout ended up failing and the market reversed its intraday gains to close in the red. For now, immediate resistance is at 43,945 (intraday high) while it expected 42,860 (previous week's low) would provide immediate support, said an IMS Securities report.