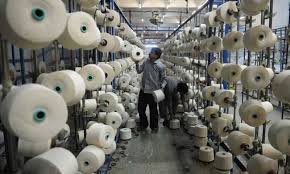 LAHORE: All Pakistan Textile Mills Association (APTMA) has announced the establishment of 1,000 garment manufacturing plants worth $7 billion, reported an English daily.
The plants are planned to be established near Sheikhupura, Lahore, Faisalabad, Kasur, Multan, Sialkot, Rawalpindi, Karachi and Peshawar and will have around half a million stitching machines which will increase annual production to three billion pieces.
In the recent years, investors have been reluctant to invest in Pakistan's textile industry due to rising cost of doing business, which has resulted in the industry losing technological advantage and competitive edge.
In 2005-2006 investments amounted to Rs1 billion which dropped to Rs0.56 billion in 2016-17.
According to an estimate, due to the increase in capacity, the sector will need an additional 10.3 million bales of raw cotton, 345 million kg of manmade fibre, 1.983 billion kg of additional yarn and an additional 7.928 billion square metres of processed fibre. However, cotton producing areas have declined 30 per cent since 2011.
On the other hand, despite the poor performance of the textile sector, readymade garments have shown an increase with exports of readymade garments growing 5.5 per cent in the last year.
In return for the investment, "the APTMA members have demanded consistent energy prices across the country, removal of Rs3.50 per kilowatt-hour surcharge on electricity tariff, extending the duty drawback scheme for five years and drawbacks to be increased every year by 1 per cent for garments (up to 12 per cent) and made-ups (up to 10 per cent) against realisation of export proceeds," the private news outlet reported.