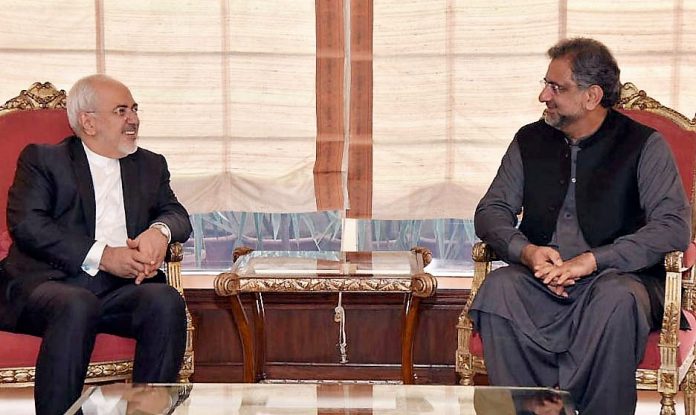 ISLAMABAD: Prime Minister Shahid Khaqan Abbasi Monday said that Pakistan and Iran should work together and make their utmost efforts for enhancing the bilateral trade to $5 billion by 2021.
In a meeting with Iranian Foreign Minister Dr Javad Zarif, who called on him here, the prime minister reaffirmed Pakistan's desire to enhance mutually beneficial economic cooperation with Iran including bilateral trade, investments and commercial interaction.
During the meeting, both sides discussed efforts for the strengthening of bilateral relations and issues related to peace and security in the region.
Prime Minister Abbasi emphasised the need to deepen connectivity to harness benefits from regional economic integration.
He expressed his commitment to work to resolve the issues in the implementation of Iran-Pakistan Gas Pipeline Project including the financing of pipeline infrastructure and the scope of snapback clause.
The prime minister said that Pakistan was working towards realising its vision of a peaceful and inter-connected region for shared progress and prosperity.
"We believe that a peaceful and stable Afghanistan is vital for economic progress of the region and Pakistan and Iran as two neighbouring countries can make important contributions to achieving this objective," he remarked.
He also thanked the Iranian leadership for their steadfast support to the principled struggle of Kashmiris.
The Iranian foreign minister appreciated the increasing high-level interactions between the two countries.
He said the mutual efforts of the two countries had resulted in enhanced economic and people-to-people interaction, which should be further strengthened.
Dr Zarif also appreciated Pakistan's efforts for strengthening border management to prevent illegal cross-border activities.
Dr Javad Zarif is visiting Pakistan from March 11-13 for bilateral consultations with the foreign minister. During this visit, he is also having interaction with relevant ministers and senior civil and military officials.