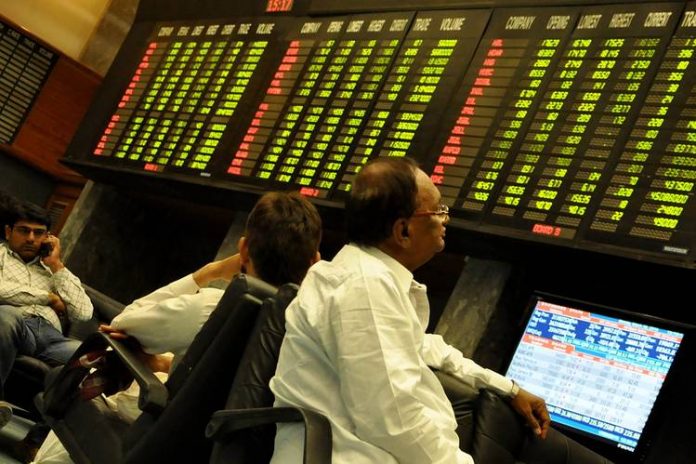 LAHORE: The Pakistan Stock Exchange (PSX) had a lazy start to the week with narrow volumes. With lawmakers playing the number game as they elect the new Chairman of the Senate, investors sat back to watch. In the absence of any trigger to excite, a number of shares traded were low.
Led by a rally in Cement and E&P Sectors, KSE-100 index was up 400 points or 0.93 per cent during the first day of the week. Cement sector remained in the spotlight as manufacturers once again raised cement prices by Rs10 per bag. Consequently, the sector added 110 points to the index gain. E&P sector further fueled index with a contribution of 80 points, as crude oil prices were up (+$2/bbl) due to reduced U.S. drilling activity.
Rebar manufacturers gained momentum in Monday's session as ASTL and MUGHAL gained 1.6-2 per cent owing to rise in local rebar prices by ~3k per tonne (~3.5 per cent).
The broader market index witnessed fall of 22 per cent and 26 per cent in traded volumes and value, respectively.
The KMI 30 index rallied 1.61 per cent during the session before it concluded 1.39 per cent over its last close. The KSE All Share Index added 190.52 points to its bag with 189 advancers to 139 decliners.
The market volume narrowed down to 109.73 million with Lotte Chemical Pakistan Limited (LOTCHEM +3.44 per cent) as a leader with 13.66 million. Unity Foods Limited (UNITY -1.79 per cent) followed with 9.59 million shares exchanged along with Nimir Resins Limited (NRSL +12.48 per cent), volume 7.60 million.
Top 5 stocks including OGDC (+2.1 per cent), LUCK (+2.6 per cent), UBL (+1.7 per cent), DGKC (+4.3 per cent) & POL (+2 per cent)  added 178 points to the index gain, whereas stocks including MCB (-1 per cent), NESTLE (-0.4 per cent), MUREB (-1.1 per cent), GHGL (-1.3 per cent) & JSCL (-1.6 per cent), withheld 26 points from the index.
The Chemical sector was the top gainer which added 2.60 per cent to its market capitalisation. The largest constituent by market cap, Colgate – Palmolive (Pakistan) Limited (COLG +5.00 per cent) hit its upper circuit breaker and helped the sector appreciate.
Large-cap sectors, commercial banks and the oil and gas exploration sector also ended with a gain, 0.47 per cent and 1.36 per cent respectively.
Summit Bank Limited (SMBL) announced its financial results for 2017, where bank reported a loss of Rs0.5 per share as against a loss of Rs1 per share, down by 50 per cent YoY. The decline in the loss could be attributed to reversal against NPLs of Rs178 million against provisioning of Rs2 billion last year.
Avenceon notified exchange regarding its CSIA membership that will help the company in promoting and position itself ahead of its competitors. In a second notice, the company informed exchange regarding its new projects amounting to Rs371 million from Attock Petroleum, Hascol Terminal Limited and Shell Pakistan Limited.
Global stocks rose Monday despite US-Chinese trade tension following Wall Street gains on unexpectedly strong US employment data.