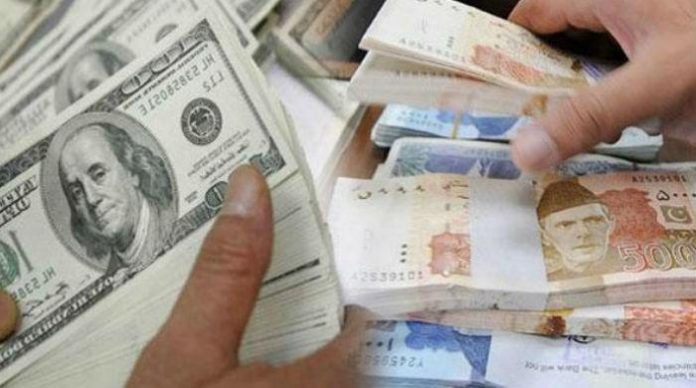 LAHORE: The rupee depreciated Rs7.5 against the US dollar to Rs118.0 in the inter-bank market on Tuesday morning compared to its closing rate of Rs110.5 on Monday.
According to a press release issued by the central bank on Tuesday, the PKR-US$ exchange rate in the interbank market closed at PKR 115 per US$ and witnessed an intra-day high and low of PKR 116.25 per US$ and PKR 110.60 per US$, respectively.
The rupee closed at Rs117 against the US dollar in the open market on Tuesday.
It added "however, the country's external Balance of Payments position is under pressure due to the large import bill. This has resulted in a widening of current account deficit which has translated into a demand- supply gap of foreign exchange. This adjustment in exchange rate remains broadly aligned with evolving fundamentals on the external front."
Also, the central bank stated "exchange rate movements will continue to reflect the demand-supply conditions in the foreign exchange market. And it will continue to closely monitor the foreign exchange markets; and stands ready to intervene to curb the emergence of speculative pressures."
There was uncertainty in the currency markets, as banks remained tight-lipped and a source told our correspondent that trading had been ceased due to massive fluctuation in inter-bank rates.
In response to Reuters, State Bank of Pakistan's (SBP) Qamar said it was triggered by "some payment pressures which are building within the market" and added that the central bank would be "observing the market where it is moving towards."
This appears to be a currency devaluation by SBP, traders said, the second since December last year.
Earlier, it was reported the rupee had depreciated Rs4.5 in inter-bank market to Rs115.0 and follows calls from international lending and credit rating agencies to let the currency devalue to enhance export competitiveness.
In a comment to Pakistan Today, Capital Stake Director Research Maha Jafer Butt said "Despite a nearly 5 per cent depreciation of the Rupee in December, multiple signals indicated that pressure on the currency would continue. An IMF report released earlier this month also stressed on the need for "greater exchange rate flexibility on a more permanent basis" to preserve external buffers and international competitiveness.
She added "The previous devaluation of around 5 per cent did not bring significant impacts on the stock market whereby only $19 million (December 12, 2017 to March 19, 2018) were injected in the stock market by foreign participants as compared to around $460 million outflows from the Pakistan Market since January 2017.
With the current depreciation in the rupee, participants of the stock market would expect the much-awaited increase in foreign buying leading to a positive overall impact. The textiles, power and software are likely beneficiaries while the auto sector might see an adverse hit."
This follows last week's report of US dollar plunging to a one-month low below of Rs112 in the kerb market on March 14, as it kept on losing steam against a basket of major global currencies.
IMF's post programme report released last week welcomed the central bank's decision to permit Pakistani rupee to depreciate against the dollar in early-December 2017 but emphasized on the significance of greater exchange rate flexibility on a more permanent basis to enhance competitiveness and safeguard external buffers.
The IMF report added "Staff advised to unwind the increased government borrowing from the SBP, which would support monetary tightening. Going forward, greater exchange rate flexibility will need to be accompanied by a further adjustment of the policy stance as well as strengthening of the interest rate-based monetary policy framework with appropriate intermediate and operational monetary policy targets, and a clear limit to FX interventions."
A United Nations report in early-December warned Pakistan's policy of keeping the rupee stable could become untenable if the US dollar appreciates against other world currencies and possibly erode the country's foreign exchange reserves.
In a volatile trading session on December 8, the rupee slumped to 109.50 per dollar at one point after opening at 105.55. It closed at 107 per dollar, according to the SBP, after having mostly traded in a tight range of 104-105 per dollar since December 2015.
This mimicked rupee's sharp fall on July 5, 2017, both in the interbank and kerb market when it reached a then 2.5-year high of Rs108.
A World Bank analysis in November 2017 revealed a weaker Pakistani rupee would help external balances with limited economic costs.
WB analysis outlined that there was a significant co-relation between the Real Effective Exchange Rate (REER) and exports in the medium to long-term. A flexible Pakistani rupee would allow in narrowing the current trade deficit.
In July 2017, Moody's Investor Service said the rupee was 20 per cent overvalued and had urged the State Bank of Pakistan (SBP) to show some flexibility and let the PKR depreciate.