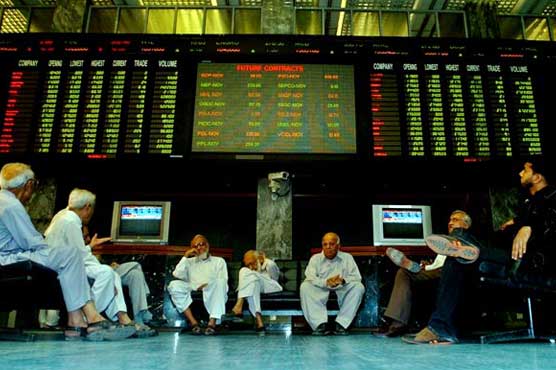 LAHORE: The Pakistan Stock Exchange (PSX) saw a weal session of trading before Economic Survey 2017-18 is unveiled on Thursday. It was a busy day at the exchange as the earnings season was in full swing, meanwhile, investors hit the benches awaiting government's announcement of the Federal Budget 2019 on Friday.
The KSE 100 index which traded positive early morning and recorded intraday high of 45,942.10 with a 65.40 points gain later dropped 194.96 points to Wednesday's low of 45,681.74. The index settled lower by 158.36 points at 45,718.34.
Other indices at the stock exchange were not much different; the KMI 30 index depreciated 304.48 points while the KSE All Share index closed down 83.66 points. A total of 232 scripts concluded in the red and 156 managed to rise.
The market volumes appreciated from the previous session and touched 180.71 million. Engro Polymer and Chemicals Limited (EPCL +2.40 per cent) was the top pick of investors who exchanged 23.85 million shares of the script on Wednesday. Pak Elektron Limited (PAEL -4.13 per cent) was next with volume of 20.39 million. The script went downhill post declaration of financials for the first quarter of 2018. The company posted sales of Rs6.64 billion down from Rs7.97 billion posted in the same period last year. Net profit deflated by over 50 per cent YoY to convert into earnings per share of Rs0.63.
Market participation remained mixed as the KSE 100 index volume shot up 23.8 per cent on day on day basis against a 14.9 per cent dip in turnover. Materials (41.9 per cent of total turnover – down 1.7 per cent) topped the charts amid heavy participation in EPCL (15.7 per cent of total turnover) after NTC imposed definitive anti-dumping duties of up to 20.47 per cent against dumped imports of PVC Resin from China, Chinese Taipei, South Korea and Thailand. Industrials (18.0 per cent of total turnover – up 58.8 per cent) were close behind with PAEL (14.9 per cent of total turnover) churning heavy activity after reporting earnings that missed market expectations by a mile. Consumer discretionary (16.2 per cent of total turnover – up 16.2 per cent) came into limelight amid heavy participation in UNITY (6.7 per cent of total turnover) and HASCOL (5.7 per cent of total turnover).
Major drag to the KSE 100 index came from utilities (-0.63 per cent), industrials (-0.56 per cent) and materials (-0.46 per cent) amid selling pressure in KAPCO (-1.46 per cent), HUBC (-0.53 per cent), PAEL (-4.13 per cent), PKGS (-4.98 per cent), DGKC (-2.23 per cent), LUCK (-0.73 per cent) and MLCF (-2.28 per cent). Additional pressure came from financials (-0.41 per cent) and energy (-0.35 per cent) on the back of losses in HBL (-0.80 per cent), BAFL (-2.5 per cent), UBL (-0.64 per cent), OGDC (-0.57 per cent) and POL (-0.80 per cent).
On the flip side, health care (+1.37 per cent) came out as a winner amid positive contribution from GLAXO (+4.17 per cent) and SEARL (+1.41 per cent). Lower than expected earnings announcements from GHNI (-4.71 per cent), MLCF (-2.28 per cent), CHCC (-0.78 per cent), FFC (-0.54 per cent), KAPCO (-1.46 per cent), FABL (-0.59 per cent), PIOC (0.99 per cent), PAEL (-4.13 per cent), PKGS (-4.98 per cent) and PSMC (-0.39 per cent) led to an overall closing in red.
Pakistan Suzuki Motors Company Limited (PSMC -0.39 per cent) declared post-tax earnings of Rs904.14 million reflecting a 31 per cent YoY decrease from 1Q2017. Company's revenues (up 32 per cent YoY) continued to depict robust momentum but gross profit margin fell.  MCB Bank Limited (MCB +0.70 per cent) also had a decline in profit of the first quarter, with earnings per share of Rs4.03, lower than Rs5.52 of 1QFY17.
Among others of announced results were Maple Leaf Cement Factory Limited (MLCF -2.28 per cent) earnings per share of 3QFY18 was Rs1.47 down from 3QFY17's Rs2.57. Ghandhara Industries Limited (GHNI -4.71 per cent) contracted although earnings per share of Rs16.63 was a big jump from Rs9.42 in the same period last year. Dost Steels Limited (DSL +1.28 per cent) reported a net loss of Rs29.62 million against loss of Rs12.61 million in the third quarter of 2017. National Foods Limited (NATF +1.04 per cent) came out with earnings per share of Rs2.28 up from Rs2.19 in 3QFY17.