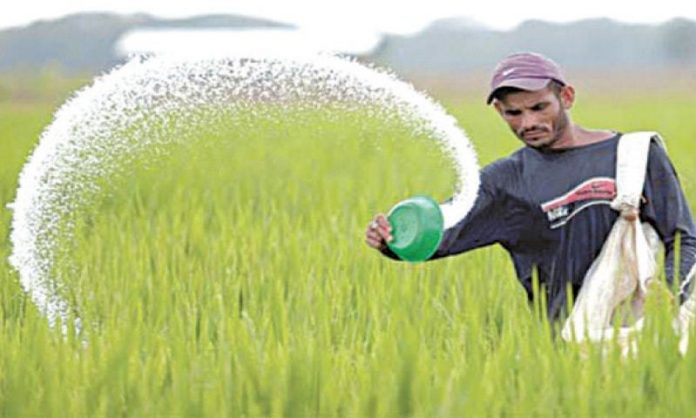 LAHORE: Urea sales dipped 8 percent in May this year due to muted demand and farmers, traders piling up fertilizer before another price rise as the government ponders to slash subsidy.
Urea sales in the period under review touched 480,000 tons, dipping 8 percent year-on-year (YoY), taking five months sales of the commodity to 2.1 million tons, up by 28 percent, said Topline Security.
Topline Security in its report said prevailing water shortage of around 40 percent (as reported) coupled with pre‐season stock accumulation by dealers/farmers in anticipation of an increase in urea price led to a fall in sales.
The report said Fauji Fertilizer (FFC) and Fauji Fertilizer Bin Qasim (FFBL) were going to outperform the industry by registering growth of 14 percent year-on-year (YoY) each in their urea offtake.
The urea offtake is expected to touch 254,000 tons for FFC and 60,000 tons for FFBL respectively. And Engro Fertilizer (EFERT) is expected to record fall of 4 percent YoY in urea sales, touching 134,000 tons.
However, overall production in May 2018 is expected to plunge 23 percent YoY, touching 420,000 tons because of closure of Engro's Enven plant for a half a month, limiting its production to around 100,000 tons, down 40 percent YoY.
Also, sales of urea during May 2018 are going to be hit by severance in gas supply to Fatima fertilizer and Agritech, which as caused suspension of its production for last 9-11 months.
Furthermore, the report highlighted urea inventory for May 2018 is projected to linger around 380,000 tons compared to 434,000 tons in April 2018.
It added, "during May 2018, Urea prices went up by Rs100 per bag to Rs1500 per bag as government eliminated cash subsidy of the same amount in FY18‐19 budget."
Topline Security warned of a further rise in urea prices by around Rs60-100 per bag post-July 2018 as manufacturers are expected to withdraw their cash subsidy contribution of Rs106 per bag.
It said diammonium phosphate prices went up by 2.5 percent on a month-on-month (MoM) basis to around Rs3,220 per bag because of gradual passing on of currency depreciation and rise in prices of phosphoric acid.