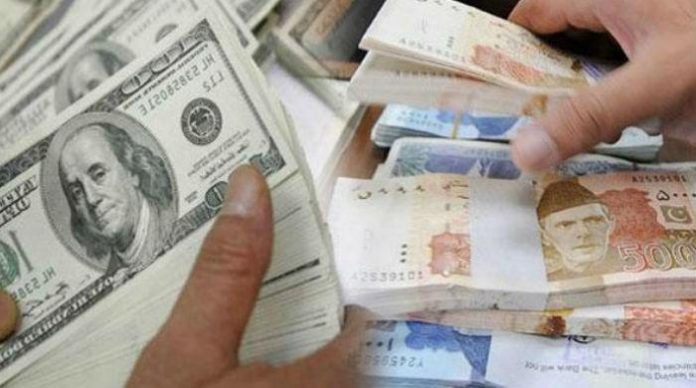 KARACHI: The devaluation of the rupee on Monday could attract back foreign investors into Pakistan's stock market and provide much-required drive to power and textile companies, said analysts.
Foreign investors have been pulling out their money from the stock market and were net sellers of $266 million during FY18 compared to $728 million in the corresponding period of last year, said Topline Securities analyst Umar Naseer, reported The News.
The rupee depreciated 3.8 percent against the greenback on Monday, closing at Rs119.25 in the inter-bank market.
In inter-bank trading on Monday morning, the rupee depreciated 4.6 percent against the dollar, touching Rs122.
Mr Naseer said foreign selling was due to outflows from emerging markets and worsening of macroeconomic indicators.
Foreign outflows are continuously happening in emerging markets because of a rise in US bond yields.
Over $12.3 billion of bonds and stocks had been invested by foreigners in emerging market assets, as per the Institute of International Finance (IIF).
However, analysts believed the rupee depreciation was a good omen for the stock markets and the external account.
The major sectors to gain from the rupee devaluation are expected to be exploration and production., textile, banks, chemical and independent power producers.
It could have a negative impact on the auto sector though.
Spectrum Securities head of research Abdul Azeem stated rupee's devaluation would be a positive omen for the exploration and production sector since its revenue was tied to the dollar.
Also, the rupee devaluation is expected to bode well for independent power producers (IPPs) because of their return on equity's indexation in US dollars.
Export-oriented IT and textile sectors revenues and margins could also rise because of rupee devaluation.
Furthermore, the rupee devaluation would have a negative impact on the auto and cement sector because cost imported raw materials could increase, meaning their profitability would be eroded and the high cost of production will be passed onto consumers.
Mr Azeem added, "We don't see any major impact on oil market companies, refineries, and fertiliser makers, although oil marketing companies and refineries might face one-off exchange losses this year."