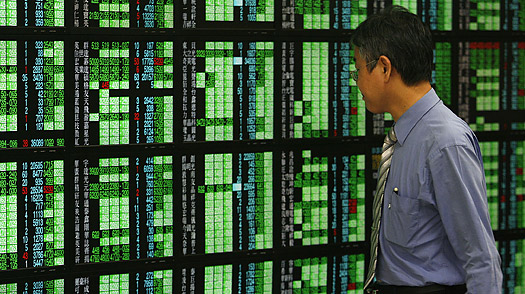 TOKYO: Asian stocks slipped on Wednesday on heightened anxieties about Sino-U.S. trade tensions ahead Washington's end-of-week deadline to impose tariffs on Chinese imports while the yuan rebounded after China's central bank moved to calm nervous investors.
European shares are expected to follow suit, with spread-betters expecting a fall of 0.2 percent in Germany's DAX and 0.1 percent in Britain's FTSE and France's CAC.
In Asia, MSCI's broadest index of Asia-Pacific shares outside Japan fell 0.25 percent, a day after it hit a nine-month low. Japan's Nikkei erased earlier losses to stand flat by late afternoon.
Mainland Chinese shares dropped, with CSI300 Index off 0.7 percent.
Wall Street shares declined on Tuesday, giving up early gains in a truncated session ahead of the Independence Day holiday on Wednesday, as technology shares came under pressure just a day after their solid start for the quarter on Monday.
The S&P 500 gave up 0.49 percent while the Nasdaq Composite dropped 0.86 percent.
Facebook lost 2.3 percent after the Washington Post reported a federal probe on the data breach linked to Cambridge Analytica was broadened while Tesla fell 7.2 percent on questions over whether it could sustain the pace of making its Model 3 sedans.
Micron Technology Inc fell 5.5 percent after a Chinese court temporarily barred the firm from selling 26 chip products in the mainland in a ruling over a patent infringement case with Taiwan's United Microelectronics Corp (UMC).
Coming on the heels of escalating tensions between the United States and China over tariffs and investment restrictions, the injunction sparked selling in other U.S. chipmakers.
Many investors fear Washington will go ahead with its plan to levy a 25 percent tariff on 818 product categories from China including cars on Friday, which Beijing has vowed to match with tariffs on U.S. products.
They worry the move could spark a full-scale international trade war and harm the global economy, especially as the Trump administration has threatened tariffs on imports from many other major economies.
The U.S. has listed another 284 product lines, valued at $16 billion, targeting semiconductors and a broad range of electronics, which it has said will go into effect after a public comment period, and threatened another 10 percent tariff on up to $400 billion of Chinese goods.
Washington has also launched a national security investigation into car and truck imports, with Trump threatening Europe with a 20 percent tariff on car imports while various countries have also already taken retaliatory steps against U.S. tariffs on steels and aluminium products.
Over 40 countries have voiced deep concern at the World Trade Organization (WTO) about possible U.S. measures.
In the currency market, the yuan bounced back from an 11-month low following moves by China's central bank on Tuesday to calm jittery financial markets.
The Chinese currency fetched 6.6318 per dollar in onshore trade, off Tuesday's low of 6.7204.
Major currencies were treading water as traders fretted about the fallout of the intensifying trade frictions between Washington and the rest of the world.