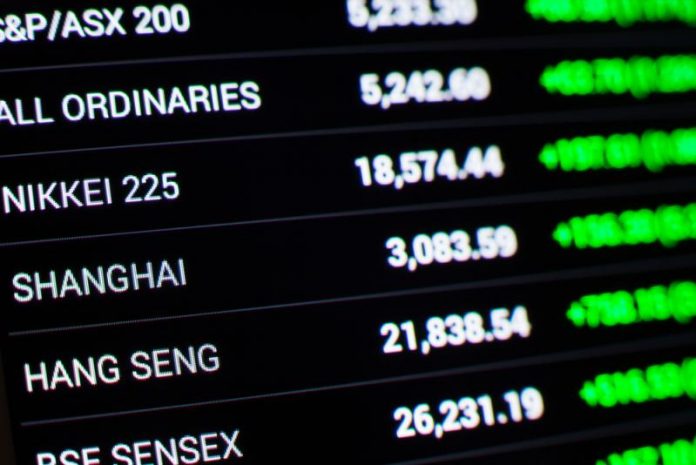 SYDNEY: Asian shares rallied for a third session on Tuesday as hopes for upbeat corporate earnings buoyed Wall Street, while several high-profile resignations from Britain's government kept sterling on the defensive.
MSCI's broadest index of Asia-Pacific shares outside Japan put on 0.4 percent in early trade, adding to a 1.3 percent rise on Monday.
Japan's Nikkei climbed about 1 percent and South Korea 0.5 percent, while E-mini futures for the S&P 500 firmed 0.2 percent.
Chinese shares were a bit soft with Shanghai blue chips off 0.2 percent after climbing 2.8 percent on Monday for the biggest daily jump since August 2016.
Both the Dow and S&P 500 boasted their biggest gains in more than a month overnight, as bank shares jumped ahead of earnings reports later this week. The S&P banks index posted its sharpest rise since March 26.
The Dow rose 1.31 percent, while the S&P 500 gained 0.88 percent and the Nasdaq 0.88 percent.
Investors have been on edge recently with the United States and China slapping levies on each other's exports, spurring fears of a global growth slowdown and hurting stocks and commodities.
The story in currency markets was all about political capers in London.
Prime Minister Theresa May's foreign minister and Brexit negotiator quit on Monday in protest at her plans to keep close trade ties with the European Union after Britain leaves the bloc, stirring rebellion in her party's ranks.
Foreign Secretary Boris Johnson stepped down just hours after Brexit minister David Davis's resignation, emboldening some in her Conservative Party to mull a plot to unseat her.
The uncertainty saw sterling sink as deep as $1.3189 at one stage before bouncing somewhat to $1.3254. It was last down 0.1 percent at $1.3248.
Markets still think it likely the Bank of England will hike rates in August, but a full-blown political crisis could change that.
The pound's pain was a boon for the U.S. dollar which rallied broadly on expectations the Federal Reserve will keep raising its interest rates.
Against a basket of currencies, the dollar bounced to 94.083 from a low of 93.713. The dollar also edged up to 111.01 yen, from a trough of 110.30.
The euro was back at $1.1755, having run into profit-taking at a three-week peak of $1.1790 overnight.
In commodity markets, oil gained on supply disruptions in Canada and Libya and ahead of looming sanctions on Iran.
U.S. crude added 14 cents to $73.99, while Brent rose 23 cents to $78.30 a barrel.
Spot gold was a fraction firmer at $1,259.02.