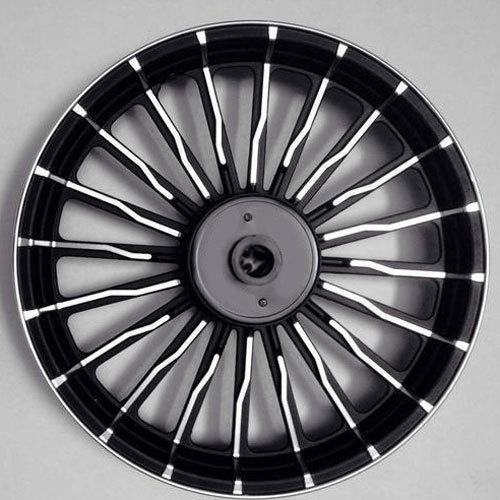 LAHORE: Loads Limited's wholly-owned subsidiary Hi-Tech Autoparts Limited is gearing up for a listing on the Pakistan Stock Exchange (PSX).
In a notification sent to the stock exchange on Tuesday, Loads Limited said "Further to our letter reference No. LL/BS-sza/PSX/3047-IO dated April 10, 2018, the listing application for the Initial Public Offering of our subsidiary Hi-Tech Alloy Wheels Limited has been filed with the PSX.
In a comment to Profit, Pak Kuwait Investment Co AVP Research Adnan Sheikh said "Hi-tech Alloy Wheels Limited (formerly known as Hi-tech Autoparts (Private) Limited) is on track to be the first alloy wheel manufacturer in Pakistan. Earlier, they signed an agreement with an Australian company for the purchase of manufacturing facilities, and now they are approaching the capital markets for funding of this venture."
"The company is attempting to capture the demand for alloy wheels from incumbent manufacturers while going forward new entrants could also become potential customers once their incentives on cheap imported parts (under the ADP) run out.
Though the company has filled its listing application with the PSX, presumably the IPO would be under no rush given the current market situation, as it would likely be better to delay the capital issuance till the political situation settles down," said Adnan.
Also, Saad Hashemy Director Research Topline Securities said "Hi-Tech Alloy Wheels will be the first local alloy wheel manufacturing facility in Pakistan. Until now alloy wheels are imported and their use is increasing with new models of Honda, Toyota and Suzuki."
"Further new entrants will add to the demand of alloy wheels. This investment being the first of its kind bodes well for local auto parts industry. Increasing investment in the local auto sector is on the back of continuous demand growth witnessed in car sales for the last few years," said Hashemy.
While speaking to Profit, analyst Zeeshan Afzal from Insight Securities said "Since heavy investment in underway on car assembling, there is greater scope for local auto part makers to yield on that. Listing by auto parts makers and issuing new equity, help them to raise new funds to expand capacity."
Loads Limited become the first auto-parts manufacturer company in Pakistan to begin manufacturing of alloy wheels, which were previously being imported by car assemblers for their high-end vehicles.
In December last year, a stock market notification sent by the company said "Loads Limited is pleased to announce that its wholly-owned subsidiary, Hi-Tech Autoparts (Private) Limited, has signed an agreement with an Australian company for the purchase of state-of-the-art Alloy Wheels manufacturing plant. Procurement will be completed within six months and the said project will be installed in Bin Qasim Industrial Park, Karachi."
The plant which is situated on a plot of twelve acres in Bin Qasim is projected to cost between Rs1.25-1.5 billion and will have a capacity to produce 500,000 wheels per year.
The company expects to start production in 2020 and it bought a used plant from Australia, which will be installed in a pre-engineered building in Bin Qasim Industrial Park, Karachi,
It will initially supply alloy wheels to domestic assemblers and in the next stage, it will export them and supply it to the aftermarket, contingent on the response.
Loads Limited CEO Munir K. Bana in an interview to Business Recorder in January this year said prices of Pakistani assembled cars, excluding all taxes in dollar terms were among the lowest globally, considering the manufacturers were paying high taxes which added to the perception that they were exorbitantly priced.
He stated the automobile sector had been successful in reaching major localization of up to 60-70 percent, due to duty incentives given in the auto policy. He clarified these incentives weren't protections and called this tag unjustified.
Bana said producing parts for imported used cars wasn't viable as volumes weren't guaranteed over a longer duration of time. He added that dies require exorbitant capital investments and they cannot be made for every variety of vehicle.
Regarding the impact of used cars imports on domestic manufacturers, Bana said duties on them are fixed and are only meant to be availed by overseas Pakistani's. He decried the Transfer of Residence or Baggage scheme is illegally utilized for commercial import purposes via fake declarations.
Loads Limited manufactures and sells exhaust systems, radiators, and sheet metal components for the automotive industry in Pakistan and internationally. The company was founded in 1979 and is headquartered in Karachi, Pakistan.
Loads Limited shares ended trading at Rs29.39, up Rs0.54 (+1.87 percent). KSE-100 index closed trading at 39,452.81 points, up 164.33 points (+0.42 percent) on Tuesday.