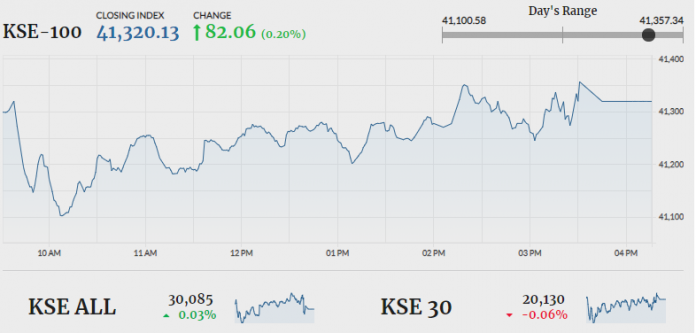 KARACHI: The Pakistan Stock Exchange (PSX) on Wednesday continued with its recent trend of appreciation and rolled north. The market rallied on back of positivity following the announcement of the mini-budget.
The Pakistan Bureau of Statistics (PBS) released its numbers for the month of August 2018. Exports appreciated by 8.44 per cent YoY and imports were up by 1.40 per cent YoY, while the Balance of Trade declined by 2.87 per cent from the previous year.
The KSE 100 index touched intraday high of 41,357.34 after gaining 119.27 points. The index settled at 41,320.13, higher by 82.06 points. The KMI 30 index managed to gain 91.22 points to end at 70,308.92, while the KSE All Share Index appreciated by 8.13 points to settle at30,084.77. The advancers to decliners ratio stood at 166 to 125.
The market volume was recorded at 158.72 million. K-Electric Limited (KEL +0.19%), Summit Bank Limited (SMBL -0.88%) and Unity Foods Limited (UNITY +3.48%) led the volume chart. The scripts traded 30.46 million, 15.11 million and 9.40 million shares respectively.
DG Khan Cement Company Limited (DGKC +1.63%) announced its financial results for FY18. The company declared final cash dividend of Rs4.25 per share. Sales appreciated by a slight 2 per cent YoY while earning per share increased from Rs18.20 in the previous year to Rs20.17 (an increase of 11 per cent YoY). The company booked a tax credit of Rs 3 billion in the fourth quarter of FY18 on its new plant.
Mughal Iron and Steel Industries Limited (MUGHAL +1.12%) also released its financial performance for FY18. Sales surged up by 18.20 per cent from the previous year, whereas the earning per share appreciated by 22 per cent YoY (FY17 Rs 4.21, FY18 Rs 5.13). The company announced a final cash dividend of Rs 2.20 per share.
Kohat Cement Company Limited (KOHC +4.99%) announced its results for FY18. A cash dividend of Rs 5.00 per share along with bonus share of 30 per cent was declared by the company. Sales depreciated by a slight 0.75 per cent YoY and the earning per share was down by 16 per cent YoY (FY17 Rs 22.94, FY18 Rs 19.29). Its effective taxation remained low at 7 per cent during the 4QFY18 as compared to 55 per cent last year.