[responsivevoice_button voice="US English Male" buttontext="Listen to Post"]
Most of us are well versed with the phrase 'the American dream', we have heard it a million times on television and in movies, moreover we have seen it in action through the likes of Bill Gates, Steve Jobs, Mark Zuckerberg, Elon Musk, Jeff Bezos and so on, who rose from virtually nothing to creating a legacy that will impact the generations to come. James Truslow Adams, an American writer and historian, describes it as, "life should be better and richer and fuller for everyone, with opportunity for each according to ability or achievement regardless of social class or circumstances of birth."
Simply put the American dream is the core definition of hard work and dedication that allows one to rise above one's circumstances.
Interestingly Sajjad Syed has his own version. A man just like any other who had a dream and who ultimately made it happen. But in Sajjad's case it was not an American, but the Pakistani Dream.
The makings of a dreamer
Sajjad recalls that like any other Pakistani student of his time he wanted to become an engineer as it was deemed as one of the top professions. Pursuing his dream Sajjad joined University of Engineering and Technology (UET) in Lahore which was shut down after two weeks due to a murder at its campus. Not letting that influence his destiny and with a never-give-up attitude, Sajjad made the trip to the land of opportunities and embarked on his degree in Electrical Engineering from Rensselaer Polytechnic Institute Troy, New York.
During the course of his degree, Sajjad discovered his passion for computers and switched his major. Subsequently, in 1993 he graduated with a Bachelor of Science in Computer and Systems Engineering. During his degree Sajjad says, he worked on some high-end technologies such as computer graphics and the internet, considering that the internet was barely a thing back then.
Later that year he took on his first job as a Junior Field Engineer at Schlumberger Oil Field Services where he served for 5 years ultimately parting ways as a General Field Engineer managing operations in Eritrea, U.S., U.K., Dubai, Yemen, Oman, and Pakistan. He jokes that during his time at Schlumberger his mother used to laugh at the fact that the areas and countries he worked in were either only mentioned in the Holy Quran or were mentioned by Sajjad himself.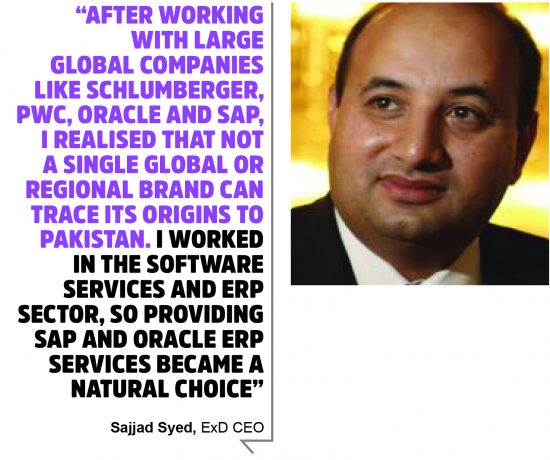 In 1998, he migrated back to Pakistan and as luck might have it, he was among the founding members of the board at the Punjab Information Technology Board (PITB). At PITB, Sajjad was instrumental in getting Oracle Corporation to invest $20 million in Punjab and then ran the programme that was awarded the Global Best Practice by Oracle Corporation.
Sajjad fully cemented his feet into IT consulting when he joined PwC where he led the technology team that delivered some very challenging projects working with the Government of Guam.
He then joined Oracle as Regional Business Manager responsible for Enterprise Resource Planning (ERP) business in Pakistan, Sri Lanka, Bangladesh, Maldives and Bhutan. After Oracle, Sajjad joined SAP as the Managing Director for Pakistan and established SAP as a major ERP player in the market.
In 2010, Sajjad having realised that he wanted a change decided to embark on a new journey. So with a mere $2,500 in his pocket, he brought together a team of young professionals and kick-started Excellence Delivered (ExD).
Today, ExD is a household name for a large number of local and international corporations and institutions, providing them with IT services. ExD employees over 300 consultants with offices in Denver, Dubai, Riyadh, Doha, Lahore, Karachi and is looking to expand into Toronto, Melbourne and Kuala Lumpur in the near future. The company provides IT services to over 12 industries, servicing the likes of Warid, Engro, Allied Bank, MCB and so on.
Excellence Delivered
Sajjad told Profit that he founded ExD on the belief that a global brand can originate from Pakistan. "After working with large global companies like Schlumberger, PWC, Oracle and SAP, I realised that not a single global or regional brand can trace its origins to Pakistan. I worked in the software services and ERP sector, so providing SAP and Oracle ERP services became a natural choice," he says.

"In the ERP services sector, we saw a huge opportunity due to the quality of service delivery and track record of the local and regional players. The larger established players were not focusing on the local market and the price to quality ratio left much to be desired. With this in mind, we set out to create a global company with an aim to deliver an exceptional value to our customers."
Eight years on ExD is slowly but surely becoming a global company, "We are well on our way to becoming a global company; we now have clients spread across four continents and have now gone far beyond our initial set of services and are currently breaking into mobile development, Internet of Things (IoT), security services, outsourcing and a host of other services."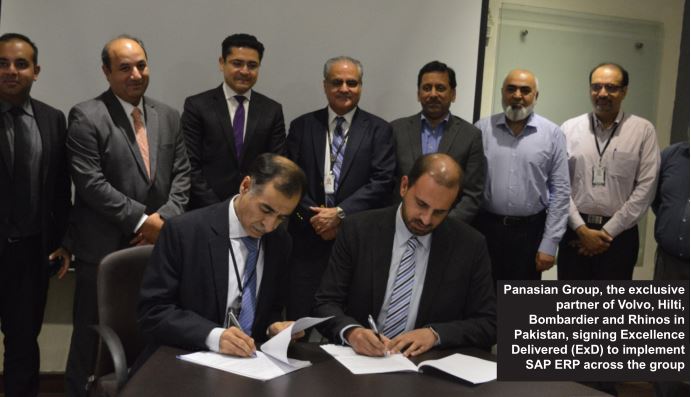 "But still ERP is our bread and butter. As we stand today, around 60-70 percent of our revenue comes from it. The second would be application development, what we call mobility. Third would be e-commerce, and fourth would be training."
"When we started, our first contract was in Pakistan, but very early on, we started focusing on the Saudi Arabian market. We wanted to focus on the international market because rates were better; also Saudi economy was growing in 2010. We picked Saudi Arabia over Dubai because Dubai was very competitive and it paid off as well," he explains.
"Throughout this journey, Pakistan also remained our focus because we got a lot of manpower from here and because of our international business, we were able to get a lot of talent here. Then the oil crisis happened in Saudi Arabia, and we had to write-off a significant amount of money. But luckily, our business from Pakistan had grown enough at that point in time for us to compensate for the losses in Saudi Arabia."
Sajjad proudly boasts the fact he has been blessed with an exceptional core team from the very beginning, which he has managed to retain. According to him, ExD is not like other tech companies. Almost everyone in the company is a shareholder and enjoys the same perks and the performance of one employee, directly and indirectly, affects every single person working in the organisation and ultimately the company's success.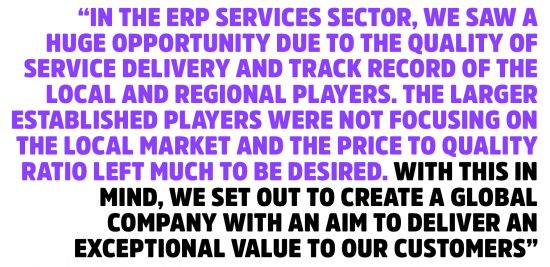 During his interview with Profit, his belief in his four key core values resonated in almost everything he said. "ExD is my passion, it is not just a company for me. I believe that as long as the management is capable, and there is a willingness and hunger to succeed, we will continue to succeed."
Interestingly, ExD was not built on an innovative model, but rather it was built on a 'me too' model. ExD was doing what its competitors had successfully done for decades. Sajjad believes that it was the four key core values that elevated ExD to where it stands today.
"Number one for us was customer centricity – something that was lacking in the monopolistic market and thus gave us the opportunity to fill that gap. The other core value was unflinching integrity, which did affect our business in the short-term but has paid off really well in the long term. Third is superior profitability. And fourth is the passion in our workforce. We turn people around too because, in our country, I see a lot of young people choosing careers not because they love them, but because they do not have a choice. We give young people the opportunity to go into any of the verticals within the firm."
When talking about people, Sajjad says that at any given point in time the human resource and training department trains around 200 young professionals. He argues that the Pakistani youth is willing to work and it is not a matter of willingness but the skill set. "We need to hire around 40 people right now but we cannot find the right candidates to fill the positions. The education system in Pakistan is seriously flawed, our students are not well equipped and trained. It is not about cheap labour anymore; companies are willing to pay the premium for well-trained employees rather than volumetric hirings. So to address the epidemic we have created our own training centres. We heavily subsidise our trainings in partnership with ACCA and other companies allowing us to recruit only the best."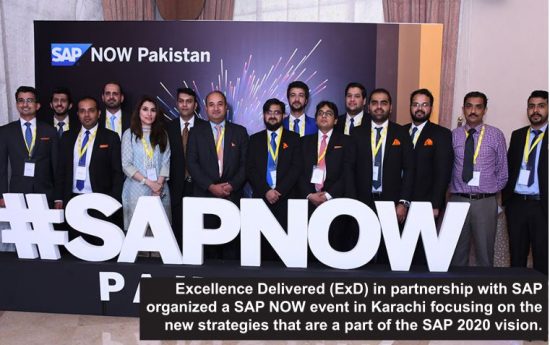 "Our philosophy behind providing world-class training is that while there is a lot of unemployment in the country, there are also a large number of unemployable people in the country. Quality human capital is our biggest constraint. Somehow, in our education system, we have compromised quality over quantity. This is true not only for the IT professionals but also others. But I do see some initiatives by the government and some efforts in that direction. If they can do it in short to medium term, I see our industry benefiting."
"Having said that I firmly believe that a lot needs to be done. There are a couple of key reasons that we need to focus on education. One is the huge youth population bulge that needs to be handled. Second, education needs to be among government priorities for investment, specifically for the IT industry, where young talented youth and relevant skill-sets are the only inputs we require compared to the traditional sectors."

Systematic Rigging, fighting the tax regime
The system is rigged against the young and the bold, the entrepreneurs and the dreamers, says Sajjad. Companies and countries are never built on freelancing and incubators, but nations are built on systems, innovation and constant progression. "In Pakistan, the service sector is taxed at revenue not at profit and we are requesting the government to change this. If a tree is growing and you put even a little pressure on it, it will not survive; but once it grows you can even climb that tree. In Pakistan, we are not letting our young entrepreneurs grow. We have three major issues; education, taxation and government procurement policies that force young companies out of business."
Sajjad says that ExD is happy to put its accounts on the table for the government to review and tax it accordingly. According to him, increased taxation is leading to reduced tax collection since businessmen are moving out to tax havens.
There is a famous saying – Give a man a fish and you feed him for a day, teach a man to fish and you feed him for a lifetime. Currently, Pakistan is spending money and energy on making businesses cheaper whereas it should not worry about the cost and should focus on providing the right tools to them. If they are taxed appropriately and given public projects and contracts business will boom and small younger companies will become large corporations.
Sajjad argues that India started educating the masses in the 70s and now Pakistan cannot compare its industry with theirs. "A small Indian company called Capgemini technology services has its own airport which is bigger than Lahore airport. On the other hand, we have been unable to even make our national airline profitable."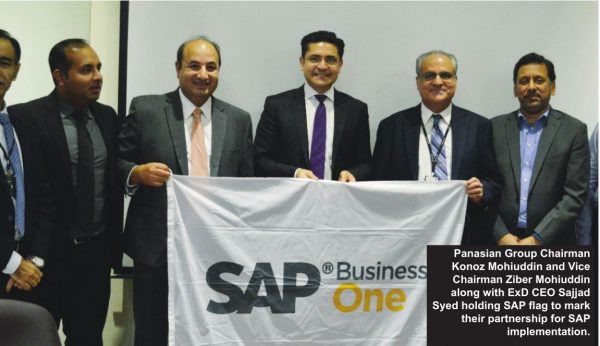 Pakistan's tax on revenues went from 2 per cent to around 25 per cent in one year. There's a 16 percent sales tax followed by a minimum tax of 8 percent. The natural consequence of high taxation has been the shift of the industry to Dubai – hence actually bringing down the tax revenue of the sector. In the last two years, a large number of Pakistan's mid-sized companies have moved to Dubai, which has been a significant source of brain drain for Pakistan.
"Pakistan tried making a National IT Policy two to three times, but of little or no avail. The challenge is that IT is not just one sector; it has sub-sectors like telecoms, services, software development, etc. You need an enabling environment for them," says Sajjad.
"While you need bigger companies, you also need to nurture small companies and startups in the IT sector. If we want to change our IT industry, we need to change our government procurement practices. The way our procurement policies work today, small companies cannot bid on half of the government projects. Thus if you want to bring a change in the IT sector, you either need to set aside a chunk of business for startups and younger companies or tweak your procurement practices that enable them to bid for good projects. Startups are not encouraged by setting up incubators; they get nurtured when you get them business and sales opportunity."

Currently, Pakistan government's procurement practises seem rigged. To be able to get a contract a company needs at least five to ten years of experience, so 80 per cent of young companies get kicked out from the procurement procedure. Moreover, the process is so lengthy and painstaking that sometimes time-sensitive projects have to be awarded in-house. For example, PITB developed a dengue application which needed to be launched in two weeks. If the organisation had given the contract to a third party the procurement process would have taken more than four weeks and the application would have taken over 6 weeks to complete. By that time dengue virus would have already infected thousands.
"The bottom line is that the IT sector does not need subsidies but requires an enabling environment. People employed in the IT sector bring in an average of $25,000 into the country compared to a mere $2,500 in the textile industry, which in retrospect is heavily subsidised and also gets tax rebates. The IT sector is desperate to grow and can very well be the answer to Pakistan woes, we only need one great idea to change the course of this country forever." Sajjad concludes.