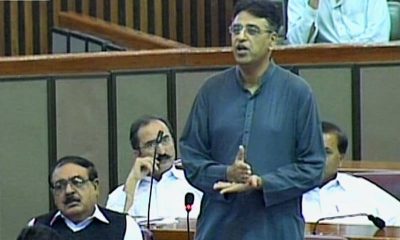 ISLAMABAD: The Federal Minister for Finance Asad Umar on Wednesday underlined the need for investigating the reports of 'Wall Street Journal'.
National Accountability Bureau (NAB) was also an investigative institution which would conduct the inquiry regarding reports of Wall Street Journal, he stated while talking to a private news channel.
He said Wall Street Journal had mentioned about the matter of 'offfshore companies' scandals.
He made it clear that the PTI government would not accept any deal based on kick-backs. About Naveed Malik, he said we knew that he had close relations with Nawaz Sharif.
He added that the present government would make all-out efforts to streamline the system in PIA.
To a question, he said Tahir Mehmood was working as acting chairman in SECP.
To another question, he said PML-N had damaged the national economy.
He said the PTI government had levied taxes on wealthy people, while the poor were not imposed any new tax.
Commenting on currency rate, he said it was the prerogative of the central bank to formulate the policy regarding currency rate.