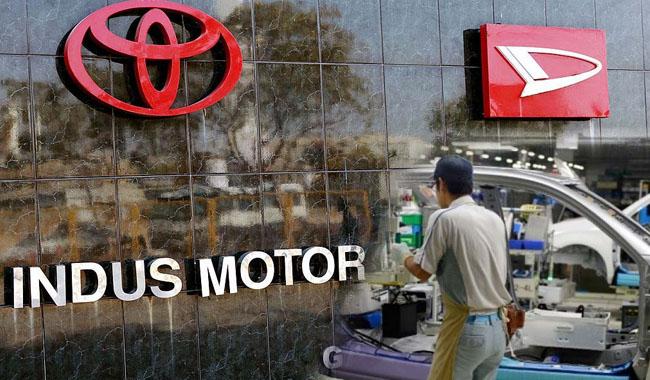 LAHORE: Indus Motors Company (IMC) in an advertisement published on Saturday said that booking of vehicles had now been resumed.
The company last Friday had announced it would be suspending the booking of vehicles in lieu of the rupee's depreciation against the dollar on October 9th.
However, IMC said from January next year it will be absorbing a considerable proportion of the cost increase; however, a part of this increase will have to borne by the customers, taking price revisions into consideration.
It encouraged its customers to make partial payments only and requested them not to make full payments at the time of booking their vehicles.
On Wednesday, Indus Motor Company (IMC) had jacked up the prices of its cars from Rs50,000 to Rs175,000 for November & December deliveries and Rs100,000 to Rs350,000 for January 2019 following the depreciation of the rupee last week.
According to a circular disclosing the price rise, Indus Motor said it will be absorbing 100% impact for car deliveries slated to be delivered in October and November for which full payments have been made.
The company added it would be absorbing 50% of the price hike for deliveries provisionally scheduled for November and December.
In a comment to Profit, Syed Daniyal Adil an analyst at Topline Securities said, "The price hike was expected after recent PKR depreciation since IMC holds significant pricing power.
The price increase indicates that IMC should be able to keep its margins from falling significantly lower unlike the norm in periods of sharp PKR depreciation."
He added, "However, as prices keep rising, along with worsening macroeconomic indicators, volumes will experience downward pressure in the months to come."
Indus Motor has hiked the prices by Rs50,000 for Toyota Corolla XLI to Rs1.944 million till December and it will see a further rise of Rs50,000 in January to Rs2.044 million.
For other Corolla variants, the prices have been increased in a range of Rs50,000 to Rs100,000, which will double by the beginning of January next year.
Whereas, the IMV-4 4×4 price has been raised by Rs175,000 to Rs6.624 million and it will get another equivalent increase to Rs6.799 million by the beginning of January next year.
Also, prices of the other variants have also been increased in a range of Rs125,000-Rs150,000 and will double by January 2019.
In March, IMC had invested Rs4 billion to debottleneck its production facility and increase production capacity by 20% i.e. up to 75,000 units annually, till the second quarter of 2018.