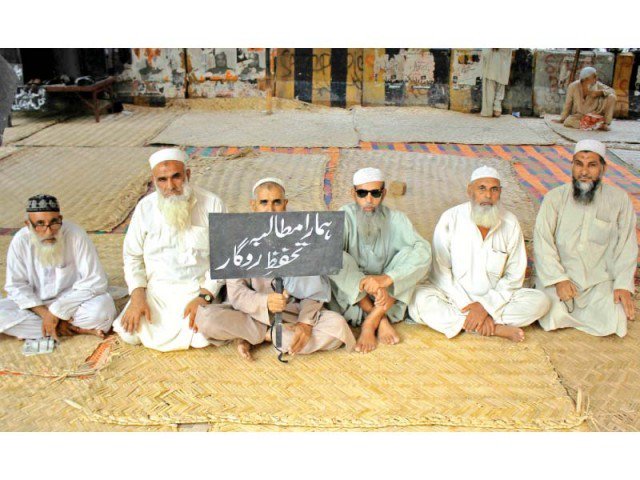 'Our children are out of school and our families are starving due to non-payment of salaries'
KARACHI: Protesting dock workers of Port Qasim have given a three-day deadline to the Ministry of Port and Shipping to address their plight.
Addressing a press conference at their sit-in camp in front of Karachi Press Club on Monday, they demanded the government to immediately issue the identity cards of port workers, adding that the Dock Workers Act 1974, should be implemented in letter in spirit at Port Qasim.
Workers Union President Akhlaq Ahmed Khan, Senior Vice President Gul Badshah, General Secretary Hussain Badshah, Additional General Secretary Abdul Wahid and Secretary Information Fazal Mehmood addressed the media on the occasion.
"We are giving a deadline till Thursday to the Chinese company, Huaneng Fuyun Port and Shipping (Pvt) Ltd, and officials of Ministry of Port and Shipping to accept our demands. Children of labourers will hold a demonstration at Karachi Press Club and on Friday, we all will start marching towards Sindh Governor House if our demands are not met," the union president stated. "We have been protesting for the last 35 days and no one is serious to solve our issues. Our children are out of school for many months and our families are starving due to non-payment of salaries for four months."
It is pertinent to mention that last week, an elderly labourer Shah Jahan fainted in the camp but his colleagues refused to take him the hospital. The secretary general had said, "A number of labourers are disabled during work but they continue to play their role for the development of the economy. The Chinese company has just paid six months salaries to labourers, while Port Qasim authorities are also giving cold shoulder to our demands."