In January 1996, NETSOL first opened for business in Pakistan. Today, the firm is 23 years in the making and is Pakistan's biggest software production firm by revenue, due to the success of its acclaimed NETSOL Financial Suite (NFS). The company is listed on the NASDAQ as well as the Pakistan Stock Exchange (PSX) and its customers include automakers Mercedes-Benz, Toyota, Volkswagen, BMW, Nissan and Hyundai among others.
In 2004, the company opened its 50,000-square-foot facility in Lahore where most of the company's information technology workers and software engineers are based. Besides Pakistan, its offices are located in the United States of America (USA), the United Kingdom (UK), Thailand, Indonesia, Australia and China.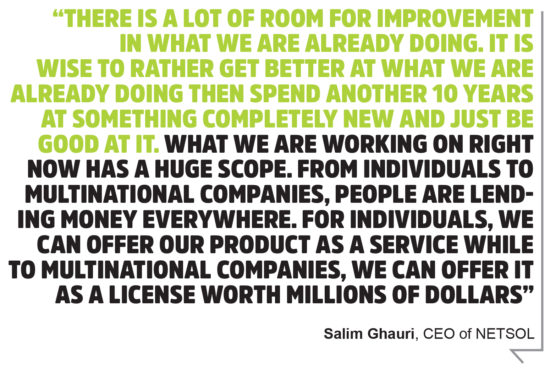 Leap of faith
It was in Australia that Salim Ghauri, the founder and CEO of the company, first got the idea of setting up a Pakistani IT services company with a global outreach. Settled in Australia with a family, Ghauri was working as an IT consultant, doing reasonably well by the standards of that time, but always felt that something was missing. "I was settled abroad, making good money, had a good job, but I always felt incomplete. Money wasn't an achievement for me. I did not feel a sense of achievement in what I was doing. It was coupled with the frustration of seeing Indians selling their IT products and services to firms in Australia, but there was no Pakistani doing that," Ghauri told Profit.
"That was the time I chose to return to Lahore and establish an IT services company that will have customers globally. I chose Pakistan because, first of all, it is my home country and secondly, it has a large population and could provide a bigger labour force," he said.
By definition, entrepreneurship demands making bold decisions and risk-taking. But Salim Ghauri's decision to move back was quite a daring one, even by entrepreneurial standards. And it was a notch above even that normal risk level given the fact that he did not even have his own money to invest. It was his brother, Shahab Ghauri, who agreed to invest in Salim's idea.
"Moving back to Pakistan was not just daring, it was stupid.  I was coming back to Lahore after 27 years, so I didn't know many people. A lot could have gone wrong. And frankly, I would say that it was my brother who took a leap of faith and decided to invest. If you look back, I am a software developer. My career goes back to 1979. When NETSOL was established, I had 17 years of experience in IT so I had the technical expertise and my brother had the resources."
"At the inception of the company, our focus was to create a product that could compete and be sold globally. Like the ones produced by Indians. So, we were very careful about the quality of our products and created only the best," Ghauri said.
"What we sell is an asset financing application which helps a lender manage their lending," Salim Ghauri said, as he went on to explain what his firm produces. "There are some processes involved in the lending business. If somebody borrows $10,000 from an institution, let's say to buy a car, there are certain processes involved to get the creditor's approval. Our software manages those processes. There's also a contract that defines the terms of lending and its repayment. Our software manages the life cycle of that contract. It is a complex piece of software because there is so much that happens to a loan. NETSOL is now among the very few vendors that provide this solution."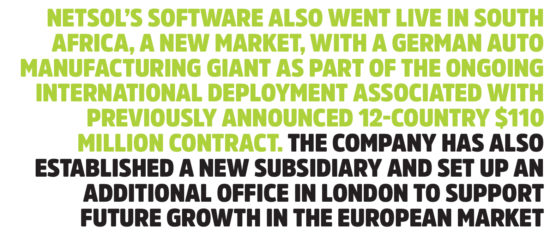 'We are better than others'
NETSOL has been able to win customers over established vendors selling lease management solutions in the market even before NETSOL was in existence. Ghauri describes that as a testament to the company's technological achievements. Recently, the Pakistan-based firm signed a contract with a customer based in China after two years of rigorous assessment. There were initially five companies vying to get the contract among which one was NETSOL.
"The customer is a blue-chip company in the German auto market. They visited our facility in Lahore and carried out their assessments on our capability to deliver, our people and our technical expertise. We finally won the contract against global competitors, strengthening our position. That is where we are different. We are providing solutions which others are not. We are ahead of our competitors in terms of quality and technical know-how. We have people better than others. In China, we are the largest provider of this solution. We have got 90% of Chinese multi-national companies running their lending portfolios through our software," he explained.
Is NETSOL ready to grow faster?
The watershed moment for NETSOL was in 1996 when a German luxury car manufacturer signed a contract with the company, providing it with a breathing space and allowing it to understand its customers. In 2000, the same firm signed a US$2 million contract to meet a larger suite of requirements.
In 1999, NETSOL went on to list at NASDAQ but it did not turn out to be a pleasant experience at first. "It certainly benefited us. We got a bigger market, and we got recognition, but it had so many conditions attached to it that it hindered our abilities. Although we are stable now, but if I had to make that decision today, I would go against it," he told Profit.
In 2006, NETSOL won the capability maturity model integration (CMMI) Level 5 certificate, the highest a company can reach, catapulting it to an elite class and putting it at par with other titans in the global tech industry.
The software manufacturing company's earnings have strengthened after the launch of its new software solution. According to its financial statements, NETSOL posted an impressive year-over-year revenue growth of 27% to $16.4 million in Q1 2018 driven by major contract wins in China during the quarter, providing a catalyst for 2019. In August 2018, the company secured a five-year contract valued at roughly $30 million with a European tier-one global auto captive to implement its platforms in China, besides securing another multi-million-dollar contract with major American multinational automaker to implement its platform in China.
NETSOL's software also went live in South Africa, a new market, with a German auto manufacturing giant as part of the ongoing international deployment associated with previously announced 12-country $110 million contract. 
According to the financial statements of the company, the total net revenues for the first quarter of fiscal 2019 were $16.4 million, compared with $12.8 million in the prior year period. Gross profit for the first quarter of the fiscal year 2019 was $8.2 million, compared to $4.8 million in the first quarter of the fiscal year 2018.
The financial results for the year 2018 released to PSX and available online show that the company reported a net profit of Rs1.1 billion as compared to a net profit of just Rs320.3 million in the same period last year, affirming the company's upward growth trajectory. The earnings per share of the company increased to Rs12.37 as compared with Rs 3.58 in the same period of the previous year.

Moreover, NETSOL's stock at PSX has shown bullish trends, hovering between Rs54.94 and Rs128.85 during the fiscal year 2018. Ghauri attributed it to the fact that the stock market now believes that NETSOL is on an upward growth trajectory. "We will ensure that we keep growing on the same trajectory. Now that we have completed our new solution and have started offering it, the market is responding positively."
About NETSOL's plans of expansion, Ghauri elaborated that they want to be the largest providers of the lease management solution in the world. "Our focus now is on expansion into other geographical regions. We were very careful about our growth as the solution we sold previously required a long cycle of implementation. So, we had to wait. Our new software does not have that limitation and will not require a longer cycle of implementation. Now we believe that we have what it takes to be the largest. We have enough big names with us now and we are ready to pick our pace and grow at a faster rate. Today we sell our product as a license. Gradually, we will move on to the services model."
Profit also inquired if NETSOL was ready to try something new in the IT business. "There is a lot of room for improvement in what we are already doing. It is wise to rather get better at what we are already doing than spend another 10 years at something completely new and just be good at it. What we are working on right now has a huge scope. From individuals to multinational companies, people are lending money everywhere. For individuals, we can offer our product as a service while to multinational companies, we can offer it as a license worth millions of dollars," Salim Ghauri responded.