In my last article [titled "All you wanted to know about Pakistan's e-commerce scene (but didn't know who to ask)", published in Profit on January 14, 2019] we discussed how Pakistan's retail e-commerce sector has not expanded as rapidly or as widely as one might have expected it to. This rings particularly true when you compare its growth to other e-commerce verticals in similar regional markets like India, Indonesia, Philippines and Thailand.
We therefore continue our analysis where we will look at the challenges that the retail e-commerce sector faces, understand the potential solutions and strategies enemies at the gate may use to disintermediate marketplaces altogether.
Current Challenges
At this moment, there are a number of challenges that face e-commerce players. While the list can be fairly detailed and granular, we will focus primarily on the core challenges that affect both customers and e-commerce merchants on a day-to-day basis.
Product information
Customers visit e-commerce sites for multiple reasons. These may range from pre-purchase research, comparison shopping, discovering new products, to directly purchasing a specific item. Regardless of what brings the user to the website, what they seek before all else is product information. Unfortunately, in Pakistan this vital part of the user experience has been given the least amount of attention, where today, the majority of marketplaces are not able to provide customers with little more than basic product information. Whatever information does exist on most product pages does not exceed that which you get from viewing a singular image on the website.
When shopping online in Pakistan, most of the time you will only find the product name, its price, and one photo. This negligence towards product content exists primarily because priority is given to getting as many products online (a.k.a growth in assortment) and at the lowest possible cost. The examples below show the difference between good and bad product descriptions. Keeping in mind that good product content drives sales and poor content will likely kill them, it is perplexing that marketplace leaders bemoan poor traffic conversion rates but persist with providing poor product content. Enriched product descriptions are a core component of the user experience and a building block of sales and marketing functions.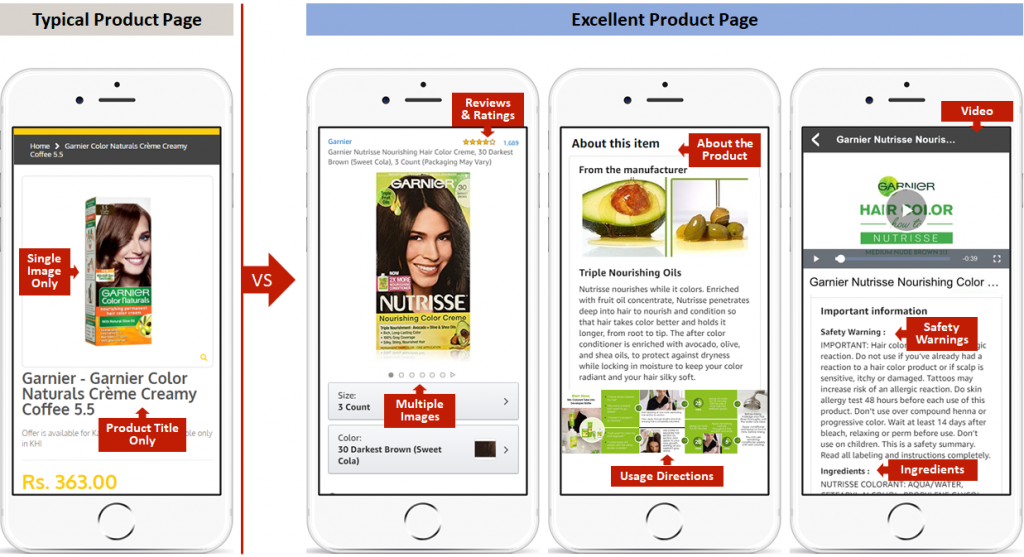 Enriched product data has been proven to increase the conversion rate of e-commerce stores. However good product data is tough to obtain and expensive to create at scale. Some studies have found that 20% of purchase failures are potentially a result of missing or unclear product information.
Payments
If a customer does end up purchasing a product and adding it to their cart, then the primary decision they need to make is their payment method. While the majority of customers choose cash-on-delivery (COD), over the last two years we have seen a strong trend towards online payment channels with larger marketplaces doing a large proportion of their sales via electronic pre-payment methods.
With most banks not allowing their debit cards to be used for online transactions (most only allow it after a call to their helpline), most customers see payments online as a hassle in itself. Mobile wallets could remove this hurdle. However, it is not a ubiquitous form of money right now.
In response to the hacking at BankIslami, the State Bank of Pakistan (SBP) has placed overly burdensome security measure on banks. This greatly reduces the chance of Pakistanis converting their cash habits towards the formal banking sector.
Payments are also challenging for merchants who now have a myriad of payment gateways to choose from but not necessarily the time or resources to integrate all of them at once. When EasyPay was launched in 2015, we felt it was a great incremental addition because in one integration an e-commerce merchant could offer a mobile wallet, over-the-counter (OTC) payments and a credit/debit card gateway all at once. However, now with rise of new wallets such as JazzCash, SimSim and services such as Keenu, FonePay etc, the number of integrations required now are much greater. If these gateways are not integrated, then customers who are starting to slowly shift towards online payment methods will not be able to pay with their preferred payment partner.
Vendors
When the purchase is complete, we come to our vendor base, which in our opinion is the key bottleneck to growth within the e-commerce industry today. The majority of vendors in Pakistan do not have the proper tools for accurate inventory management at the SKU level, let alone being able to connect inventory levels in real time with marketplaces.
In a recent article it was reported that less than 10% of businesses use an enterprise resource planning (ERP) software system. It is because of this lack of real time inventory-level information flowing through the supply chain that a large portion of orders for e-commerce marketplaces go unfulfilled. As is inherent in legacy businesses in the midst of transformation, it is common place for even a brand's own website to not have visibility of, or connectivity to, their warehouse or retail inventory management solutions.
Having said that, over the last six years, we have seen many vendors, brands and resellers transform themselves very rapidly to cater to this increasing demand for quality information. Many have exhibited the wherewithal and appetite to learn and invest time in making the necessary changes needed to carve a place for themselves on the e-commerce arena. A fair number have set up new divisions specifically to focus on e-commerce marketplaces and have invested in getting the right technology infrastructure in place to make their mark. Brands and vendors have also started to realise that online marketplaces are an inevitability. Like the largest malls, they attract a lot of customers even if it is only to window-shop and brands cannot afford to not have a store to display their products.
Logistics
If the product is available the next step is to enter the logistics sector and last mile delivery. Pakistan has a large number of logistics players offering package deliveries and COD services. We have one of the strongest line haul and last mile services when compared with countries in South Asia such as Sri Lanka, Bangladesh, and Nepal.
However, the current infrastructure is still primarily built for letter delivery and not package delivery with a cash collection component. Parcel delivery is currently conducted by two types of companies: generalists like TCS, LCS, M&P and specialists like BlueEx and Forrun. Generalists are delivering parcels through the legacy channels of courier riders while specialist companies are not able to scale the market as much as they would like to.
What is shocking as well is that the standards of the industry for delivery is about 1-3 business days. At present 15-20% of deliveries are returned to the sender due to one of two main reasons: the customer did not want the item or was consistently not available to receive the item over multiple attempts.
This inefficiency is partly driven from the fact that planning is still done manually on the ground rather than conducted through dynamic route planning. Picking products from vendors can take 2-3 days and repayment of collected funds between 7-30 days. All of these systems can and should be automated. Otherwise, the e-commerce industry will continue to face significant hurdles in its ability to scale much faster in the future.
The unit economics of parcel delivery is also heavily geared towards the last mile which can take up 50% of the total cost. This can occur due to multiple factors, such as customers not having visibility for when the order will be delivered, or couriers not having the exact change ready to end the transaction in a timely fashion. Incidentals such as these and more have led to a first-delivery delivery success rate of 55-65% and an overall success rate after three delivery attempts of between 70-80%.
With each attempt the cost of fuel, salary, etc. is compounded and this leads to a very high cost rate. New players are looking to scale their unit economics by focusing on the optimization of rides rather than scale. By focusing on giving customers and vendors real time updates on deliveries, dynamic route optimisation and delivery algorithms, they are looking to increase the first-delivery success rate and bring down average delivery times from 12-15 mins down to just a few minutes.
The Future Builders
While there is no doubt, that there are serious challenges that in the industry hasn't yet even begun to solve, there are plenty of reasons to be hopeful. Firstly, the large marketplaces are still investing within the industry and will continue to do so for the foreseeable future.
Secondly, there are a group of startups that have formed in the last year or so who are working on solving a lot of the problems faced directly by both large and small e-commerce marketplaces. These startups are also by and large funded and have founders who have a lot of experience within their respective sectors.
These new startups that are coming up are aiming to become aggregators and consolidators within the e-commerce industry which has the potential to help both the large and small e-commerce ventures across the country.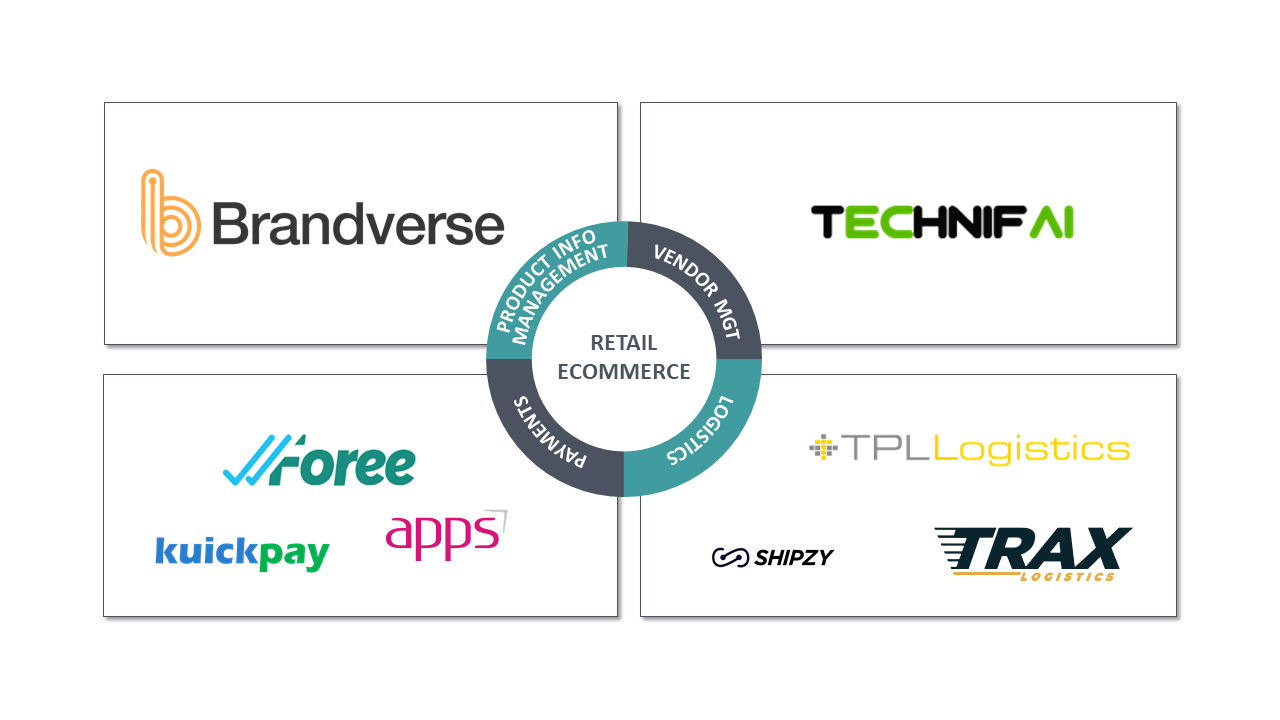 Vendor management
Technifai, a startup focused on providing close integrations between a brands e-commerce site and marketplaces. The integration works by taking all product data from a brand store such as Ego, including images, product name, price, stock quantity, etc. and then sending it to marketplaces such as Daraz and Yayvo.
When marketplaces get an order for Ego's products, Technifai sends the order details to Ego's brand store who then process it like any other order and send a confirmation of dispatch to the marketplace all the while keeping inventory levels and prices synced between all other marketplaces that might have the same product listed.
The key challenges that Technifai solves is the issue of brands having to update their product and stock details to multiple marketplaces, multiple times a day. And marketplaces love it as their inventory is then a live replication of the brand's store meaning they are able to market the products with minimal chance of order cancellation.
Product information management
Product information management (PIM) is a major challenge for any e-commerce company, and one that is generally ignored due to the large investment and complexity required to get it right. At its core, retail e-commerce is about selling a product without being physically present. In the absence of the physical product, enriched and accurate content is essential.
Brandverse is a product information management startup that will be going live in the first quarter of 2019. They will work directly with providing brands, and with retailers, to create, maintain product information data. Marketplaces and anyone else who requires it will be able to get fully enriched product listings including its volumetric weight, content description and high resolution and 3D photographs.
As it scales, the service will start to become invaluable to all ecosystem players, from marketplaces, to concierge e-commerce and logistics providers. Customers will benefit from the enriched content to help their purchase decisions, brands will gain consistent representation of their products across all digital touchpoints, webstores will benefit as their conversion rate will increase as will their assortments, at incrementally lower costs, fulfilment will become more accurate, and sellers across the country, whether they are online or offline sellers, will be able to sell their products online without creating content.
Payments
While e-commerce payments are still primarily processed through COD, over the course of the next 2–3 years we predict a much faster shift towards electronic pre-payments within the industry. There are now too many payment providers, and it is difficult for an e-commerce merchant to incorporate all of them.
Kuickpay is one payment service that has already integrated with over 14 banks and offers their customers the ability to pay for e-commerce orders, bills and more directly through their bank account. They are currently also working on the ability for customers to pay for orders on e-commerce stores directly on the checkout using their bank account.
APPS is one startup that is working on creating a master payment gateway for e-commerce merchants. With one integration merchants will be able to offer their customers payment options ranging from credit/debit cards, Easypaisa Wallet, JazzCash Wallet, SimSim, Bank Transfer, Keenu, and so on.
Logistics
While the typical logistics letter delivery services are very strong within the country, their services are still not optimised and geared for e-commerce deliveries.
Logistics companies do not provide open box deliveries, scheduled deliveries, or live updates on deliveries. Where these services are attempted, they are not integrated directly into web-stores with application programming interfaces (APIs). For a large number of store owners, plugins are also not available by which merchants can in one click start printing air-way bills to dispatch orders and hence this requires lengthy processes.
E-commerce requires a much greater degree of logistics support than is fully available right now, and some local startups such as TPL Logistics and Trax are attempting to overcome some of these challenges directly.
The Future Builders we mention will all go on to support both large and small e-commerce companies and help them become more customer centric. However, the traditional e-commerce marketplaces face a potentially very large and dangerous challenge in the years to come by fintech and banking plays that aspire to seamlessly combine payments and retail, much like WeChat & Paytm.
The biggest challengers to the marketplaces will most likely come in the form of fintechs such as SimSim & FonePay, telco-backed wallets such as EasyPaisa & JazzCash, or from bank-led apps, such as Alfa by Bank Alfalah, HBL Konnect, DigiSilk from SilkBank et al. All of these companies are looking to create Pakistan's first SuperApp.
The SuperApp challengers
The SuperApp is a concept that began in China with the development of TenCent's WeChat. This revolutionary app has reshaped the entire country's digital landscape ushering in unprecedented change in the economy both in terms of scale and speed of business. At its core it is just an instant messaging app, however, with microservice architecture built into it.
The app can serve as a payment portal as well as provide lending, ride-hailing, and food delivery services, including many others. It can even book your doctor's appointments for you. This and so much more has been built right into the app.
In Pakistan, three names stand out right now when it comes to creating a SuperApp: EasyPaisa, JazzCash and SimSim.
China's Ant Financial, owned by TenCent's main rival Alibaba, recently made a massive $184 million investment in EasyPaisa, to grow the overall financial base in Pakistan and bring them onto their app.
JazzCash is vying for a competitive position in creating the SuperApp through its parent company Veon which does not want to be left behind in this race. They are investing a large sum over the next few years to expand their services.
Meanwhile SimSim is the fintech challenger who wants to move fast and make all consumer payments free. They were the first to incorporate a marketplace within their app and have plans to include food delivery and other services as well.
What makes each of these challengers a threat to retail marketplaces is that both EasyPaisa and JazzCash have a huge lead already in terms of their customer base when compared to Daraz. With an active customer base which is already more than ten times greater, the ability to sell products directly to them can be achieved without much effort. SimSim has already proven this as they have over two hundred thousand products on their app.

While SimSim might not have the customer base that the telco-backed wallets do, it has the ability to move quickly and by attracting customers to their wallets thanks to its always free promise. By offering free banking facilities, it is able to attract customers who are tired of paying fees at the traditional banks. It then uses its marketplace model and payroll systems it has developed as a way to build on its revenue model of providing payday loans and short-term credit to wallet holders.
The fintech marketplace
Being a nimbler startup, SimSim has already created a marketplace product using Technifai's API's. They have over two hundred thousand products available for any of their customers to purchase using their SimSim balance. Non-wallet holders can make their purchases with a credit card. The entire purchase journey on banking applications has the potential of being much faster given that payments methods are integrated and the customers names and home addresses are already saved within the Bank's information vaults.
Even though SimSim has launched their marketplace service, it is not expected to be their core business. They are using the marketplace as means to attract and own customers attention by bringing them to their platform. Their strategy is to own the customer channel and then monetise them with multiple other services such as micro-loans in the future.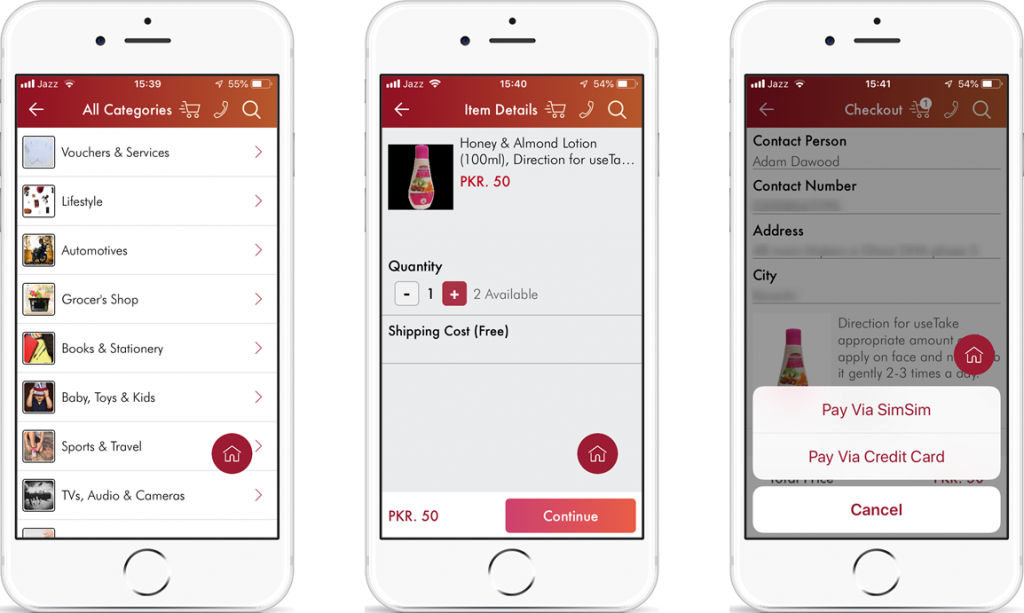 All banks need to look at diversifying their revenue models for the future. A large chunk of their current profitability stems from investing deposits and interest earned on loans. For instance, in China customers use their banks primarily to receive their salaries. After this they quickly transfer all their money into AliPay or WeChat for spending or investment purposes.
Banks most definitely need to rethink their business models for millennials. A new age of banking could provide all these services on a unified platform, ensuring their customers not only bank with them, but shop, eat, and travel through their own portals.
Bank Alfalah provides a great example as they are pursuing an aggressive digital strategy to offer multiple services directly within their app. In the last six months, they have integrated Yayvo, Eat Mubarak and Bookme.pk directly into their app and will continue to build out their platform in the months to come.
Fight for revenue or customers?
One of the key differentiators between all the fintech players and marketplaces is that the marketplaces that SimSim, JazzCash etc. will create will not end up being their key revenue driver. Instead they simply want to keep customers active on their app. Daraz and other marketplaces, on the other hand, derive key revenue and potential profitability primarily from their marketplace transactions.
We can already see the start of this battle as this year Pakistanis have been pushed towards more and more app download campaigns than ever before. Daraz and EasyPaisa are currently leading the pack with roughly 5 million and 3.5 million downloads each.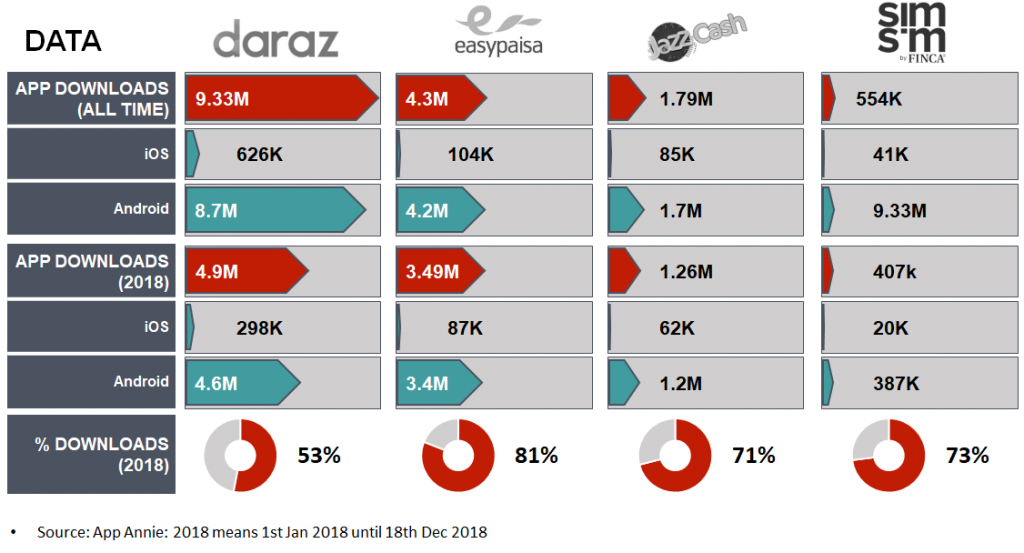 Conclusion
Globally the e-commerce sector accounts for ~10% of the total retail sector. In Pakistan this figure stands at less than 1%. Even though e-commerce revenues are doubling annually, the retail e-commerce sector in particular has a lot of challenges that need to be addressed now. With all the difficulties currently faced by the sector, its ability to scale while keeping customers happy will be a tough journey but one with unfathomable rewards at the end of it. Many new startups which have recently launched are luckily addressing a lot of these challenges head on. By focusing on creating local solutions for local problems, the future could still be bright for the industry.
Even though no one can say for certain what the retail e-commerce landscape will look like two years from now, we do know that the SuperApp contenders will play a major role in in its development. Not only will they push the marketplaces to improve their service quality as a result of the increased competition, but they will also create customer awareness. By educating their considerably large customer base and bringing them on board towards e-commerce they will greatly increase the number of first-time orders and in doing so will expand the entire industry itself.
We, as an industry, need to focus on prioritising the customers' needs first and more specifically on increasing the number of return customers. This will only happen if customers enjoy their online shopping experience and find it rewarding and meaningful. One fulfilled customer can provide immeasurable positive and, more importantly, free marketing for their e-commerce provider. Positive word of mouth marketing will be a key ingredient for the industry to take on a life of its own and grow at the 5-10x speed that it is easily capable of achieving.
The author has been running eCommerce companies for the last 6 years. Currently serving as the Head of Yayvo, his prior experience includes being the Managing Director of Kaymu.pk and the Product Manager at Daraz.pk. Adam is also the Founder of DYL Ventures a startup consultancy.