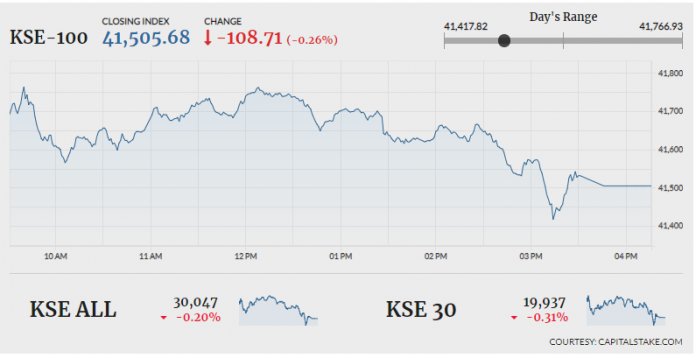 KARACHI: Investors of the Pakistan Stock Exchange (PSX) embarked on a roller-coaster ride on Wednesday, as the indices, after oscillating in both directions, closed in red. Breaking their pattern, foreign investors ended as net sellers on Monday with a total outflow of $0.72 million.
The KSE 100 index, which managed to record an intraday high of 41,766.93 after accumulating 152.54 points in the morning session, changed its course in the afternoon. The index touched its intraday low of 41,417.82 (down by 196.57 points) a while before the session ended. It finally settled lower by 108.71 points at 41,505.68.
The KMI 30 index depleted by 370.94 points intraday before closing short by 172.64 points (at 69,626.01), while the KSE All Share index fell short by 60.93 points to end at 30,046.87. Out of 358 traded scripts, 137 advanced, 204 declined while prices of 17 remained unchanged.
The overall market volumes were recorded at 254.11 million. Cement sector led the volume chart with Fauji Cement Company Limited (FCCL +2.38pc), Maple Leaf Cement Factory Limited (MLCF +2.65pc) and DG Khan Cement Company Limited (DGKC +2.32pc) all ending among the top traded stocks of the day. The scripts had traded 17.54 million, 9.64 million and 8.77 million shares respectively.
Vanaspati and allied industries sector (-2.88pc), jute sector (-1.70pc), leasing companies' (-1.58pc), tobacco sector (-1.55pc) and oil & gas marketing sector (-1.53pc) closed the session as losers, whereas modaraba sector (+2.41pc), automobile assembler sector (+2.37pc) and textile weaving sector (+2.11pc) ended as gainers.
As per notification sent to PSX by Fauji Fertilizer Bin Qasim Limited (FFBL +2.06pc), the Securities and Exchange Commission of Pakistan has granted Inner Mongolia Yili Industrial Group Co Ltd an extension of 90 days to make a public offer in respect of the proposed acquisition of 51pc voting rights in Fauji Foods Limited (FFL -1.71pc).
Moreover, Clover Pakistan Limited (+2.49pc) in a notification sent to the exchange announced approval (by a court) of its merger into Hascombe Business Solutions (Private) limited.