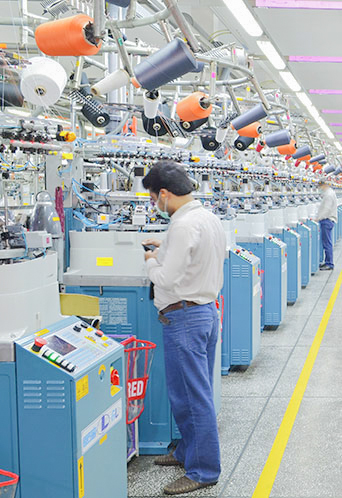 LAHORE: Interloop Limited is gearing for its initial public offering (IPO) in early March with dates to be decided after final regulatory approval, according to Arif Habib CEO Shahid Ali Habib.
Mr Habib said the roadshows will commence in Lahore and Karachi starting next week and Interloop's debut on the Pakistan Stock Exchange (PSX) will rank as the first IPO of 2019.
And Interloop is aiming to raise at least Rs4.9 billion from its IPO, for which it has set a floor price of Rs45 per share, which comes out to a price to earnings (P/E) multiple of 8.8x its net income over the latest 12 months for which financial data is available.
The company is offering 109 million shares constituting 12.5% of its post-IPO paid-up capital at a floor price of Rs45 per share to the public.
The issue is being made through 100% book building process, whereby bidders shall place bids for 100% of the issue size.
However, the successful bidders shall be allocated only 75% share and the remaining 25% shall be offered to the retail investors.
In case, the retail portion remains unsubscribed, they will be allotted to the successful bidders on a pro-rata basis.
The proceeds from the IPO will be utilized by Interloop to finance the expansion in hosiery and denim plant.
Its client list includes major global athletic wear brands like Nike, Reebok, Adidas, and Puma, as well as other major clothing brands like H&M, Uniqlo, Target, and Levi's.
The company had revenues of Rs31.1 billion for the financial year ending June 30, 2018, a 17% growth over the previous year.
Over the past five years, the company's profits have grown at an average rate of 8.3% per year.
The company's net income grew to Rs3.9 billion for the fiscal year 2018, a 12.5% increase over the previous year. Over the past five years, net income has grown at a compound annualized growth rate (CAGR) of 15.7% per year.
During the first half (July-December) of FY19, Interloop posted a profit after tax of Rs2,202 million.
The company produces over half a billion pairs of socks annually for top international brands and retailers.
Interloop's IPO could become the country's largest private sector listing on the Pakistan Stock Exchange, eclipsing that of the bourse which raised Rs4.5 billion in 2016.
According to the company's' website, it is one of the world's largest hosiery manufacturers with hosiery being its core business and with an annual turnover exceeding $270 million.
Besides operating in the cities of Lahore & Faisalabad in Pakistan, Interloop also has manufacturing facilities based in Bangladesh and Sri Lanka.
Also, Interloop has a product design/development, marketing & distribution network in Pakistan, Bangladesh, North America and Europe.