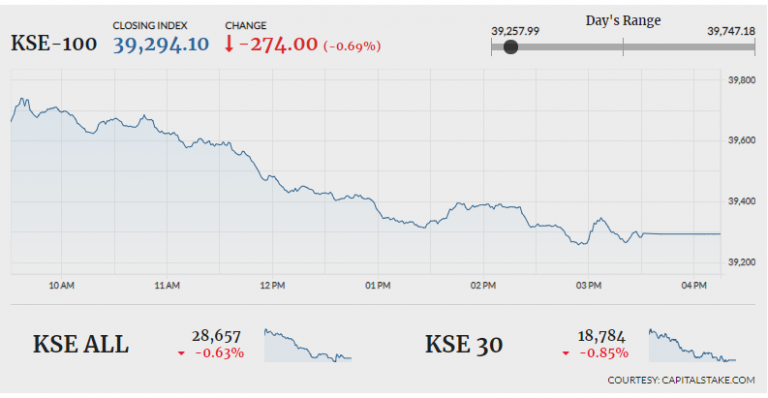 KARACHI: Negativity prevailed at the Pakistan Stock Exchange (PSX) once again on Thursday as indices kept shedding gains and volumes remained low. Foreign investors ended as net sellers on Wednesday with a net outflow of $0.685 million.
On the economic front, the National Assembly approved the Pakistan Tehreek-e-Insaaf government's mini-budget. According to the new budget, non-filers of income tax can now purchase luxury cars while supertax is expected to be continued indefinitely.
The KSE 100 index shed 310.11 points (down by -0.79pc) to touch its intraday low at 39,257.99. It closed lower by 274 points at 39,294.10. The KMI 30 index fell short by 645.30 points, ending at 65,298.22, while the KSE All share index declined by 182.29 points to settle at 28,657.46. Out of the total traded scripts, 107 advanced, 211 declined while the value of 20 remained unchanged.
Trading volumes remained thin and were recorded at 83.16 million. The Bank of Punjab (BOP -1.14pc) topped the volume chart once again with 8.51 million shares exchanging hands. Siddiqsons Tin Plate Limited (STPL -2.27pc) and Lotte Chemical Pakistan Limited (LOTCHEM +1.49pc) were next in line with 5.72 million and 5.39 million shares swapping hands respectively.
The automobile assembler sector (+2.89pc) ended as the top gainer following the announcement of the mini-budget. Indus Motor Company Limited (INDU +5.00pc), Honda Atlas Cars (Pakistan) Limited (HCAR +5.00pc) and Pakistan Suzuki Motors Company Limited (PSMC +4.99pc) touched their upper circuit breakers, while Hinopak Motors Limited (HINO +3.26pc), Dewan Farooque Motors Limited (DFML +1.98pc) also closed positive.
Bata Pakistan Limited (BATA +5.00pc) touched its upper cap after the company released its financial performance for 2018. A final cash dividend of Rs60 was also declared by the company in addition to an interim dividend of Rs90 already paid. The company's sales appreciated by 8pc YoY, whereas earnings per share declined from Rs201.65 in the previous year to Rs198.60 in the current year.
Philip Morris Pakistan Limited (PMPK +1.01pc) released its financial results for FY18. Sales improved by 16pc YoY, while earnings per share increased from Rs-1.89 in the preceding year to Rs1.68 in the current year.