KARACHI: The Pakistan Stock Exchange (PSX), following a weak start, caved into selling pressure on Wednesday, as yesterday's relief rally failed to carry on amid severe economic concerns.
As per the latest report published by International Monetary Fund (IMF), Pakistan's economic growth rate is predicted at 2.9pc for the year ending 30th June. Moreover, the report stated that the country's current account deficit is projected to be 5.2pc of the country's GDP during the current year.
Furthermore, Finance Minister Asad Umar, along with a delegation, is currently on a visit to Washington in order to finalise a three-year bailout package to stabilise the dwindling economy. The delegation includes State Bank of Pakistan Governor Tariq Bajwa as well as the secretaries of Finance and Economic Affairs Division.
The KSE 100 index benchmark plunged by 665.12 points to touch an intraday low of 36,464.85. Amid lack of triggers, it settled lower by 550.65 points at 36,579.32. The KMI 30 index declined by 1,273.91 points to close at 59,390.95, while the KSE All Share index dropped by 307.15 points, ending at 26,929.89.
Article continues after this advertisement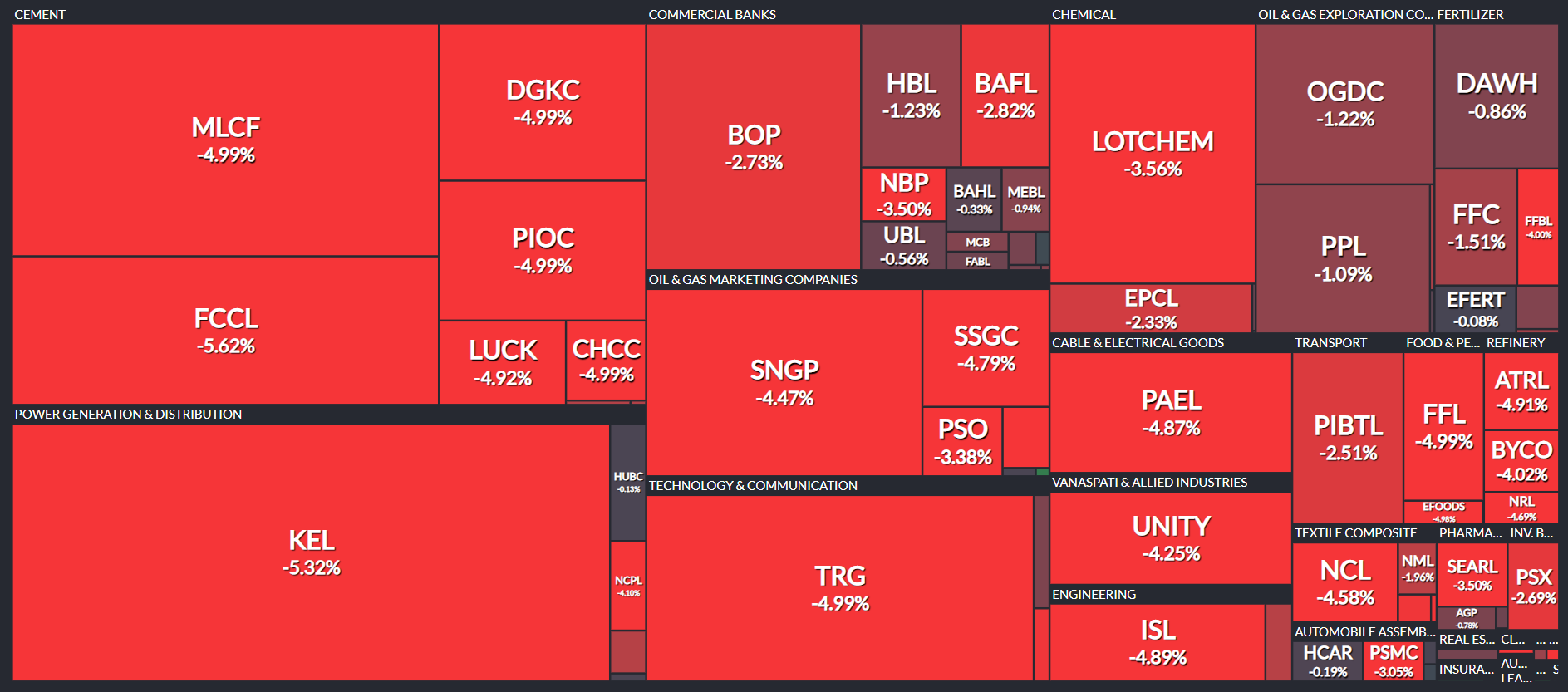 Trading volumes declined from 160.48 million in the preceding session to 141.18 million. Unity Food's Limited's right shares (UNITYR1 -19.06pc) ended as the most traded stock with 25.52 million shares exchanging hand.
Worldcall Telecom (WTL -15.45pc) was next in line on the volume chart with 17.99 million shares following the announcement of its results for FY18. Sales surged by 88pc YoY, whereas earnings per share dropped from Rs1.86 in FY17 to Rs-0.18 in the year under review. The direct cost of the company's increased by 56pc on a yearly basis.
K-Electric Limited (KEL -5.32pc), Maple Leaf Cement Factory Limited (MLCF -4.99pc) and TRG Pakistan Limited (TRG -4.99pc) also managed to score position among the volume leaders. The scripts had traded 11.58 million shares, 7.30 million shares and 5.57 million shares respectively.
Vanaspati and allied industries (-6.89pc), refinery (-4.28pc), cement (-4.13pc), engineering (-3.86pc) and cable & electrical goods sector (-3.63pc) all ended as the session as losers.