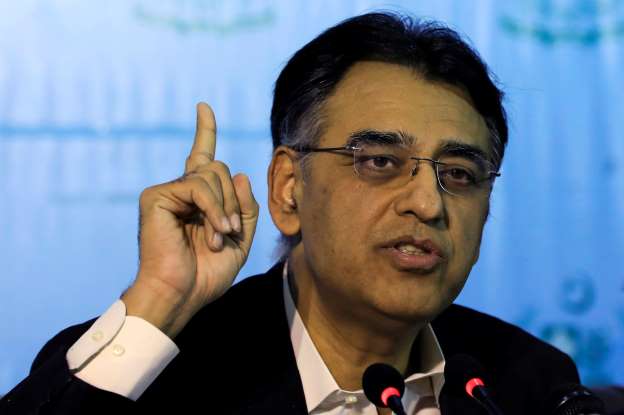 Imran appoints Hafeez Sheikh advisor on finance, Firdous Ashiq Awan advisor on media 
Fawad loses info ministry portfolio, becomes science and tech minister, while Brig (r) Ijaz replaces Afridi as interior minister 
ISLAMABAD: Hours after removing Finance Minister Asad Umar from his cabinet, Prime Minister Imran Khan fired several ministers, including Information Minister Fawad Chaudhry, for showing unsatisfactory performance in their respective domains.
According to a statement released by the Prime Minister's Office, Abdul Hafeez Pasha will take charge of the finance ministry as PM's advisor, replacing Asad Umar who left the cabinet after the PM offered him the portfolio of the energy ministry.
Firdous Aashiq Awam is appointed as PM's special assistant on media while the former information minister will be heading science and technology ministry.
Ijaz Shah, the newly inducted parliamentary affairs, will take over the interior ministry as a federal minister, replacing Sheryar Afridi, who will now head Safron [State and Frontier Region] ministry as the minister of state.
Pakistan Tehreek-e-Insaf leader Azam Swati, who resigned last year, is being appointed as minister for parliamentary affairs.
While Mohammadmian Soomro, the federal minister for privatisation, shall cease to hold the additional portfolio of the aviation division. Ghulam Sarwar Khan, who reportedly refused to leave the cabinet after being sacked from the post, has been given aviation division. Nadeem Babar has replaced Sarwar as the PM's advisor on petroleum.
Health Minister Amir Mehmood Kiyani has been let go off and Zafarullah will take charge of his ministry as PM's special adviser.
It all started with Asad Umar, who announced his resignation in the afternoon, followed by dismissal of some minister and re-allocation of portfolios to several.
The ministers' sacking was foretold by journalists a few days ago, but the government 'categorically' rejected the reports, with Pakistan Electronic Media Regulatory Authority (PEMRA) slapping notices on two TV channels for running the 'fake news'.
The minister shared the news of his resignation on his twitter handle followed by a press conference in Islamabad with no response from the Prime Minister's Office as of now.
He tweeted, "As part of a cabinet reshuffle PM desired that I take the energy minister portfolio instead of finance. However, I have obtained his consent to not take any cabinet position. I strongly believe @ImranKhanPTI is the best hope for Pakistan and inshallah will make a naya Pakistan."
Addressing a press conference later in the day, the Pakistan Tehreek-e-Insaf (PTI) leader explained that despite leaving the ministry he was "available to support PM's vision on naya Pakistan".
Giving the background of his announcement, Umar said he had met the prime minister last night when he was informed that he would be given a new portfolio — energy ministry.  "However, I have obtained his consent [Thursday morning] not to take any cabinet position," the minister told the reporters.
He said the economy was moving towards "prosperity, but tough decisions were needed to be taken" to overcome the economic crisis in the country and his replacement would be taking over a tough job.
"I believe that this decision [appointment of finance minister] should be made as soon as possible […] we are about to go to the IMF (International Monetary Fund), we are about to present the budget. This is already too late, the next person should have come in earlier, at least a month ago," he stressed.
"This is the most difficult job after the prime minister," Umar said, warning if "these decisions were rushed, the country would once again face economic upheaval".
The minister said he has no knowledge of whether there was a conspiracy to remove him. "The truth is I don't know if there is any conspiracy, my 'captain' said I want to see you in this role and I did not think it was appropriate," he said, explaining his decision to resign.
It may be mentioned here the government, particularly the finance minister, was under fire by the opposition and other quarters for poor economic indicators. The minister defended his policies in the presser, saying, "It is the time to take difficult decisions; I have made these decisions, I refused to take the decisions that would have crushed the nation."
Asad Umar has just returned from the United States, where he had held talks with the International Monetary Fund (IMF) officials for a bailout package. An IMF mission is also expected to visit Islamabad before the end of the month.
According to sources, former finance minister Shaukat Tareen, Hafeez Pasha, Salman Shah and Omer Ayub are in the run for the coveted slot. However, the decision will be made by the prime minister who will hold a meeting to review the performance of the ministers and revamp the cabinet.
As per Umar, "I think, as per my discussion with the prime minister, other changes [in the cabinet] will be announced either tonight or tomorrow morning."
Following PTI's victory in 2018, Umar was sworn in as the Federal Minister for Finance, Revenue, and Economic Affairs in August.
During his stint as the finance minister, Umar had ruffled many a feather with his economic policies. In December, businessmen complained to Punjab Governor Chaudhry Sarwar about his policies, who then relayed these complaints to Imran's close aide Jahangir Tareen to tell them to the prime minister. "This infuriated Imran Khan, who then directed Umar to immediately meet a delegation of Karachi's businessmen."
At the time, a finance ministry official had commented: "It seems as if Asad Umar is behaving like a bull in a china shop. His lack of experience and flawed handling of the economy is costing Pakistan heavily."
On April 15, Pakistan Today reported that the premier is not impressed with the performance of around half a dozen cabinet ministers including Finance Minister Asad Umar and State Minister for Interior Shehryar Afridi and wants to reshuffle their portfolios.
This was refuted by the information minister, who said the prime minister had no plan to remove his finance minister.