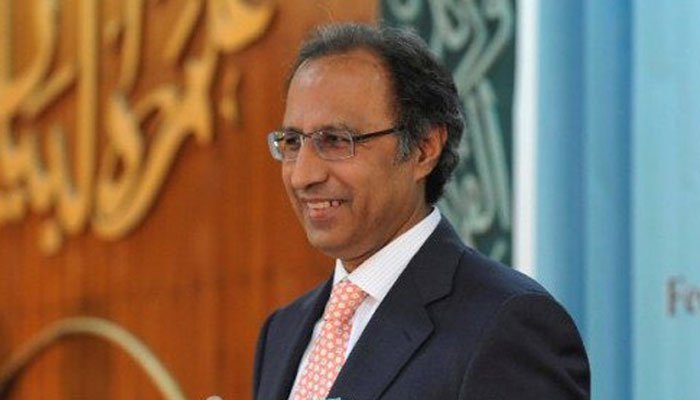 PM Khan appoints Hafeez Shaikh as ECC chairman
ISLAMABAD: The ministry of finance has postponed the meetings of National Finance Commission (NFC) indefinitely on legal grounds after a technocrat was appointed as adviser to prime minister on finance, revenue and economic affairs.
Sources said that the ministry, through a letter, has informed the provinces that since the Advisor on Finance Dr Hafeez Shaikh cannot chair the NFC meetings until he is promoted as a federal minister, the meeting of NFC have been postponed for an indefinite duration.
Meanwhile, the sources claimed that the ministry has also sought opinion from law division and provinces whether the advisor can head the meeting. In case of objection by the provinces, the finance ministry has to wait for promotion of the advisor to the post of federal minister to convene the next meeting of 9th NFC Award.
An important meeting of the NFC was scheduled to be held on April 29.
In case the NFC meeting is held on the given date, the prime minister, being the minister in-charge, will have to chair the meeting, sources said. Former finance minister Asad Umar had previously chaired the 9th NFC Award meetings.
As per rules, the finance ministers of federal and provincial governments are required to attend the NFC meeting. In case of absence of the finance ministers, prime minister and the provincial chief ministers can attend the NFC meeting.
Soon after the appointment of Hafeez Sheikh as the head of the ministry, officials at finance ministry had formally started assessing the legal options of legitimizing the advisor's role as the NFC head. The department concerned had suggested the premier to chair the next meeting or postpone it till meeting the constitutional obligations.
Apart from the NFC meeting, the government will also need to promote the advisor as minister, or appoint someone as state minister to present next budget in the assembly.
Meanwhile Prime Minister Imran Khan has appointed Dr Abdul Hafeez Shaikh as the chairman of Economic Coordination Committee (ECC) of the cabinet on Friday.
A notification was issued by the Cabinet Secretariat about the new nature of constituents. According to the notification, ECC will have 14 members.
Dr Abdul Hafeez Shaikh was appointed as the chairman of Cabinet Committee on Energy (CCoE) as well which will consist of seven members. He was also appointed as the chairman of Cabinet Committee on Privatization (CCoP) which will consist of eight members.