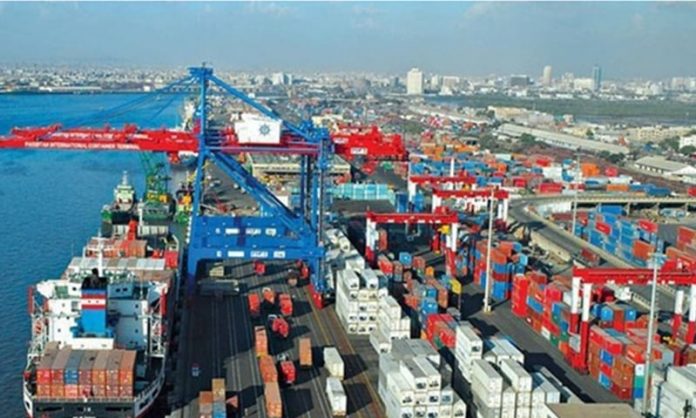 Hafeez Shaikh assures business community of its involvement in important policy decisions
LAHORE: Advisor to Prime Minister on Finance Dr Abdul Hafeez Shaikh has stressed the need to promote barter trade with an exclusive focus on boosting the export of Pakistani products in the global market.
Talking to the representatives of the All Pakistan Textile Mills Association (APTMA), Federation of Pakistan Chambers of Commerce and Industry (FPCCI), United Business Group (UBG) and other trade leaders in Lahore on Saturday, he said the government was striving hard to develop harmony with the private sector and would take all stakeholders into confidence in important policy decisions.
He said Pakistani exporters should prefer the barter system, which was being practised successfully by several countries worldwide.
The PM's aide on the occasion heard the textile proposals put forth by APTMA Chairman Gohar Ejaz and assured him of full cooperation and support in the redressal of their issues and in giving due value to their suggestions in the greater national interests.
He said that textile, agriculture, automobile, engineering and SME sectors play an important role in the national economy, adding that the government would address their genuine grievances on priority.
He further stressed the urgent need for broadening of the tax net, asking the people to take full advance of amnesty scheme which he termed was "a golden chance that should not be missed".
On the agriculture sector, he said that local hybrid seeds should be used instead of foreign ones, as "local seeds suit our land and taste buds". He said that per acre yield agriculture production could increase manifold with the application of modern agricultural technology.
The finance advisor said that the government would persuade the farmers to bring all arable areas under plough so as to boost agricultural production in the country.
Regarding the automobile industry, Dr Hafeez Shaikh said that foreign companies were evincing keen interest to invest in the sector while local industry would also be protected and national interests would be safeguarded equally.
He said that it was now time to translate the dream of "Be Pakistani and Buy Pakistani" in order to help promote local industry and businesses instead of spending on the foreign-made products.
UBG Chairman Iftikhar Ali Malk on the occasion thanked the advisor for taking the business community into confidence and assured complete support to the prudent economic policies of Prime Minister Imran Khan.
He said that business community would extend a helping hand to the government in this crucial time provided the local industry also get its due share in the upcoming budget in terms of relief in taxation and a package of incentives to accelerate the pace of trade activities in the country.