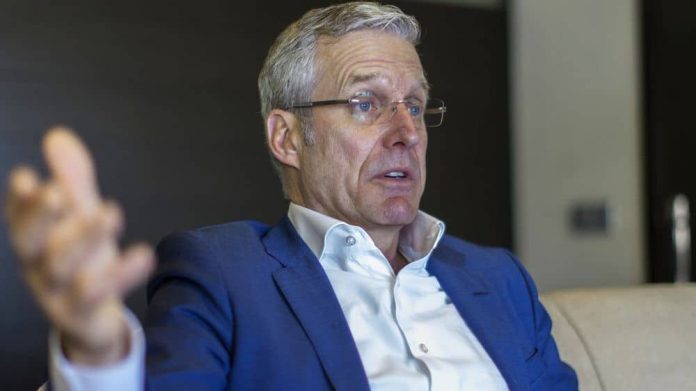 The former CEO of the Pakistan Stock Exchange (PSX) Richard Morin has come out swinging against rumours surrounding his abrupt resignation as the boss of the PSX.
The first non-Pakistani CEO of the PSX, Morin addressed a number of issues including accusations that he was managing a Canadian company – Archer Wealth Management – while holding the position of PSX CEO, or that he withheld information from my employer.
"My ownership of Archer was fully disclosed to PSX and the Securities and Exchange Commission of Pakistan, both before and after I joined PSX," he wrote in an op-ed.
Morin explained that after joining the PSX as CEO, he sold his majority of Archer, which then nominated a CEO and hired a portfolio manager to replace him, something he claims is indicative of his level of commitment to PSX while he was its Chairman. He also called bluff on the idea that Archer could develop any type of business outside Quebec, calling it "a pure fabrication by my detractors." He pointed to the fact that his involvement with Archer was a well-known fact, something that he openly discussed during his tenure at PSX, and which always remained on the Archer website as well as his public LinkedIn profile.
Morin instead pointed towards the culture of the PSX as the real reason behind his downfall, lambasting the "a market lacking a culture of compliance."
"Why was I then pushed out the door? Very simply because the arrival of a foreigner at the helm of the stock exchange – one who is very familiar with best international practices – constitutes an existential threat to the "legacy brokers" who have long held a stranglehold on this market. Indeed, their attacks started as soon as my candidacy emerged, months before I actually joined."
The story he tells is a sinister one. According to Morin, these legacy brokers used their contact in the SECP to force the removal of independent directors from the PSX Board of Directors in April 2018. These legacy brokers and their henchmen, as Morin calls them, then gained effective control of the PSX Board, installing a new, subservient Chairman and putting their nominees on all Board Committees as well as NCCPL and CDC Boards. As a result, the demutualisation of PSX has effectively been rolled back, with a single broker now calling the shots from his living room.
He was also all praise for former Finance Minister Asad Umar, saying that "the last bastion of resistance – the excellent SECP Policy Board nominated by Asad Umar and headed by the best securities regulator Pakistan ever had – is also under siege from the same people using similar tactics: a well-orchestrated slur campaign and spurious legal attacks."
With himself gone and these legacy brokers allegedly running the show, Morin called the PSX "possibly the most under-developed emerging market in the world, measured by the number of domestic investors (the second worse exchange in the region is 6 times more developed, while Bangladesh is 17 times more developed on a per capita basis!). As a result, Pakistan is starved of the capital needed to drive private sector growth, develop export markets and finance infrastructure projects."
He questioned the absence of the middle class. He went on to say that Pakistan cannot afford  to leave its capital market at the hands of people who see PSX as their private playground and who only look after their own self-interests, at the expense of the country and its citizens, calling for the people that removed him to be "taken to task."